Rift in India-US relations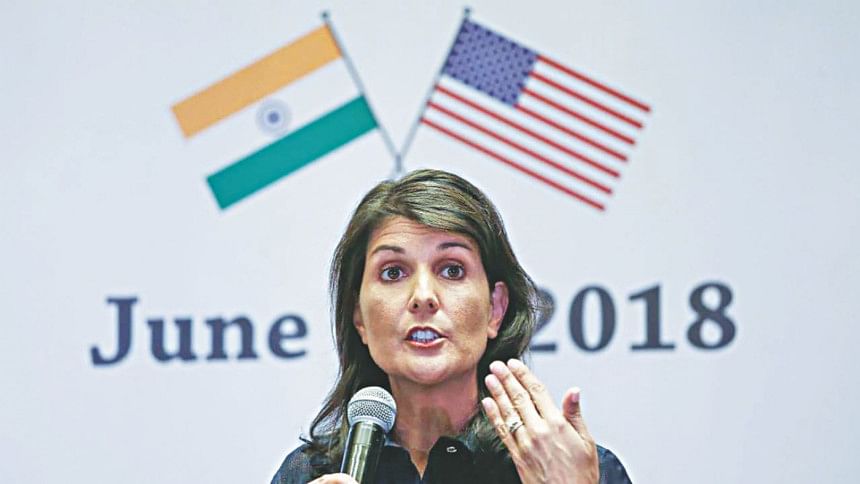 An autocrat can really unhinge a democratic system. This is what President Donald Trump is doing. But he is also turning into an imperialist power. India has had a good understanding with America and the two democracies, one the strongest and the other the largest, have ambled their way through in the chaotic world.
President Trump has reportedly asked India to stop importing oil from Iran. New Delhi has explained that India has reportedly told Washington that it has entered into a long-term tie-up to import oil from Iran because it assured a regular supply and at a comparatively cheaper price. This understanding between India and America has been suddenly disturbed by Trump who cancelled the talks between the US Secretary of State Mike Pompeo and Indian Foreign Minister Sushma Swaraj.
This type of pressure has naturally annoyed New Delhi. But it believed that the talks between the two countries would iron out the differences. Yet, Secretary of State Mike Pompeo spoke to Sushma Swaraj to express his regret and deep disappointment at the US having to postpone the 2+2 dialogue for unavoidable reasons. He also sought the Indian foreign minister's understanding and they mutually agreed to identify convenient dates to hold the dialogue at the earliest.
However, there was no formal word from Washington on the development which occurred as the visiting US ambassador to the UN, Nikki Haley, held talks with top Indian leaders on a wide range of issues. Yet, it became very clear when a senior State Department official indicated that there would be no waivers on what the US intended doing on Iran. Apart from passing the message on to its allies in Europe and Asia, an intra-agency team of state and treasury department officials is scheduled to visit India, China and other countries in the coming weeks to sell their way of thinking.
For some years, Iran and India have established an understanding in which oil diplomacy did not dictate a particular line. The two have signed a long-term agreement on the supply of oil in exchange of goods that India produced. Although America had imposed sanctions against Iran earlier, it could not persuade India to sever relations with Iran. Things were left at that. Now Trump wants his words to prevail.
Among significant areas of bilateral cooperation in the field of oil and gas, India and Iran had formulated a joint mechanism to promote broad-based cooperation. The two sides had also agreed to explore opportunities for cooperation in defence in agreed areas, including training and exchange of visits. According to the agreement, the India-Iran defence cooperation is not aimed against any third country.
They had also agreed to make concerted efforts to encourage bilateral trade and economic cooperation. This involved boosting non-oil trade and investment in infrastructure projects including the development of Chabahar port complex, Chabahar-Fahraj-Bam railway link and marine oil tanking terminal at an agreed location, as well as Iranian interests to invest and participate in infrastructure projects in India.
New Delhi has to look after its own interests. It has accommodated Washington like cutting imports from Iran. But it cannot go beyond this because it would hurt India. President Trump in a joint statement with Prime Minister Narendra Modi, following their first meeting at the White House, made terrorism the cornerstone of mutual cooperation between the two countries. The statement went beyond the usual American position and while criticising Pakistan it also echoed Indian concerns regarding the Chinese-led Belt and Road Initiative.
Trump, recalling his election campaign, said that he had pledged true friendship with India. "I pledged that if elected, India would have a true friend in the White House. And that is now exactly what you have, a true friend…I am thrilled to salute you, Prime Minister Modi, and the Indian people for all that you are accomplishing together. Your accomplishments have been vast," said Trump. According to social media, the president also described Prime Minister Modi and himself as "world leaders". It has enabled them to directly hear from their citizens. 
In the past, India had friendly presidents in John F Kennedy, Bill Clinton and Barack Obama. But they did very little to help New Delhi in its strategic and development requirements. They were obsessed with the thought that they should not in any way rub Pakistan the wrong way. New Delhi never wanted them to do anything which would mean a tilt towards it.
But President Trump has departed from the past American policy. The resolve of the two countries to strengthen anti-terror cooperation has come as a big diplomatic win for New Delhi and a big blow for Islamabad which was trying to portray the Hizbul militants as "freedom fighters."
In his individual remark, President Trump said: "The security partnership between the US and India is incredibly important. Both our nations have been struck by the evils of terrorism and we are both determined to destroy terrorist organisations and the radical ideology which drives them. We will destroy radical Islamic terrorism."
The two leaders seemed to have forged a lasting friendship: President Trump himself took Modi on a guided tour of the White House besides sending his daughter, Ivanka, to India for a meeting. On his part, Modi, with President Trump standing beside him, declared that America was India's primary partner for "its social and economic transformation." All this augured well, one thought.
But the recent developments suggest a different American stance. On his first meeting with the US president, Modi had played the Trump card cleverly. With his party BJP already well entrenched in India and spreading its wings in rest of the states, what Modi wants now is full international recognition.
None could have been better than a cordial relationship with America, particularly at a time when China has been openly siding with Pakistan. Prime Minister Modi or, for that matter, the BJP, cannot ignore this and take a soft line with the US in view of the impending general elections next year in India. Modi believes that a stern face would go down well with the electorate. But only time will tell whether he is right or wrong in his judgment.
---
Kuldip Nayar is an eminent Indian columnist.
---
Follow

The Daily Star Opinion

on Facebook for the latest opinions, commentaries and analyses by experts and professionals.
To contribute your article or letter to The Daily Star Opinion, see our

guidelines for submission

.
---