Blowing in the Media-wind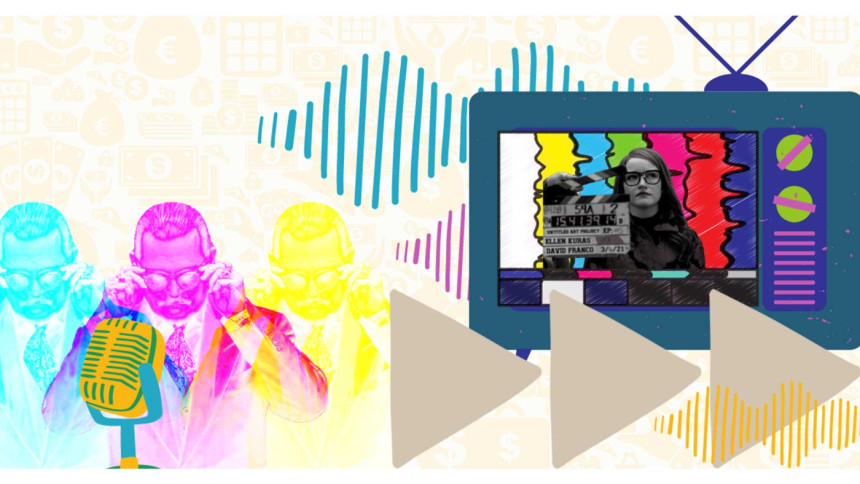 There's a good chance your screen time increased significantly during this weeklong Eid break unless you are one of those reported one million outbound tourists who shored up in various travel destinations or one of those million others who journeyed within the country to visit your near and dear ones. For those of us who used our devices to get our share of the happy hormone as a temporary relief from our daily stress, the apparent lack of human touch during a highly social festive event indicates asocial behaviour, if not screen addiction. Some of us even committed the cardinal sin of binge-watching. As for me, I followed the Johnny Depp v Amber Heard court details, supplemented by a season of "Inventing Anna" on Netflix.
You must be chuckling by now thinking this op-ed is literally blowing in the wind. Well, by design, it is. When I started writing this weekly column almost three years back, I was inspired by the Nobel laureate Bob Dylan's song in which the lyricist answers a series of hypothetical questions through hints reminding the audience that the answers were right before them. You do not necessarily need to say it aloud as long as you can internalise the riddles that surround you. I reserve my Friday morning to unwind thoughts that have been troubling me, to share them with the reader every Saturday. Writing for me is a journey in which the reader is a fellow passenger, and I can point out to them: Did you see that?
I started my career as a cub reporter with this paper during its inception in the early 1990s. I have drifted away to a relatively freer profession, but not without its share of fair criticism and odd controversies. I no longer have the nose of sniffing or the ways of telling facts like that of a journalist. I do not know how my journalist friends even pursue such a risky career in a country that ranks the lowest among South Asian countries in terms of press freedom. According to the World Press Freedom Index 2022, Bangladesh now holds the 162nd slot, slipping 10 notches from its previous ranking.
I envy social scientists and data curators who can engage with realities with a dash of factual details, and shield them with facts and figures. As someone who teaches poetry, I deal with reality in its arcane form. I try to make the unfamiliar familiar, and vice versa. I teach my students to be critical thinkers with creative solutions to connect different discursive dots. My binge-watching sessions over the Eid break offered a rude awakening. Freedom of expression is a far cry even in countries ranked above ours.
Hollywood actress Amber Heard is being sued for defamation by her former husband, based on an op-ed she wrote for The Washington Post. The headline on the online version reads, "I spoke up against sexual violence—and faced our culture's wrath. That has to change." The onus is on her to prove that she was a victim of domestic violence.
Depp, who previously lost a libel case against the UK-based The Sun for labelling the actor as a 'wife-beater," is having a second go at his ex-wife for the damage that has been done to his career. The 58-year-old actor, famous for impersonating Jack Sparrow in the Disney production of the fantasy series Pirates of the Caribbean, has already been dropped off the project. Even though Heard's article does not specify Depp as an abuser, the court heard how that article caused damage of over USD 40 million for the actor struggling with substance abuse and emotional instability.
In the courtroom, Heard and her team of lawyers were outperformed in every sense of the term. The media trial is already demanding that Depp be restored to his iconic Pirates role, and Amber be dethroned from her role in the sequel of the critically-acclaimed sci-fi fantasy, Aquaman. The court washed the dirty laundry of the couple in a public courthouse in what has become a visual phenomenon. Heard is presented as a bipolar personality who is the "real" abuser in this toxic relationship. The media construct made the Heard team request a dismissal. They were not ready for the number of digital footprints that depicted the actress in a negative light.
How is this related to the true-crime drama in which a compulsive liar pretended to be a European heiress to con the upper echelon of New York? A young woman of Russian origin, raised in Germany, Anna Delvey suppressed her peasant surname of Sorokin and fashioned her life after glitzy magazines to pose as a socialite. She duped banks, hotels, and contacts by pretending to be a trust-fund heiress. Her success shows everything that is wrong with our society wrapped in ego bubbles. The promise of a pending fund made her pursue a dream of building a cultural hub in New York. She was convicted on multiple counts of grand larceny, indicted in 2017, and incarcerated from 2019 to 2021. The story was doggedly pursued by a journalist who later felt responsible for catapulting Anna to fame. Anna was very much a creation of the media. In the Netflix version, Vivian Kent of Manhattan Magazine is a hardcore investigative journalist who starts connecting the dots of Anna's life. Then there is the other group of parasitic journalists who feed on the elites. When Anna traps her journalist "friend" from a fashion magazine into paying for a luxury trip to Morocco, Rachel Williams of Vanity Fair cooperates with the police to rat her out. The series thus pits one group of media people against the other. Vivian is trying to climb out of the "scribe-ria" of has-been journalists to reclaim her position through "inventing" Anna. Rachel is there to seduce Anna for her own benefit. In a Trump era, Anna was the ultimate "fake it till you make it" who took the media for a ride. And the relationship was mutual.
Can Media A be free unless it frees itself from Media B? The answer, my friend, is blowing in the wind.
Dr Shamsad Mortuza is the pro-vice-chancellor of the University of Liberal Arts Bangladesh (ULAB).