Transitioning back to 'normal' learning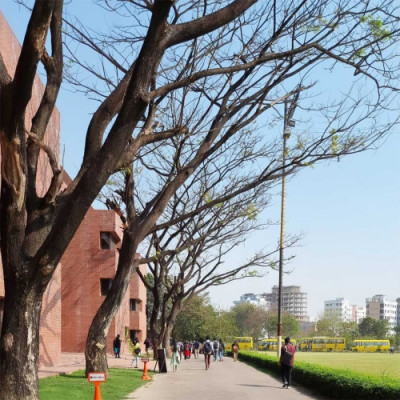 When a private university organised a flash mob and another one a concert to welcome back its students to campus post Covid shutdown, we looked at the safety protocol prepared for our campus in pity. Our peers did not want to miss out on a branding opportunity. However, is it normal to announce the return to normalcy with such a great gathering? Or is it a sign of complacency that belies the strict measures we took earlier? Certainly, the Covid vaccine as well as the flattening of the infection curve has given us some comfort in restoring the semblance of normal life. The rise of the XE variant in the UK and the extended lockdown in Shanghai tell us of a different reality that is far from normal, though.
The word "normal" is deceptively simple; once you probe into the concept, its meaning starts to disintegrate. The word insists on conforming to certain norms that have been socially agreed upon or endorsed by an established agency. It is normal to breathe without a mask, but because of the Covid-19 health rules, we have agreed to make mask-wearing normal. In this case, normal has a functional aspect. The group endorsement comes when the majority agrees to a norm. The meaning of normal, thus, becomes statistical.
After nearly two years of closures, we have returned to campus. For many students, this is the first time they are in a physical classroom, and find it difficult to adjust. This term, when most of the students fared poorly in their first quiz in my class, I tried to find out the reasons. The answer came as a shock. They have got used to class recordings, which they could repeatedly play to follow a lecture. Some said they were finding it difficult to read my lips with my mask on. Then there is the issue of retention. They have forgotten most of the things they did in the previous terms. The instant projects and assignments, done digitally, have earned them grades, but little learning. In the online classrooms, the teachers created a virtual sense of community with customised accessibility for students. Even at an administrative level, we asked our colleagues to modify their course delivery and rethink student assessments. We were concerned about the way the students would have to adjust to the functional normality of online teaching. We were compassionate in accommodating requests based on "unstable internet services" or "casualty in the family." Are these "additional perks" (i.e. auto-promotion and curtailed syllabus being the height) going to be the aspirational normal for our returning students?
During the mid-term examinations, we received quite a few applications to be excused on various flimsy grounds. My colleagues confirm that there is a genuine fear among students to be in a physical examination hall. If I take my classroom experience as a case study, my choice to ramp up course difficulty indicates a rocky transition that awaits us. We need clear guidance from the education ministry and the University Grants Commission (UGC) on how they perceive teaching in a post-pandemic scenario. We need to be on the same page, as we are dealing with students who have both a relaxed and challenging exposure to education. Earlier, it took the policymakers more than a year to adopt a guiding policy for online teaching. Judging from newspaper reports, their current focus is on micromanaging institutions. The transition back to in-person learning should be the topmost priority for our education leaders, and the sooner they realise this, the better for us.
Until now, we have heard of some lip service on blended learning as the new normal. Does it mean that our universities will be allowed to retain some of the online teaching practices? Will our teachers be comfortable recording their lectures or creating videos for their students to learn on their own time, without coming to campus? Can the teachers be allowed to use online assessment tools and discussion forums? Can the institutions pursue collaboration with national and international institutions to foster a greater sense of academic community? Can we have the lectures of renowned educators curated by the UGC or the education board for licensed distribution among their member institutions? Sadly, the policymakers divest their energy in protecting the financial and political interests of academic institutions. Mega constructions attract mega attention, making the vice-chancellors susceptible to vice. In the process, we often fail to ignore the basics: teaching and learning.
As a teacher, I can see some of the things that we have lost or compromised on in the last two years. Handwriting and spelling, for instance. Students no longer have the luxury of typing with the aid of a spell-checker. The output, therefore, is horrendous. These exemplify the new challenges in the post-Covid era. Our topmost priority should be determining what our students have learnt during the pandemic. Then, we need to decide whether we need to modify courses to ensure that they can successfully ease into or complete their postsecondary degrees. An analysis of the data found in the admission tests can be used to identify the gaps in their knowledge. We need to have a clear picture of the impact of the light content of "Covid-19 curriculum" and the additional support services offered in the last two years.
The immediate challenge for us is to get students back to pre-Covid "functional normal" standards. We need to have a proper policy in place to help our students learn or re-learn. We need to guide them in recalibrating their learning strategies by, for instance, memorising facts or formulas, which are normal at their level. The nature of anxieties and fear, too, has changed. Institutions need additional psychosocial services to cater to the new anxieties of our students to navigate through this transition process.
Above all, we need to learn to collaborate and share our experiences, so that we can prepare for these challenges together. There should be more intra- and inter-institutional dialogues, so that we are better prepared to welcome our students back to campuses, both physically and emotionally.
Dr Shamsad Mortuza is the pro-vice-chancellor of the University of Liberal Arts Bangladesh (ULAB).