Guns, but more Roses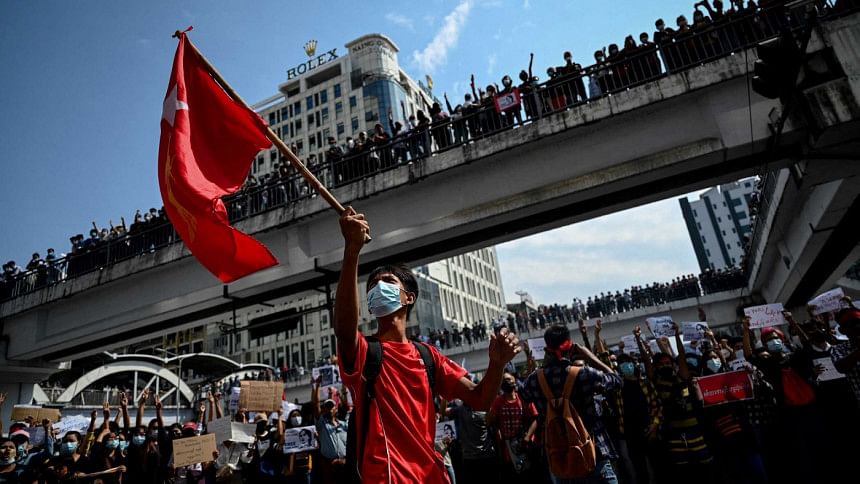 In case you have not noticed, climate is not the only manifestation that has changed drastically over the last decade. People have too.
There is flood in Scotland, but there is hope in Sudan
BBC reported on October 29, "Days of heavy downpours have brought significant flooding problems across the south and west of Scotland. Travel has been disrupted, bridges washed away and people evacuated from their homes." Unthinkable even a few years ago.
Following a military coup on October 25, thousands of Sudanese began spontaneous demonstrations against the armed forces, and in support of the ousted civilian Prime Minister Abdalla Hamdok and his cabinet. Protesters carried Sudanese flags and chanted, "Military rule can't be praised", and "This country is ours, and our government is civilian", as they marched across Khartoum (Reuters). Unthinkable a couple of decades ago. Sadly, there have been high civilian casualties, the regular price for democracy that we too had to pay for 24 years.
There is wildfire across Greece, but there is guarded optimism in Afghanistan
Heatwaves of unprecedented longevity, and wildfires across the summer have destroyed more than 1,000 km2 of ancient pine forests in Greece. They have blackened swathes of Attica near Athens, scorched parts of ancient Olympia and obliterated north Evia's magnificent forests (The Guardian, August 29). Human suffering includes loss of livelihoods. Inconceivable, say 15 years ago.
It all happened so quickly in Afghanistan. Donald Trump signed the Doha accord with the Taliban in February 2020, ensuring complete withdrawal of US troops by May 2021, but the fall of Kabul happened under Joe Biden's call on August 15, 2021. Considering their hard-line Sharia administration during 1996-2001, the 2021 Afghan protests against the Taliban started almost immediately. Led by Islamic democrats and feminists, people feared misogynistic attitude of the Taliban, more perhaps than the Taliban's fearsome paramilitary power. The dare was evident on the streets across Afghanistan. Inconceivable 20 ago.
Typhoons are lashing the US coast, but there is Spring in Myanmar
Repeated Atlantic hurricanes have been unrelenting, causing havoc on the east and southern coasts of the United States. Atlantic waters have become warmer in the last few years, bringing to land about 50 named storms, unusual in the region. Ominously it is predicted that the situation is very much likely to worsen with hurricanes becoming a common and regular phenomenon. Unimaginable in times gone by.
Meanwhile, in neighbouring Myanmar, protests, locally known as the Spring Revolution, began in early 2021 in opposition to the February coup, staged by the commander-in-chief of the country's powerful armed forces. Although leaderless, the spontaneous demonstrations, strikes, and civil disobedience, powered by online activism have brought the country to a standstill. More than 700 civilians have been killed since the military takeover (National Public Radio, USA, May 5). However, unlike many times before, people are not taking it lying down. Unimaginable with the army in control.
Climate is raising havoc Down Under, but there are loud voices in Hong Kong
Continuous warming, increasing number of bushfires, prolonged droughts, frequent cyclones, heatwaves and floods, rising sea levels, impaired biodiversity, ravaged coral reefs, unprecedented damage to properties and infrastructure, and threatened public health among disadvantaged communities are among the greater climate concerns of Australia (Energy Matters, October 3). This was beyond imagination only a few years back.
It is more or less common knowledge that China has a "one-country, two systems" policy regarding its Special Administrative Regions. And yet, the proposed extradition legislation stirred up massive Hong Kong protests in 2019-2020. Steered mainly by students, also on the agenda of the protesters were demands for democratic reform, and the fear of losing their extraordinary autonomy. Marches and rallies turned violent, leading to three deaths, and three thousand injuries. There were over 10,000 arrests and 2,500 prosecutions, which go to show the extent of public rile, sprit and involvement. This was beyond imagination only the other day.
In this millennium, democratisation of information technology, extensive use of social networks, swapping of knowledge, broad civil awareness, and intrinsic yearning for freedom have given voice to oppressed people in the most unlikely areas. People have in recent movements snatched courage from thin air to vent their anger in search or in defence of democracy. Despite unusual intimidation, brutal oppression and point-blank target practice, there is an innate longing to showcase human dignity and mettle, a thirst for liberty and the rule of law.
People are on the streets again, metaphorically with flowers, in the spirit of the 1960s. Sixty years ago, "flower power" represented non-violence and harmony, blooming from "the passive, peaceful resistance movement of the time, which was rooted in the opposition against the Vietnam War".
All of a sudden there is collective realisation, sporadically all over the world, that many voices are not easily shut downable; perhaps never in the long run. That a few lives can be sacrificed for a larger gain. Whose? It does not matter, for they are all for one, and one for all.
Nizamuddin Ahmed is professor of Architecture, a practising architect at BashaBari Ltd., a Commonwealth Scholar and Fellow, a Baden-Powell Fellow and a Woodbadger Scout Leader, and a Major Donor Rotarian.