The mirror speaketh the truth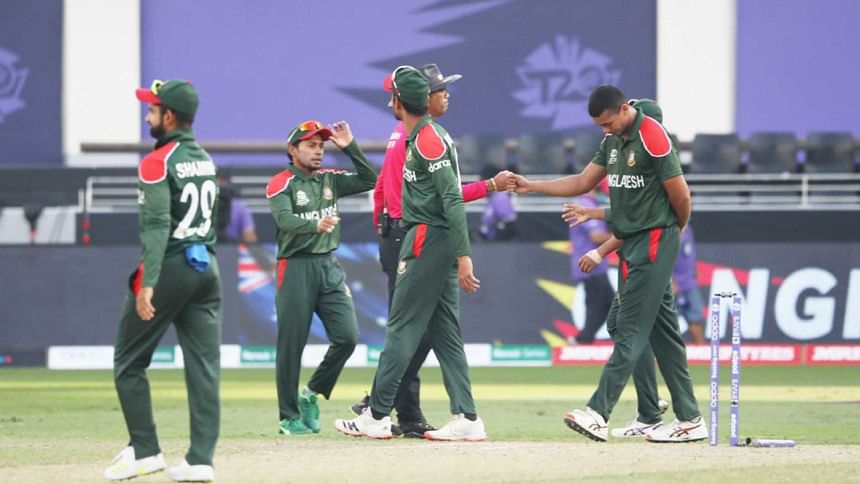 On the sandy desert of Dubai and in the barren stretches of Abu Dhabi, it is ektur jonno difficult to connect bat with ball, to avoid wides and mokkhom good-length deliveries, and to hold on to a multiple loppa catches with both hands or to stop a boundary with your palm or your booted foot if you happen to speak in Bangla. That has been the explicit dark lesson from the T20 World Cup, except for the occasional sparkles flashing out of the galleries due to the glittery attires under the Middle-Eastern sun.
Cricket is a wonderful game. Here, the spirit of sports is supreme. Losing or winning doesn't matter; to the losing team, that is. See, I wrote "losing" ahead of "winning" because participation is so very important. That is why after losing five matches in a row, Bangladesh will play straight into the final round of the next T20 World Cup. We lost, but cricket is the winner. I cannot blame the optimists for saying that our team has indeed improved since the last assembly of world greats, for which we had to struggle through the precarious qualifiers.
But the notorious cynic has delivered a deadly googly—that during the current T20 World Cup, stronger performing teams had a meeting atop Burj Khalifa, a venue chosen to surreptitiously avoid the media. There, it was reportedly decided that they were under pressure to create world records—at a personal level, and also from their respective governments—to divert the focus away from rising prices of fuel, rising sea levels, and the rising political mercury. Who better to strike a record than Bangladesh?
That is the revenge we must seek. Show the world that we are no longer the sitting ducks of 2021. A different year, a different venue, and we are all hoping for a different team. Let us perform in all six sectors: batting, bowling, fielding, scoring runs, avoiding wides and loppas, and catching the dollies.
Unfairness abound as well. And, honestly, I am not pointing fingers at the fixed matches played by the others. Chhih! Our watertight integrity is that we do not play any fixed matches. No, never! That is because our results are already fixed. There is a sense of proshanti in that most often foregone conclusion. But for the grumbling and the criticising patriots raising hell, we could have ensured that cricket remained for another hundred years a gentleman's game, where the outcome of a contest is like grades in Play Group. Our motto is: Don't worry, just play.
As for the injustice, I am referring to our natural inability. We hit, they catch. They hit, we can't always catch. The sun, remember! But in some cases, it is because they are simply taller than most of us. International matches should be held height- or weight-wise. Let us learn something from wrestling and boxing. Now, the smart alec among you will mention Sachin and Miandad. I knew it! But we are here focusing only on normal human beings. Concentrate!
To calm the waters after the Gulf storm, the government should henceforth ban pre-match expert opinion on television. They should be okay at home, because the wife and the husband never listen when the other is talking. Experts also must voluntarily avoid offering any preview on cricket performance, because their predictions make them look amateurish after every match. They could talk about venues and records, evaluate matches already played, but they should never delve into the future. That's dangerous! That acumen requires study and research, and an analytical mind. Intelligence helps.
The incomprehensible disorientation of our cricketers at this world tournament reminded me of events unfolding at a studio while taking a passport photo. The very cautious cameraman asks you to lift your chin a wee bit, move your face a little to the right, not so much, up your shoulders, then bring your eyes down samanno, smile, not so much, perrrfect… and click goes his DSLR camera. And you have an unrecognisable portrait. Our cricketers seem to be abiding by the advice of every coach, on and off the field, resulting in distorted batting posture, grotesque bowling action and hilarious catching. Physios should recommend cotton in the earhole—both of them.
Passport pictures do not always tell the truth. However, a recent press conference testified that mirrors speaketh the truth. Mushfiqur Rahim, not going exactly through the best of patches, was livid after the match against Sri Lanka on October 24, perhaps because he had just knocked 57 off 37 balls after quite some time.
Criticised for unexpected and repeated disappointing performances, Mushfiqur advised the critics (read avid fans) of his Bangladesh team to look at their faces in the mirror. His next statement was pathetic from a cricketer, who has been showered with much love, genuine admiration and handsome honorarium by these same followers: "They do not play for Bangladesh; we do." Actually, it would perhaps not make much of a difference if we played. There is no score lower than zero, or a punishment higher than six.
Having been advised by a celebrity with such a massive contribution to our cricket, we all have had a good look into the mirror. Besides our old moles befriending new dark spots, mistaken dimples in the vicinity of fresh wrinkles, this was a great opportunity to see who we are: flawed but not arrogant, imperfect but not ungrateful, sinful but seeking forgiveness. We have faced the truth, Mr Mushfiqur Rahim. Will you too face your demons? In the mirror, that is.
We need not argue any further. I have found a solution to our problem of losing five times. The Bangladesh Cricket Board (BCB) should bid for the next World Cup. It's a lot of hard work, planning and PR, marketing and manoeuvring. But most importantly, we should prepare the slowest of dead pitches, select 10 spinners with left-right mix in the starting XI, and a bowler-wicket-keeper without pads. Till then, please leave the Tigers in the jungle alone. They cannot speak for themselves.
Dr Nizamuddin Ahmed is an architect and a professor, a Commonwealth scholar and a fellow, Woodbadger scout leader, Baden-Powell fellow, and a Major Donor Rotarian.