A chilling message for journalists
Murder of Brahmanbaria reporter a reminder that press freedom remains under threat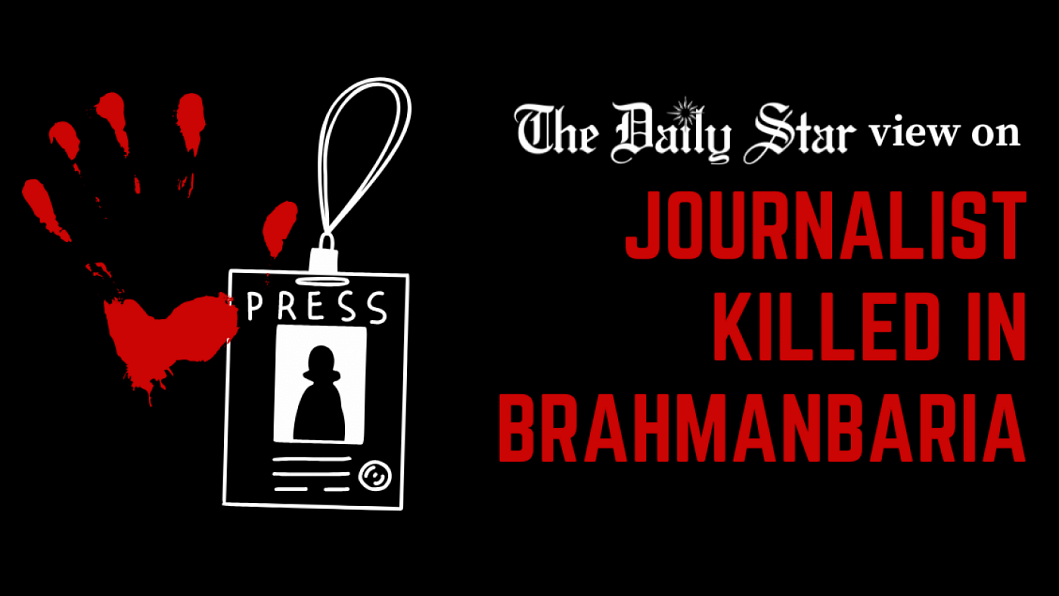 The state of press freedom in Bangladesh is once again in the spotlight after a journalist was killed in Brahmanbaria on Monday. According to a report by The Daily Star, the victim, Ashiqur Rahman, 27, was the district correspondent of daily Porzobekkhon,andalso a member of Batighar, a local voluntary organisation that buries unclaimed dead bodies. According to police, he was stabbed to death by some men days after a scuffle "over a trivial matter" between the victim and the main suspect, Raihan Mia, whom police have since detained. Raihan is said to be an activist of Chhatra League, the student wing of the ruling party.
Regardless of the motive behind the killing, the fact that a journalist could be killed over a trivial matter is itself a statement – a chilling message, if you will – and we must take note. It shows how vulnerable journalists still are in the country, despite claims to the contrary. A murder is but the most extreme form of consequences they might face for their work. It's easy to be misguided by the relative lack of such extremes in Bangladesh. But such extremes, we must remember, are the inevitable by-product of an environment in which journalists have to deal with the threats of physical, psychological and legal repercussions constantly hanging over their heads.  
Only the other day, we came across such a situation in which another local correspondent of a newspaper was brutalised after he tried to investigate illegal brick kilns in Chattogram. Reportedly, he was held by a local UP member at gunpoint, kept hostage for over an hour, and beaten repeatedly. Even the local UP chairman, clearly in cahoots with the attackers, threatened him over phone that "nothing will happen" if a journalist is killed. We are yet to hear of any action being taken against these people. In such a culture of impunity, the difference between life and death is often decided by the individual choice of the criminals.
As we have commented then, these incidents show how lack of accountability is having a spill-over effect across the board, with anyone with the remotest link to the ruling party feeling entitled to using violence as a means, regardless of the "end" they want to achieve. For journalists who must work with those in politics/power because of the nature of their profession, the stakes are very high. This is not unknown to the ruling politicians either; one of them even acknowledged the incidence of journalist torture late last month. As well as physical violence, journalists had to contend with legal consequences as well. All this has resulted in the space for journalists, and the media in general, eroding dangerously, to the point that Bangladesh ranked 162nd among 180 countries in last year's World Press Freedom Index.
We urge the ruling camp to take a hard, critical look at this state of affairs – and into its own questionable ecosystem – and undertake necessary measures to ensure press freedom. The killers of Ashiqur Rahman and other slain journalists as well as enemies of the press must be held accountable.