Keep an eye out for the unfed
As lines in front of OMS trucks get longer, we must reach out to the most vulnerable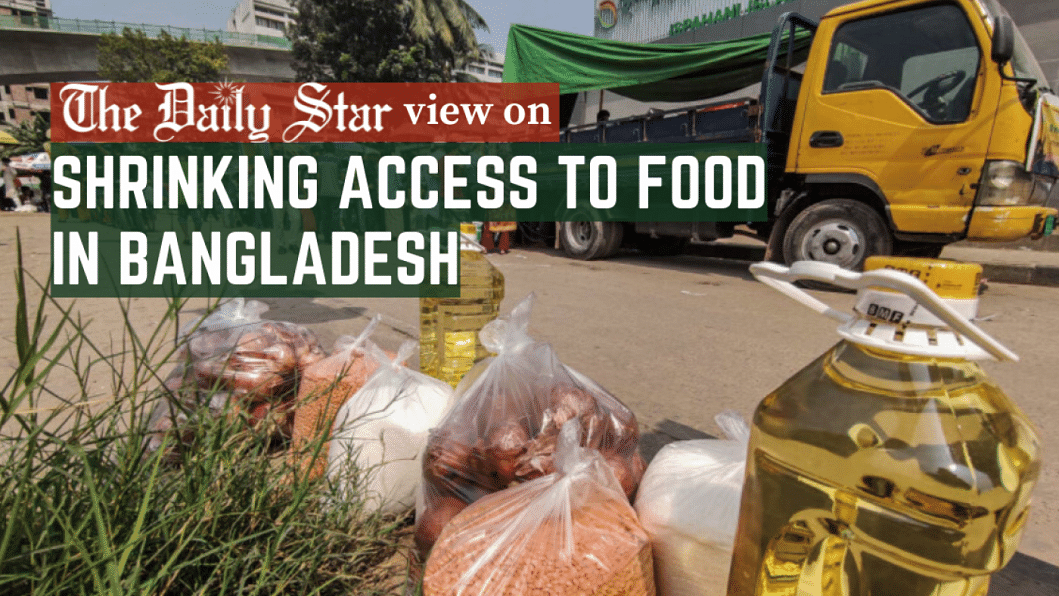 At the gate of the planning ministry office and on ministry letterhead, you will see written a slogan that goes like – "where you have a dream" – followed by an uplifting message: "Now is our time, now is Bangladesh's time". As slogans go, this is quite catchy. It makes the idea behind the big, flashy development project of Bangladesh relatable to ordinary citizens, a reassurance that they too are part of this journey. But as the long OMS lines not far from that office, or in other places, will tell you, not everyone's dream is accounted for. Certainly not the dream of the poor to have a decent meal three times a day.
The government's OMS programme – while helpful for the poor – and the swelling lines of people in front of TCB trucks are proof that the rising tide in Bangladesh hasn't lifted all boats, as promised. Particularly, people of limited means are having a rough go of it thanks to the extremely high prices of basic commodities. A recent report by Prothom Alo draws a compelling picture of this. It shows how people – women, elderly, minors – in some areas of Dhaka have to wait for hours on end before they have any chance of buying food. Five kgs of coarse rice and four kgs of atta – the maximum one can buy – cost Tk 222; the same would cost over Tk 500 if you buy it from the kitchen market. Each kg of rice costs Tk 30, and each kg of atta Tk 18, the latter price set to be increased by Tk 8 starting next Sunday.   
But not all areas with high concentrations of poor people are visited by OMS distributors, nor is a long wait in line a guarantee of success, because of often-insufficient supplies. You have to be lucky to get to the head of the line and to still get it. Many turn up before sunrise. Some are sick but say they come because they have no other option. There are also old people and individuals with disabilities. Commotion and scuffles are common features of these lines.
According to the report, the lines of people have been getting longer in recent months; so many people in need of subsidised food hadn't been seen before the pandemic, or even after (in 2020-2021). Although grocery prices cooled off a (tiny) bit in recent weeks, the majority of the population are struggling to buy food, as various studies suggest. Clearly, there is an urgent need to further bring down prices – with the extreme poor, according to one study, spending 32 percent of their income to buy rice – but also to expand and improve OMS services to ensure the most vulnerable of them are not left behind.
Currently, subsidised rice and atta are sold in 200 areas in Dhaka city through OMS trucks and distribution centres. Given that food prices have consistently remained high and thus unaffordable for many, the government must expand and humanise its OMS services. In addition, urgent measures should be taken to address reasons leading to the unmanageably high cost of living in Bangladesh.