Make life easy for people with disabilities
Focused policies needed to ensure access to safe water, hygiene for all citizens, including people with disabilities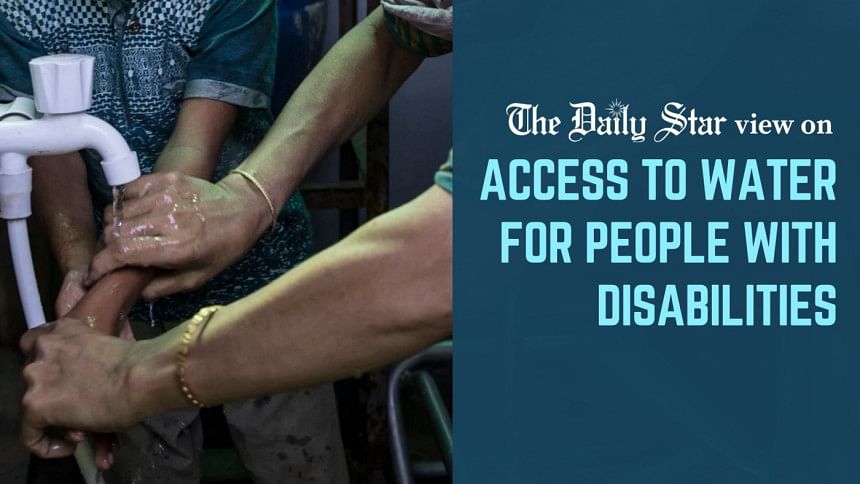 A national study on access to water has brought forth the grim picture of how a segment of our population is deprived of a basic human requirement—day in, day out. According to the findings of this study, half of the population with disabilities currently living in Bangladesh have difficulties collecting water directly from the sources by themselves. More than 90 percent of the respondents with disabilities said they are constrained physically from collecting drinking water, and 16 percent depend on caregivers. This reminds us, once more, that the authorities are falling short of ensuring even the most basic amenity for people with disabilities in the country.
In areas where water, sanitation and hygiene (WASH) facilities are available at a distance from homes, accessing them becomes even more burdensome. When Bangladesh is said to be making great strides in providing access to clean water to its citizens, why are those who need our support the most being left in the lurch?
The problem lies in our collective lack of understanding of their plight. At the policymaking level, there is still a knowledge gap regarding ground reality. This is partly caused by the lack of available data, which leads to obstacles in implementing development projects, according to a government official. The welfare of people with disabilities is apparently not a priority for the government, considering the annual budget allocation: in FY2023-24, a measly 2.94 percent of the social safety budget has been allocated to persons with disabilities.
This state of affairs is grossly unfair. The government must take stock of the situation and devise mechanisms to get the real picture about the state of people with disabilities in the country, and formulate and reform policies so that they get the support they need and deserve. To this end, including persons with different forms of disabilities in the process will be of great help. The government must also increase the allocation for the welfare of persons with disabilities in the national budget, and ensure that these funds are used properly to make their lives easier.
---
Follow The Daily Star Opinion on Facebook for the latest opinions, commentaries and analyses by experts and professionals. To contribute your article or letter to The Daily Star Opinion, see our guidelines for submission.
---