Public projects must support our environmental agenda
Will the PM's latest directive be followed by the relevant authorities?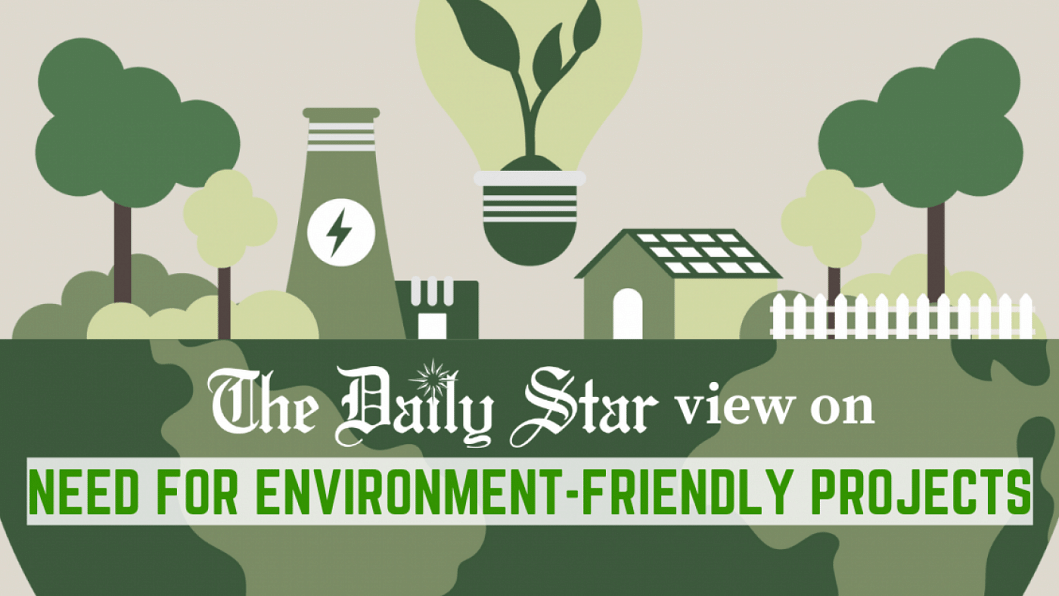 In recent months, Prime Minister Sheikh Hasina has given a number of important directives to government officials, such as urging them to practise austerity in relation to foreign travels using taxpayers' money, refrain from taking up less urgent projects, abandon the culture of project revisions, etc. Unfortunately, government officials down the chain of command seem to have acquired a habit of nodding their heads to her directives, only to brush them off when it comes to implementation. In her latest directive on Tuesday, the PM asked officials to ensure that projects taken up by the government are environment-friendly, and to avoid repeated revisions of ongoing projects. This is a laudable instruction. But will it be properly followed through? We remain doubtful.
Even though we have seen this government previously react adamantly about sacrificing the environment at the altar of development – much to the chagrin of environmentalists and the public who have suffered as a result – the PM seems to have softened a little on that stance while giving this directive. In the past, we've often seen projects that were not only detrimental to the environment, but also a contravention of promises made by our leaders on the international stage. The Rampal Power Plant, situated 14 kilometres north of the Sundarbans, which is a Unesco World Heritage Site, is a perfect example of this. Experts had warned numerous times that the plant would endanger the wellbeing of the Sundarbans, a plethora of plant and animal species that live there, as well as human beings who rely on the mangrove forest to protect them from cyclones. Despite repeated calls from experts to relocate the power plant elsewhere, the government went ahead with it anyway. Only the future can tell us what price Bangladesh will have to pay as a result of that decision.
When it comes to time and cost overruns caused by project revisions, Bangladesh is already paying the price, however. Many of the current economic challenges could, in fact, have been mitigated had the government fixed this revision problem. Instead, it has repeatedly blamed black swan events like the Covid-19 pandemic, the war in Ukraine, etc. for repeated revisions. But the fact remains that many of the projects still being revised today were taken up years before any of these events/issues surfaced. It's clear that government officials are still trying to pull the wool over people's eyes by coming up with excuses, rather than fixing the real underlying problems plaguing our development.
The most important among them is the lack of accountability in public institutions. Officials have rarely, if ever, been held accountable for their mismanagement, corruption, and ineptitude that have led to frequent project revisions or projects taken up without a thought about their environmental impacts. So, unless the government brings its offices and officials under a strict accountability mechanism, whereby violations of rules and guidelines are addressed properly, no amount of rhetoric can fix the problems that the PM, and the public in general, are concerned about.