Should we worry about a typhoid outbreak?
Authorities must remain careful, ensure supply of clean water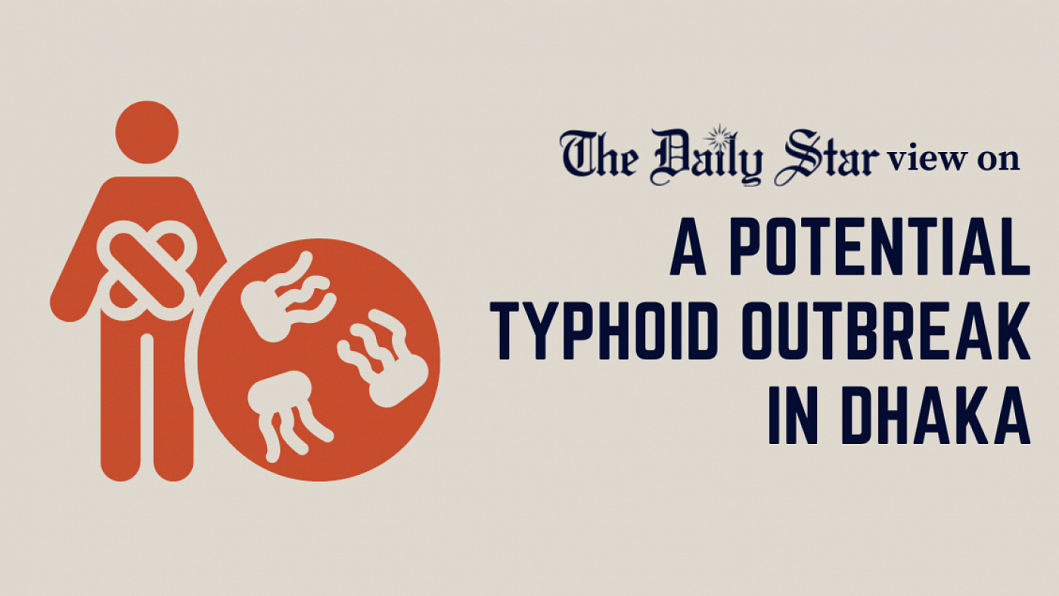 It's unfortunate that Bangladesh's transition from Covid-19 didn't bring the relief desired by citizens, especially urban residents, who have had to deal with a succession of diseases in its wake. First, there was the cholera outbreak in Dhaka. Then came the dengue outbreak across many cities, which is still ongoing. And now news has emerged of the first stirrings of what could be a typhoid outbreak, if left unchecked. Although people are more or less used to such diseases – and, as we know by now, not all cough, fever and runny nose are symptoms of Covid-19 – we must be wary of another outbreak, given how ill-equipped and overburdened our healthcare system is.
According to a report by Prothom Alo, there has been a sudden jump in typhoid cases in some parts of the capital, especially in Rampura, Khilgaon and Adabar. A health inspection in Rampura's Notunbag-Loharghat area found many patients visiting hospitals with symptoms of typhoid and paratyphoid. Like cholera, these are waterborne diseases. Their symptoms include fever, hard and loose stools, stomach ache, loss of appetite, etc. Households with poor sanitation are said to be particularly vulnerable. This has led some to question the quality of water being supplied by Dhaka Wasa to these areas, as well as ongoing road repair works that allegedly breached water and sewage pipes. At the Dhaka Shishu Hospital, a steady stream of typhoid patients from nearby Adabar also led to similar concerns.
The silent coup of waterborne diseases like typhoid and cholera amid a still-unsubdued Covid is indeed worrisome. What's more troubling is their spread in geographically unrelated areas, connected only via water supplied by Dhaka Wasa. This warrants scrutiny by the health and city authorities. They should investigate if the typhoid outbreak in those areas is indeed caused by leaks in Wasa's supply and disposal system. Earlier in the year, similar breaches and cross-contamination with sewage lines were found to be the main reason for the cholera outbreak. In many areas, residents became sick after getting contaminated water through taps. Wasa's pipes are mostly old and full of holes through which all kinds of germs can mix with the water.
One can deal with waterborne diseases but when such diseases are born of negligence, by either Wasa or those responsible for road repairs, it is totally unacceptable. A potential typhoid outbreak will only increase suffering at a time when dengue is causing all sorts of problems. On Saturday, at least 922 dengue patients were admitted to hospitals across the country – the highest number of admissions recorded in a single day this year. Meanwhile, the total number of deaths reached 112, the third highest annual death toll since the first outbreak of dengue in 2000. The authorities must take proper steps to avoid another outbreak through the failures of responsible government agencies.