Take action against big loan defaulters
Appellate Division's observation on defaulted loans is right on the mark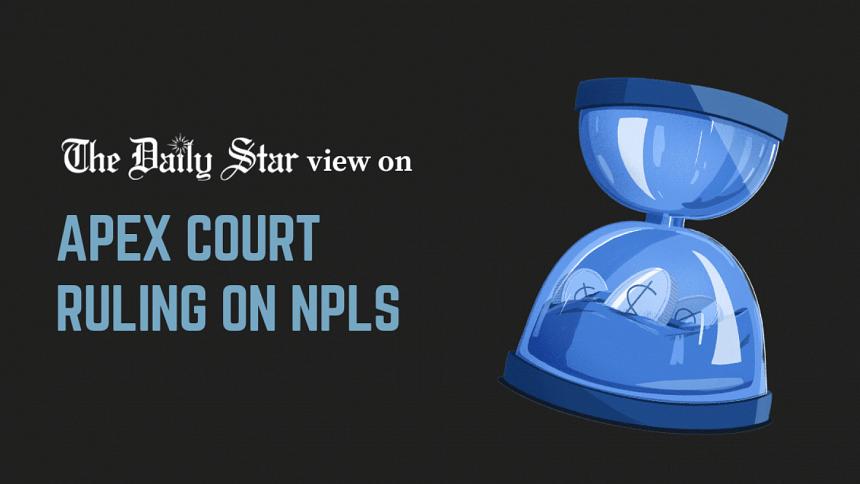 Our apex court's frustration at the present state of defaulted loans in Bangladesh is a sentiment shared by many people. According to a report in this daily, an Appellate Division bench, headed by the chief justice, remarked on Monday that those with loans worth hundreds of crores of taka were getting away with not paying their debts off, while farmers with small loans were being harassed for failing to make regular payments. We completely agree with the court's observation and believe that, given the financial crisis that the country is going through, it is high time some tough actions were taken to redress this persistent problem.
Non-performing loans (NPLs) have been a thorn in our side for decades, but now it is turning into blight for our economy. And we have gotten into this situation because of the leeway that has periodically been provided to habitual loan defaulters. The result: Bangladesh now holds the second position in South Asia in terms of bad loan ratio, according to a World Bank report. We are behind Sri Lanka only, but that should not provide any comfort considering the collapse of Sri Lanka's economy last year. The amount of defaulted loans in Bangladesh, which stood at Tk 120,656 crore at the end of December 2022, jumped by Tk 11,000 crore in just three months, rising to Tk 131,620 crore at the end of March 2023, according to the Bangladesh Bank. Experts have been raising concern over the upsurge in defaulted loans for years, pointing out the severe implications for both the banking sector and the economy overall.
We all know what the solution is: stop being lenient to big loan defaulters. The extraordinary lenience that the government has shown big borrowers through debt rescheduling and relaxation of rules has gotten our banking sector in a quagmire that it is struggling to pull itself out of. High volume of NPLs is one of the three major domestic risks that our economy faces, according to the International Monetary Fund (IMF) – something that our own economic experts have been flagging for years. An overall reform in our financial sector is needed to instil good governance and strict regulations to check bad lending practices, but as immediate remedies, the government should put specific measures in place to stop lending irregularities in our banks, and make all big loan defaulters pay their debt off without exception. It is not fair that our banks keep getting bailouts from the government, using taxpayers' money, due to defaulted loans and bad lending practices.