SOULS: Through the eyes of its founder, Sazed Ul Alam
PART I: THE BIRTH OF SURELA
I returned to Chattogram from the Liberation War on December 20, 1971 with my nephew, Shahed Ul Alam. After signing at MA Aziz Stadium, we went home to Kajir Dewri, which was a walking distance. My home would soon become the centre of many tales and memories.
Over the next few weeks, I became friends with the Indian officers who were stationed in Bangladesh. Some of them used to visit our house. Seeing my love for music, one of the officers invited me to the 31st night at Chittagong Club.
I reached Chittagong Club at 7pm. Lightnings, one of the leading bands of Chattogram, performed that evening. Chattogram was a small place. We all knew each other. That night, for the Lightnings band, Noel Mendes (rhythm guitar), Neo Mendes (drums), Shakil (lead guitar) and Farid (bass) performed. They did covers of Beatles and other songs.
The Lightnings performance put a spell on me. I decided to do something like them. Since childhood, I've been adventurous. When I set a target, I would go for it.
***
Later, I approached my cousin, Moudud Ul Alam and nephew, Fariadul Islam. I proposed, 'let's start a group'. The name 'Amra Jara Jegechhi' came to mind because the country had just become independent. Soon Prabal and Uma joined. We used to perform patriotic songs here and there. That initiative didn't go too far.
In mid-1972, I attended a concert at St Mary's Church with Moin, my Collegiate School friend. The Mendes brothers of Lightnings, Nibnet (keyboard) and Norman (drums) performed. Moin introduced me to his uncle, Lulu. After the concert, we first went to Lulu's house. And then to my house.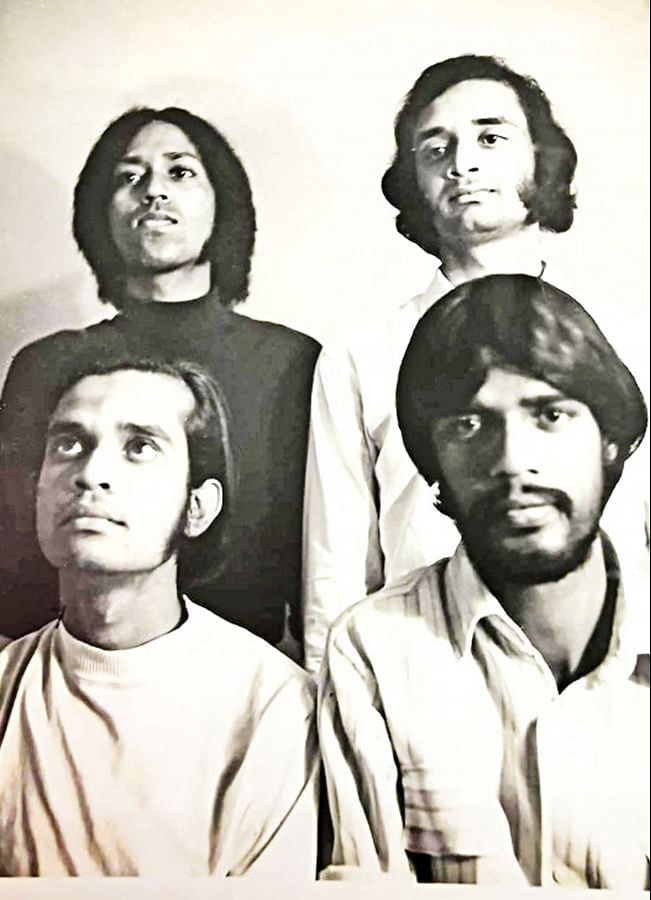 My father, litterateur, Mahbub Ul Alam, once visited the USA on the invitation of President Eisenhower. He brought us an accordion from that trip. When I was eight years old, an Aunty would come once a week and take me to Chattogram Betar where I would play the accordion. Chattogram Betar remunerated me a princely sum of Tk 30 per month.
Lulu looked at the accordion. He said he would be able to play it. That night, we decided to form a band.
The next morning, I asked my father for a name. He spontaneously said, 'Surela'. And that was it. Surela was born.
I thought of Subrata Barua Rony, another friend from Collegiate School. Rony played beautiful tabla in our school days. Lulu told me that Rony was living as a tenant in their house. I invited Rony to my house for practice.
I wondered if Rony could play the conga (congo) like Giovanni Hidalgo. There was one problem, though. Congas weren't available in Chattogram. We collected a picture of a conga and went to a tabla maker near St Placid's. He made a conga for us.
The initial line-up of Surela included: Subrata Barua Rony (conga), Momtazur Rahman Lulu (accordion), my cousin Tauhid Ul Alam, and me (lead guitar). My Bhabi, Nargis Ul Alam played the sitar. My niece, Selina Baby was on vocal.
***
We now had one single target. Surela would perform at the 31st night of 1972 at Chittagong Club. I met the Director, Mr Shahzada. I convinced him.
A few days later, Wadudul Islam visited my house. He was a friend of my elder cousin, Anwar Ul Alam. Wadudul lived in the UK. Seeing our practice, he gifted us an accordion and two maracas on one of his return trips from the UK.
We now needed to do what all bands do, practice, and stay focused.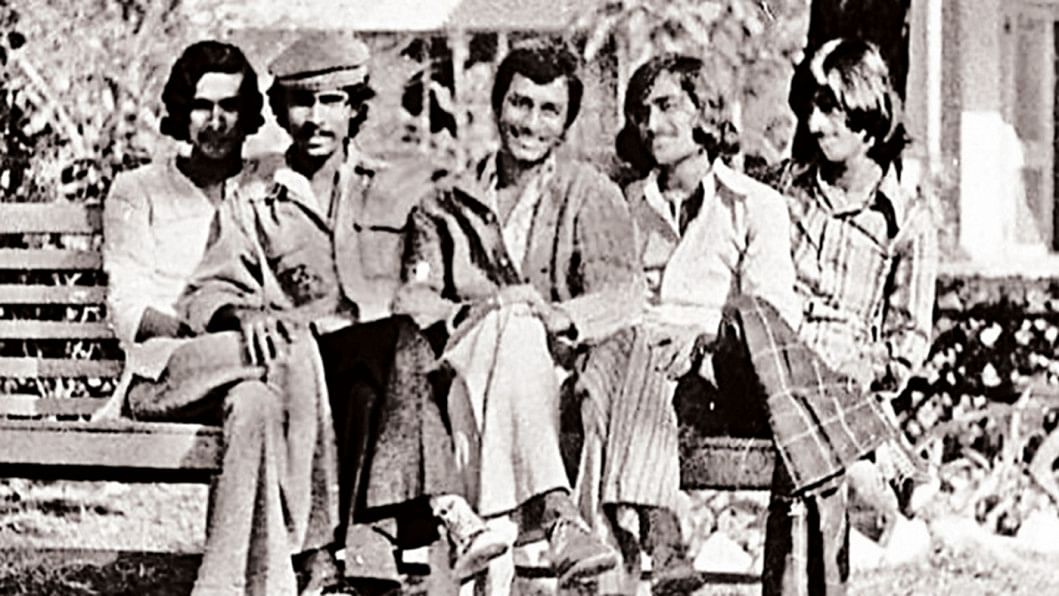 The 31st night finally arrived. Our line-up at Chittagong Club was me (accordion & guitar), Lulu (the same), Rony (conga), and Tauhid (bongo). I remember, we played two tunes that made the crowd go ecstatic. 'Dum Maro Dum', and 'Nishithe Jaiyo Phoolo Bone'.
Little did we realize that night, the band was destined for bigger things.
PART II: THE BIRTH OF SOULS
Rony's sharp eye for spotting talent influenced changing line-ups and character of the band.
Rony brought his friends Rudy and Lorenjo. We jammed on 'Cotton Fields' by Creedence Clearwater Revival. Their harmonization blew me. Rudy and Lorenjo joined the band.
At a birthday party, Rony introduced me to Tapan Chowdhury. He said Tapan had a good voice. I asked Tapan to sing. He sang a ghazal. I asked him to sing a Bangla song. Tapan sang Kishore Kumar's 'Akash Keno Dake'. That was it. Tapan was on board.
External factors also contributed to changing line-ups. Tauhid left. The line-up was now: Rony, Lulu, Rudy, Lorenjo, Tapan and me. Tapan specialized in Bangla songs. Rudy and Lorenjo specialized in English songs.
One day Rudy proposed that the name of the band needs to be in English. We all bought his idea. I asked my nephew Fariadul Islam to choose ten English names. Among them, I liked 'Bound Souls'. I went upstairs and asked my elder brother, Moyeen Ul Alam. He dropped 'bound'. From that day on, the band was Souls.
PART III: THE FIRST SOULS CONCERT
At the end of 1973, Rudy and Lorenjo convinced the Father of St Mary's Church to rent us their hall for the first concert of Souls. We decided to sell tickets and market through word of mouth. We were amazed. All the tickets sold out.
There was a twist. Soon after the concert started, fighting broke out. There were gunshots. People got scared. It was our first concert. We didn't know what to do. The concert was cancelled.
The next day, Souls was on the front page of Azadi newspaper with photos from the concert. The title read, 'Souls-er Shurute Londo Bhondo' (Souls in dire straits as they start). Rony was heartbroken. He decided to give up. I said, 'No. We will carry on'.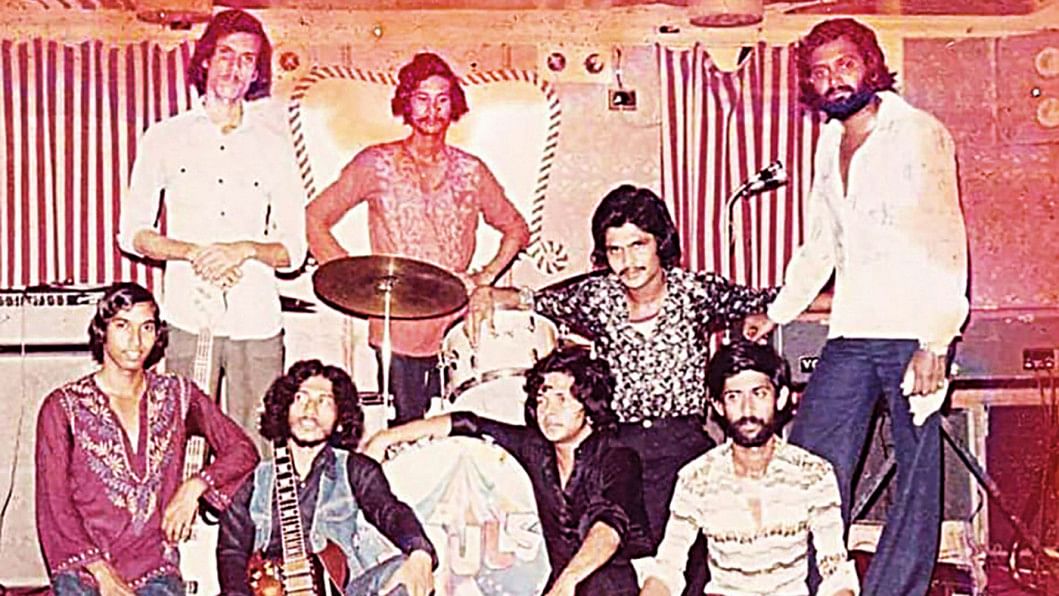 That front page story was a blessing. People now knew who we were. Slowly, we started to get offers for shows. The commercial beginning of Souls would have twists for me some years later.
PART IV: SOULS BECOMES A NATIONAL BAND
Balark was a popular band in those days. I was good friends with them. Balark had a super-hit commercial instrumental introduction in Chattogram Betar. I was a part of that piece.
Souls was 'envious' of Balark. They had a beautiful keyboard with a wonderful amplifier. Naquib Khan was their keyboard player. Naquib and I developed a good synergy in music collaboration. When Balark disbanded, Souls managed to acquire their keyboard. I invited Naquib to join Souls.
***
At the end of 1974, Souls decided to arrange a big concert. We wanted Souls to look good. My photographer friend, Newaz, did a wonderful poster with the band in long-hair and bell-bottom trousers, the fashion of the day.
The venue was the Concert Hall of Muslim Institute. Once again, tickets were sold out. This time, Souls was forced to open gates to the public. People were standing on rickshaws to watch and hear us. Once again, in the middle of the concert, there was fighting. This time, I had a presence of mind. I told Tapan to start singing, 'Mon Amar Deho Ghori'. The audience calmed down. The concert ended successfully.
***
It was now 1976. Lorenjo had left Souls. After joining an airline, Rudy became irregular. I called on my nephew, Shahed. I trained him in bass. Again, Rony came to the rescue. He introduced Tajul to the band.
Souls was to encounter another watershed moment.
Hasan Zaman Rumi and three others came from Dhaka for a few days. They stayed at my house. Rumi said that they would like Souls to participate in the All Bengal Rock Concert in Dhaka later that year.
Initially, we were in two-minds. Souls was extremely popular in Chattogram. The thought of Dhaka never crossed our minds. In the end, we decided to go. Like the 31st night in Chittagong Club, the competition was our next single target.
We were focused from day one. We practiced and organized each move with careful planning.
Souls was one of the last acts. We sang, 'Mone Koro', and 'Bhule Gechho Tumi'. We harmonized the songs in the style of Crosby, Stills and Nash. This was new in Bangladesh at the time. We got this idea from a group of Danish development workers, Klaus Laurssen, Poul Erik Rasmussen and Helle Rasmussen. They worked for DANIDA and were based in Chattogram. They were close to Souls. They suggested we do Bangla numbers in Western harmonization.
It clicked. We won the competition. That night, Souls became a national band.
***
After the All Bengal Rock Concert, Souls never looked back.
We met Mr Hakim Ali of Agrabad Hotel. Souls became their Saturday night band. The band got national exposure thanks to Bangladesh Television. The band won critical acclaim thanks to concerts at the Shilpakala Academy.
Souls soon became the highest paid band in Bangladesh. Numerous times we would do three shows in a day. We once went from Chattogram to Jashore to attend a concert. We went by plane and returned by plane. This was unheard of at the time. Fans waited at the airport to greet us. Fans saw us off when we left. The feeling was not too far away from Beatlemania.
This brings me to the end part of my story with Souls.
PART V: THE BEGINNING OF AN END
I think it was 1977. Rauf Chowdhury was at my house. I played 'Born on the Bayou' by Creedence Clearwater Revival on the guitar. Rauf spontaneously started singing. I was astonished at how well he could hit the high notes in the song. He sounded just like John Fogerty of CCR. To cross-check his high-pitch, I then played 'Hotel California' by the Eagles. Rauf's mesmerized me again. We had to have him in our band.
By the end of 1979, the commercial pressure of Souls became too much for me to handle. Music was no longer a soul-searching experience. I was looking for an exit. Klaus proposed on going to Denmark to learn music. I liked the idea. The problem was, how do I let go of Souls? Klaus, Poul and Helle gave me an idea. I kept it secret from Souls.
***
It was now July 1980. I invited Souls, Klaus, Poul and Helle to a Chinese restaurant at Agrabad. During dinner, I declared I was leaving Bangladesh in a few days for Denmark to study music.
Everybody was shell-shocked. In my own words, I told Souls what Klaus, Poul and Helle advised.
'It's true that I created Souls, but Souls would never have become what it is, if it wasn't for all of us and the many people inside and outside the band we met'.
'I'm leaving Souls to you on the condition you won't break Souls. The band will continue to exist and create music. In return, I shall not ask for any royalty the band makes from this day on'.
I entrusted the management to Rony. I asked Tapan to carry on singing Bangla songs and Rauf to carry on singing English songs. I asked Naquib to do his mastery with chords on the keyboard. As a final request, I asked Souls to take Ayub Bachchu in my place as the guitarist of the group.
On July 17, 1980, I left Bangladesh for another journey in music.
***
I'm indebted to Souls. Today I am where I am because of Souls. Souls taught me a big lesson in life. How to start small and stay focused to achieve a large goal.
Because of Souls I met many talented musicians. Happy Akhand for his overall talent, and Larry Bernavi of Windy Side of Care for his musicianship with the guitar are two special friendships I will always cherish.
In hindsight, I'm happy I did what I did. Souls kept their word. For fifty years, the band has kept the memory of many of us alive. I pray the band remains active to celebrate a Centennial Jubilee.
Sazed Ul Alam resides in Spain. He is the owner of Dolça Bellas Artes. His latest project in Bangladesh is the Dreams of Artist Society based in Chattogram. Email: sandmusic_es@yahoo.es
Asrar Chowdhury is a Professor of Economics at Jahangirnagar University. He has contributed to the Daily Star since 1993. Email: asrarul@juniv.edu