Bangladesh's collapse in Zimbabwe: Woe of the Tigers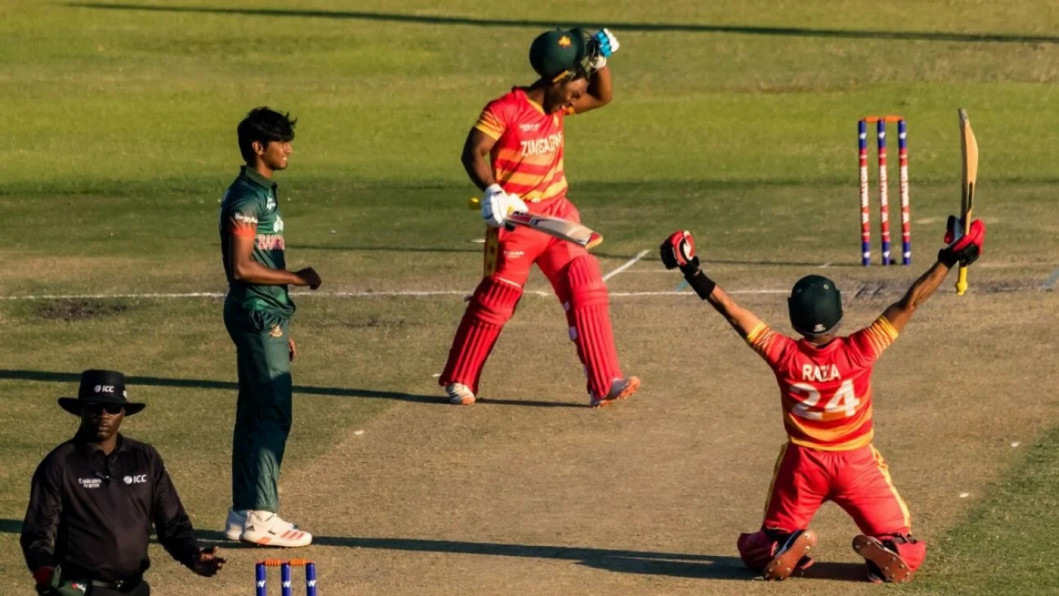 "To be honest, I will not be disappointed if we lose 3-0 against Zimbabwe in T20Is. Our main target in T20Is is to experiment, which we can't do in (the) ODIs." Thus spoke Khaled Mahmud Sujon, the Bangladesh cricket team director, before the team's departure for Zimbabwe.
The experiment saw Nurul Hasan Sohan at the helm, resting the off-form skipper Mahmudullah. Eventually, the Tigers lost their three-match T20I series against Zimbabwe 1-2, making the team director eat his own words. Mahmud said, "I am very disappointed, I didn't expect to lose to Zimbabwe. We are a better team than them. I would call it a disgrace. Losing was quite unusual. When we needed 10 or 12 runs an over, we were getting six or seven. Nobody even tried to hit a six. Everyone was playing for ones and twos. They batted like (they were) trying to protect their place, make enough runs so that they don't lose their place."
Injuries to in-form batters Litton Das and Nurul Hasan brought Mahmudullah back in the team for the series-deciding match – not as the captain though, but as a middle-order batter who seemed more concerned about his place in the team. The captaincy went prematurely to someone who had an unlikely success of five-for with the ball in the previous match. Mosaddek Hossain failed miserably in his new role. Team Tigers had no answer to Zimbabwe's gritty performance.
The fickle-minded manager probably hoped that Bangladesh would continue their dominance over their African opponent. He had history on his side. He underestimated the counterpunch hurled by the veteran Zimbabwean campaigner Hasan Raza, whose playing experience in Bangladesh proved handy. After losing the subsequent ODIs, somehow averting the ignominious whitewash, Tamim Iqbal offered no excuse as he knew that the better team had won.
The month, however, began with our cricket bosses claiming that the Bangladesh team's surge in the ODI format had been praised in the annual report of the International Cricket Council (ICC). Good for the paper tigers. The tamed performance in the field tells another tale, though. We are a team on the slide. In any other country, by now heads would have rolled at all levels.
Meanwhile, the poster boy of Bangladesh cricket, Shakib Al Hasan, has embraced further controversy for promoting a betting portal. Once the Bangladesh Cricket Board (BCB) decided to axe him from the Asia Cup squad, Shakib reluctantly withdrew from the nefarious contract. This is the very cricketer who was banned by the ICC for one year on charges of failing to report a corrupt approach from an Indian bookie in 2019.
Shakib is known for his business acumen, which spreads outside the domain of cricket. According to Dailycricket.com.bd, which ran a story on our Test captain, "Shakib started as a businessman through investment in the restaurant business, and soon his business sphere expanded in stocks, plants, cosmetics, travel agencies, hotels, event management, and various sectors. Outside the country, he has invested in countries like the United States, Saudi Arabia, and many countries. He has also become a big influence in the country's capital market."
Shakib's shrewd practical sense was evident when he led a players' revolt right before his bookmaker controversy. While the demands for a fair share of the revenue generated by the BCB for the professional players were legit, its sheer timing benefitted Shakib, who played a figurative scoop shot to divert the ball charged at him.
Shakib can afford to be complacent as he knows that his outstanding career track record will secure his position on the team. With his brilliance, he could get away with anything with a simple slap on the wrist. The sense of security is equally detrimental for the top posts, where the corporate bosses always want to play it safe. Nobody wants to rock any boat.
CLR James in Beyond a Boundary, his part autobiography and part social, cultural, and political analysis of cricket, referred to the Russian-Ukrainian Marxist revolutionary Leon Trotsky, who thought of sports as a means to deflect workers from politics. It seems our current bosses are using politics to deflect us from sports.
James outlays the spectacular quality of cricket where the audience expects the athletes to perform. In ancient Greece, an athlete was treated as a representative of the community, and his "victory was a testament to the quality of the citizens. All the magnates of the city welcomed him home in civic procession. They broke down a part of the wall for him to enter: a city which could produce such citizens had no need for walls to defend it. For the rest of his life, he ate at the public expense." Here is a thought for those who find Shakib's actions all Greek. Shakib is cashing in all the treasured memories that he created for us.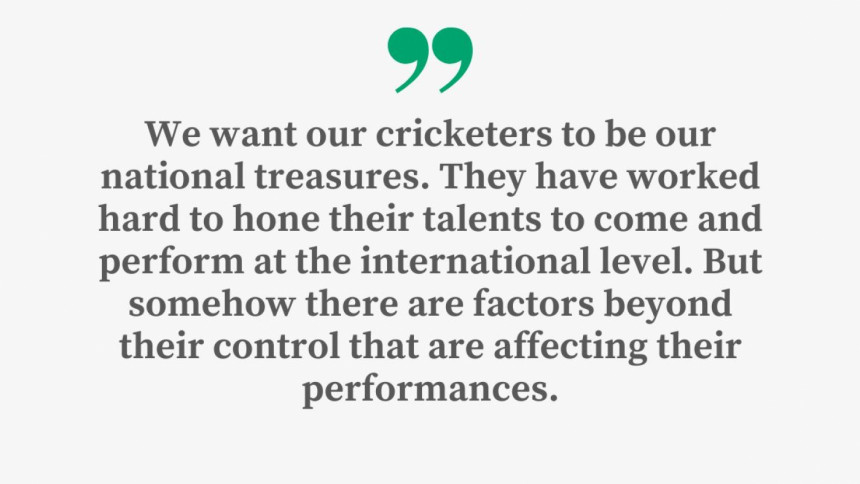 Such complacency affects the morale of the entire team. You have a coach whose performance is below par, yet we are told he is the best option that we have. The board is guilty of hoarding money and not doing enough for expanding cricket around the country.
Then, our senior players are no longer sure of their roles in the team, and the top management has no graceful exit plan for them. Can they not be engaged as mentors and given charge of various district or school teams?
We want our cricketers to be our national treasures. They have worked hard to hone their talents to come and perform at the international level. But somehow there are factors beyond their control that are affecting their performances.
The recent results in Zimbabwe have shown that the team did not do any homework on their young opponents. They were buoyed by their previous success record, built over the last nine years, to think that they would triumph without any major opposition. They showed that they had little match fitness and were very prone to injuries. Litton and Sohan's injuries proved disastrous. But the damage is far more deep-rooted than a physical injury. It pains us to see the complacency and lacklustre attitudes with which Team Tigers and their bosses act and behave. They have little concern for the injuries they do to their supporters.
Dr Shamsad Mortuza is the pro-vice-chancellor of the University of Liberal Arts Bangladesh (ULAB).