Is it Destination Death for our migrant workers?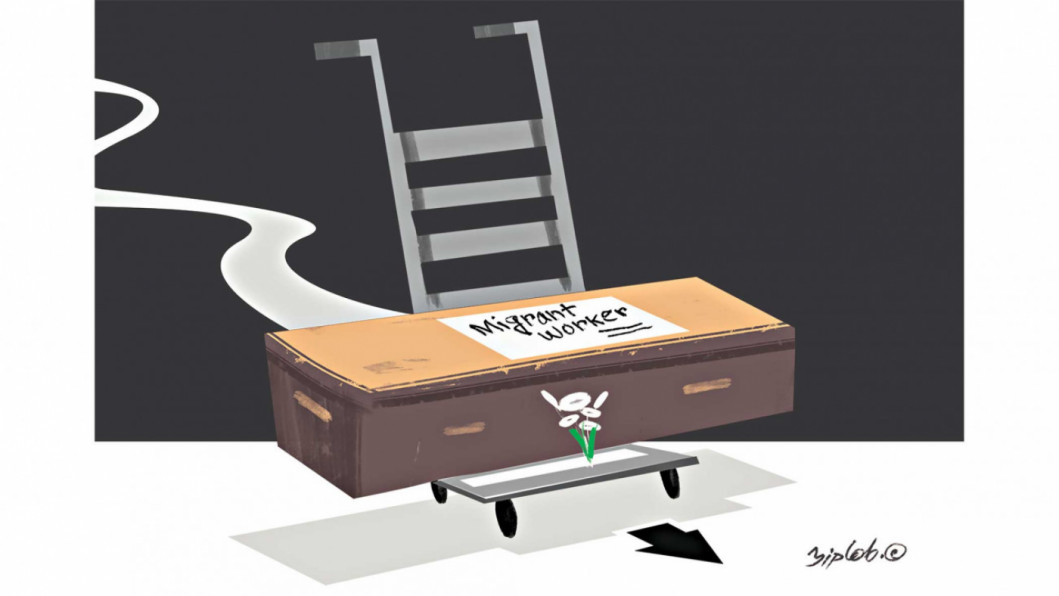 "4,000 migrants' bodies brought home in eight months." The newspaper that carried the story cited "data available with the Wage Earners' Welfare Board (WEWB)" for the head count (The Financial Express, September 21, 2022). Given the previous track record of our official paper trail, this figure, too, is likely to be an underestimate.
Five hundred deaths a month. Is that natural? The official certificates in most cases categorise these deaths as "natural," often to avoid penalties or further litigations that could implicate the employers or their agents. The International Labour Organization (ILO) reports that 400,000 Bangladeshis go abroad in search of work every year. Maybe, when we look at the big picture, the mortality rate seems to be proportionate with the large workforce. Yet, the number of deaths of mostly able-bodied young men and women (almost 17 people a day) is troubling, to say the least. Are we sending our remittance warriors to walk towards their death? While we relish the opportunity to brag about or benefit from the revenue sent home by our migrant workers, there seems to be clear indifference to the lives that matter so much for our national growth and sustenance.
Hostile working conditions in extreme weather, especially in the Middle East, workplace accidents, pre-existing health conditions such as kidney or heart disease aggravated by hard labour, suicide caused by the trauma of dislocation or work pressure, road accidents and murder are reported to be the main causes of death. However, almost 80 percent of these deaths are certified as "natural."
These breadcrumbs led me to visit the WEWB webpage. The first widget after the welcome message blazons a notice for the "Deceased Workers & Families" with "Burial of Dead Body" as the first hyperlink. I clicked on it to read, "A good number of migrants die in abroad every year. WEWB brings their dead body from abroad and hand over them to their deceased family. In some cases, WEWB also arranges necessary action to bury dead body locally with the consent of the deceased family [sic]." There was a photo of an airport porter carrying two coffins in a steel trolley. I kept on staring at the page and wondered how insensitive one could be to promise potential workers of their last rites.
Earlier in April, an editorial by New Age mentioned that the WEWB brought back bodies of 41,053 migrant workers in 20 years, between 2002 and 2021. The actual figure of casualties abroad could be much higher as many Bangladeshis travel undocumented. Of course, the burial service is a noble one, but one wonders what steps are in place to minimise the death toll. Our missions abroad are often guilty of being indifferent to the misery of our migrant workers.
The irony is most of these workers paid a heavy price to earn their deaths. In 2021, The Guardian ran a report on the dark side of the World Cup construction frenzy in Qatar to point out that in the last 10 years following the announcement of Doha as the host city, more than 6,750 migrant workers from India, Pakistan, Nepal, Bangladesh and Sri Lanka have died in Qatar. Of them, 1,018 were Bangladeshis, securing an unenviable third spot on the death tally. The report adds, "Bangladeshis migrating to the Gulf country are likely to have paid about USD 1.5 billion in fees, and possibly as high as USD 2 billion, between 2011 and 2020."
The UK-based newspaper offers a side story of one Shahid Miah, who was electrocuted as an exposed live electric cable got connected to the wet floor of his room. Shahid paid nearly Tk 4 lakh to a recruitment agent for his job in Qatar in 2017. After his death, the debt has been passed on to his parents. What is the real cost of remittance, when our contribution to the global supply chain involves mostly low-wage and low-skilled migrant workers? A report from the Bureau of Manpower, Employment and Training (BMET) maintains that about 14 million Bangladeshis went to 162 countries in 1976-2021, of whom 80 percent were in the Gulf region. These are our fellow compatriots who injected USD 20 billion into our national economy in 2020 at the height of the Covid-19 pandemic, and helped us deal with one of the most difficult global crises.
Yet, anyone who has travelled in these destination countries knows how these men and women are abused and exploited abroad. They are often denied the right to speak against mistreatment or poor working conditions. They fall victim in all stages of their journeys: recruitment, employment, and homecoming. We hear horror stories that employers confiscate passports, demand extra money for their work permits, sell their contracts to third-party employers to strip them of any legal obligations, blackmail them, and treat them as modern-day slaves in the workplace. The situation is even worse in Saudi Arabia, particularly for female workers. Yet, we look for opportunities to send our human resources abroad. These are the people who would send their entire earnings back home hoping their loved ones would pay off the debts or live a decent life. In return, they live on charities.
While researching for this column, I realised there was no shortage of good suggestions and policy documents on the internet. The answers are indeed blowing in the wind. Hence, I shall end by saying the obvious: let's learn to put human faces to all the numbers we are presenting – exported human capital, global supply chain, and overseas currencies. Let's unlearn to view them as commodities and relearn to treat them as humans. Let's give them the legal and official support base so that they know where they can find protection. Let's ease their travel travails with designated immigration booths, with specially trained empathetic officers. And most importantly, let's try to improve their skill sets so that they can move up the career ladder. Keeping these workers from the lowest strata of our society ignorant and deprived may help a vested class or an invested coterie for now, but it hampers the country in the long run. People migrate because they want to celebrate life, not death.
Dr Shamsad Mortuza is a professor of English at Dhaka University.