Supporting a team so far away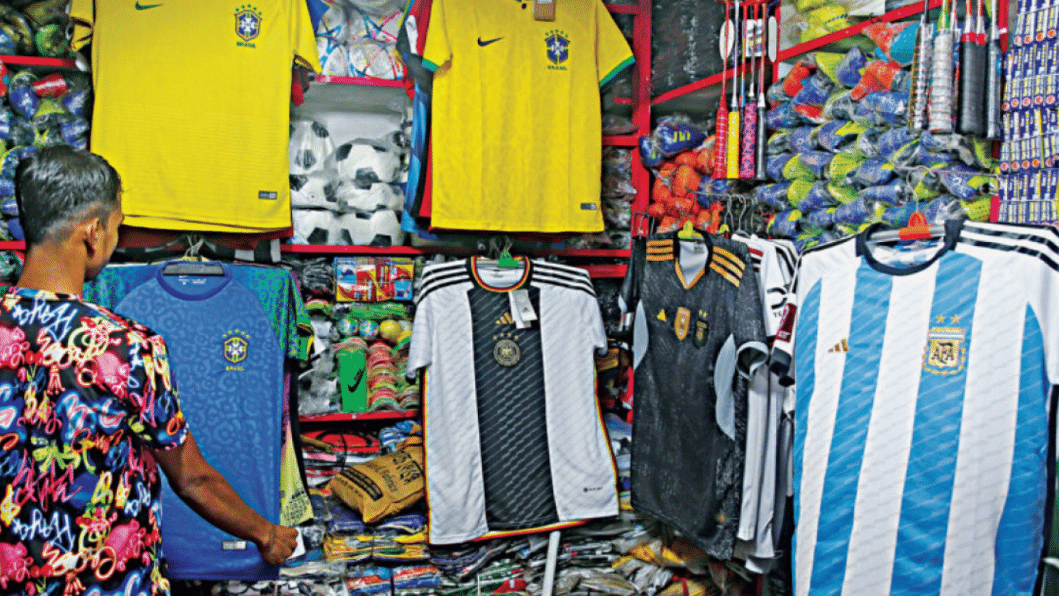 As we are slowly beginning to unglue ourselves from the TV screens, the after-effect of settling the messy GOAT (Greatest of All Time) debate can still be felt. The Albiceleste has emerged as the third-time champion of world football. They earned it through the electrifying performance of their messianic captain, Lionel Messi. The result means that Messi's trophy shelf is now complete. Without the missing cup, he could not join the ranks of Maradona, who won the previous title for Argentina in 1986. Messi has given his team a new jersey with three stars above the AFA crest.
The team in white and sky blue met a formidable deeper shade of blue in the final match. The match changed colour every now and then, making it an unmatched drama of recent history. Suspense, emotion, pity, fear, heroism, supernatural aid, reversal of fortune, catharsis – you name it, the match had it all. The relief came in the form of a collective endorsement of Messi's career-defining accomplishment as the captain who led his country to the third championship.
Messi's talismanic touch even bridged the chasm in Bangladesh, featuring frantic supporters mainly of two Latin American nations. The curious case of Bangladeshi supporters taking up sides in the football feud between Brazil and Argentina has caught the attention of international media. The way football has connected a small South Asian country with the ones in South America "is proof of sport as a glue of this planet." While identifying the glue, The Washington Post detects an irony. The "eternal soccer rivalry" between Argentina and Brazil that has "blossomed" over the last four decades in Bangladesh is "the damnedest thing you ever heard." To substantiate this claim, The Washington Post reporter Chuck Culpepper gives examples of foreign flags flying, decoration of buildings and bridges, exchange of brickbats and whatnots – the list goes on. Dhaka pulsates with support for their teams, while being located over 15,000 kilometres from Rio de Janeiro and more than 16,000 kilometres from Buenos Aires. "It happens although most Bangladeshi fans who adore either Argentina or Brazil will never meet an Argentine or Brazilian."
The last point has been proven wrong by an interesting diplomatic twist. The Argentine people are so impressed with the solidarity that their Bangladeshi cousins have shown, they have decided to reciprocate the gesture at both people-to-people and state levels.
Argentine President Alberto Fernandez has already written to Prime Minister Sheikh Hasina expressing his intention of reopening their embassy in Dhaka in 2023, which they closed down in 1978. This will renew the 50 years of diplomatic ties between these two sports-loving nations. Thanks to some frenzied supporters, the need for a bilateral relationship between these two countries has come to the fore.
In 1971, the intellectual circuit of Argentina extended much-needed support for our independence. Led by Victoria Ocampo, alias Vijaya in the nomenclature of her friend Rabindranath Tagore, a group of writers, painters, artists, and jurists submitted a memorandum to the then Argentine president to stand by the suffering humanity of Bangladesh. The people's power has once again shown new avenues of cultural and commercial exchanges that can benefit the two friendly countries.
The internet is rife with images of Argentine support for our cricket team or our country as a whole. I came across an image of an Argentine man scripting a "BFF" (Bangladesh Football Federation) tattoo.
All this is good. The problem arises when we fail to control our emotions. I came across an Argentine tweet saying that the man had enough of the unsolicited overfriendly gestures flooding his inboxes. These include pictures of women whom he should marry.
I think it is time that the government intervened to raise awareness about the protocol of supporting a foreign nation and making the behavioural expectations clear. I am not asking for an introduction of any draconian law, but a social campaign to set some guidelines for not only showing our support for a foreign nation but also utilising our resources for the national cause.
It hurts me to see that a supporter has taken a bank loan to prepare a 2,022-foot flag. I hear villagers in the hill tracts have painted three bridges in the colours of their teams. The amount of paint and fabric that has gone into showing support is mind-blowing. I am not singling out any nation, but there should be some norms.
Can you imagine public property at Little Bangladesh in New York and Los Angeles or Brick Lane in London being painted in red and green during a World Cup cricket match? The flag issue becomes immensely political when supporters carry those of our neighbours. Everyone knows the problematic nature of carrying the flags of those who fought for and against us in 1971.
You may warn me not to mix sports with politics. Maybe you are right. We came very close to having two political showdowns during this World Cup: the matches between the US and Iran and between France and Tunisia. The first instance is tinged with diplomatic row, while the second is soaked in the recent memory of colonialism. The political nature of sports was further exemplified when the Iran team refused to sing their national anthem in support of the ongoing protests in their country. Germany wanted to be creative in their protest against the host's strong stance against LGBTQ+ by gagging themselves.
Whether we like it or not: nothing is innocent, and sports is not excluded. Then again, we have no right to dampen the leap-yearly enthusiasm of supporters in a country that lacks quality sports and entertainment. The challenge, then, is to mobilise the resources and energy to do something creative and positive. Instead of painting a building, a supporter can patronise a local team, bring in foreign experts, buy gear for school children, train coaches and referees, and create and curate playing fields. Name the teams after those you admire. Team Messi can play against Team Neymar or Mbappe. The point is: use the money to develop local sports with your favoured colour. Show your international support without losing sight of the national needs.
Dr Shamsad Mortuza is a professor of English at Dhaka University.