The water tank with many holes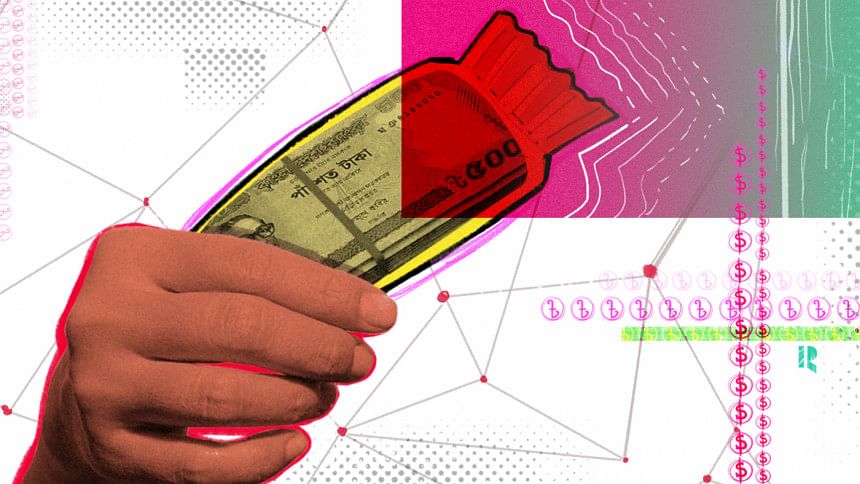 As I was about to check in for a domestic flight, a young man with excess baggage requested me to claim one of his bags as my own. It was right in front of the ground staff, who would not have allowed the switch. The transit passenger said he was coming from South Africa and had only Tk 700 on himself. The Biman staff was asking for Tk 2,100 to allow the extra weight.
So, I went to the counter and thought to help this fellow human being and do something good. I gave him a Tk 1,000 note and said to the staff, "Please don't tell him. He can pay his Tk 700 and check in." I didn't want to hurt his pride and walked towards the security check. As I was sitting in the boarding area, the young man came to me and said that he had already asked his brother to bring the extra cash to Sylhet airport to pay me back. I told him that he was not even supposed to know that I had paid. It could have been me in another time and place. The grateful man disappeared for a while and came back with a bag of chocolate bars. He insisted I take them. He had likely brought them for his family members. Out of courtesy, I took a small wafer. But he pulled out the priciest bar of the lot and gave it to me. During the conversation, I also found out that the man had returned home for medical treatment, which he couldn't afford in Freetown.
Now, what lessons can we learn from this anecdote featuring an honest man who is willing to repay his loan? He is unlike those who create an aura of wealth by skimming the banks or the financial system. He is a wage-earner who brings foreign currencies home, without finding a "home" for our own currency abroad. The government earlier announced a seven percent penalty on those willing to bring back the money they had illegally laundered abroad. Nobody showed any interest in cleansing their tainted money through this amnesty.
The amount of money that we hear has been illegally sent abroad is staggering. My pay scale does not even allow me to envision the zeroes that are thrown about in newspapers. How do they make such obscene amounts of money? Bank fraud, share fraud, over-invoicing, bribing, thuggery – you name it.
Once again, hints of the dark world are available to us through some rare factual investigative reporting or some fictional representation in ink or pixels. But here I was with a hardworking "remittance warrior" whose sweat does not lie. He and his kind are trying to refill the proverbial tank of many leaks with their one pipe of inflow. I used to find Jadav Chandra Chakravarti's Arithmetic difficult as a child; now I find it even more difficult to conceptualise those arithmetical problems as a metaphor for our existence. How can we sustain ourselves as a nation when the number of persons who are keen on repaying debts is fast dwindling?
We see project after project in the name of development. For instance, iron grills surrounding parks are now being replaced with tempered glass. While they have become visually attractive, they are stopping the flow of wind, not to mention that they require heavy maintenance in terms of cleaning. The paved areas of the park are replacing greenery in the name of beautification. The city medians are undergoing serious cosmetic surgery. All these projects create opportunities for dirty money and their subsequent cleansing. How do I know? Oh, I have watched Ozark on Netflix. While I am getting ideas from the media, I am sure there are a million others who are getting the urge to apply them in real life.
A confession made by a freelancer from Chattogram, who was running a blackmailing racket based on an adult app, proves my point. Last week, the actors behind the Telegram app-based group called Pompom were eventually nabbed by police. Abu Sayem, who used the alias of Mark Suckerberg, told the media how he saw the opportunity to make easy money by leaking intimate images of app users to the web to milk money.
Our greed is on the run. There are too many tutorials available online on how to make quick money. We want everyone to become entrepreneurs; make their own rules. We do so because we do not have the system to engage our workforce in the production schema. There was a time when being honest was considered a virtue. Now we live in a time when vice is advised at the topmost level.
Why else is a team of six university officials, including the pro-vice-chancellor of Pabna University of Science and Technology, going to Turkey sponsored by a construction firm to inspect the lifts that have been procured? And the university officials showed no remorse in claiming that the foreign trip was included in the project proposal. Then we heard of two vice-chancellors making a gentleman's agreement in recruiting their offspring to respective universities through quid pro quo. When corruption occurs at the top, what can we expect from the bottom? The former president in his outgoing speech lashed out against the corruption, nepotism, and incompetence corroding our education sector. But it was too little too late. The water tank is leaking. How can the government plug these leaks and refill what's been lost?
The budget has proposed a minimum payment of Tk 2,000 for anyone submitting a tax return. There are about five lakh TIN holders with zero tax. Maybe they will be able to refill Tk 100 crore with such an attempt. But in the process, it will deter a million others from coming under the tax net. The system is becoming conducive to illegal income. Honesty is becoming short in supply. The man eager to pay back his debt is becoming a rarity. Yet, he represents the hardworking, honest Bangladesh that can bring real change to the system. Those who are at the helm need to protect and guide these individuals with the incentives they need to check in to the future with dignity and pride. That would be the smart thing to do for a Smart Bangladesh.
Dr Shamsad Mortuza is a professor of English at Dhaka University.