Bangladesh stumped by 'blind love'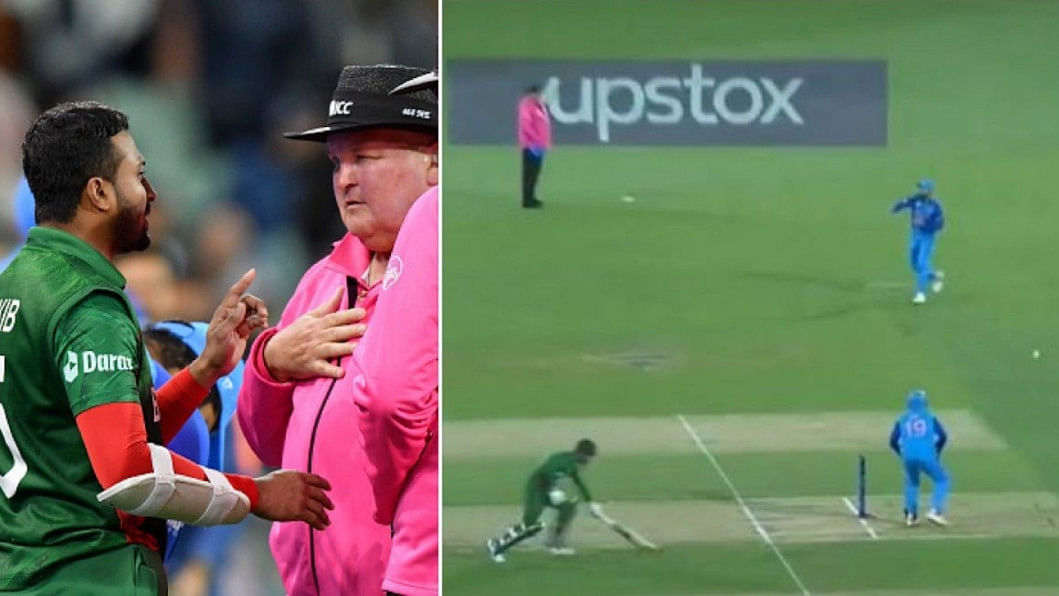 I was never an arithmetic wizard, but once upon a time, I could add up three-digit numbers with ease. Then came the magical calculator; thereon, handling more than two plus two became a matter of doubt. One does look silly before a shopkeeper, or flabbergasted at a Bangla restaurant where Khokon adds up the cost of two rice portions, three veg plates, two large fish and two small, three chicken dishes, daal and salad before you can say, "Bring me the bill."
In the days when cricket was played as cricket, umpires could boldly signal a dismissal and gain the tacit approval of most in the galleries. A boundary-line decision was usually signalled sportingly by the chasing fielder. Then arrived the DRS. Field umpires became overly and lazily dependent on technology even in situations when the runner was a metre away from the popping crease at the bowler's end. Blind as a bat, you could say.
Umpires are human beings, believe me! And, in spite of their stern gaze, tight lips, ability to arm three sweaters and head-carry four caps, they have been guilty of blind love for their amorous choices, usually icons and big teams – in every format, from club to international level. Liking leads to love, then to greed and fear, but more on that topic another day.
In a crucial Super 12 match in Adelaide in the recently concluded T20 ICC Men's World Cup, unfortunately for Bangladesh, the umpires, despite being repeatedly pleaded by the batting side, did not refer to the system a fake-fielding allegation against Virat Kohli. When you are stung by the love bee, you don't see the fault of the one you favour. Conversely, you can hurt an adversary, willingly.
Low catches, boundary line doubts, and Bangladesh wicketkeeper's hands ahead of the stumps before the ball passed them are subjected to umpteen slo-mo replays. And here is a team, brought in to bat reluctantly before the rains could seep reasonably below the outfield, being denied even one review. In fact, Shakib Al Hasan requested the umpires to delay resuming the match as the outfield was still wet – but to no avail.
Those umpires know their numbers well. That awarding Bangladesh five penalty runs because of Kohli's attempt to obstruct the batsman could ultimately mean goodbye for India from the T20 World Cup. The judges played the being-blind card. True to their calculation, India won that crucial match by exactly five runs.
How umpire Marais Erasmus did not see Kohli's synchronised throw is mind-boggling, because the South African is a highly well-paid regular umpire in the Indian Premier League (IPL). He must have done a good job, for he was also appointed an infield official in the final match. Bangladesh Cricket Board (BCB) has decided to raise the issue of controversial umpiring with the game's governing body. But we don't expect them to raise their now useless index finger long after the final has been played.
I would be adjudged LBW (lying before the world) if I insinuated that we are the only victims of bizarre adjudication. But, another white cane umpire, in Bangladesh's 11th over in the match against Pakistan, signalled Shakib Al Hasan out LBW off Shan Masood. Surely Bangladesh was unwise not to seek a review, because TV replay showed the ball hitting the lower edge of Shakib's bat before hitting his pads.
On normal days, you have them DRS-ing even clearcut run outs, but against Shakib the terribly mistaken umpire was trying to flaunt his 6/6 eyesight. His biased vision and abject judgement were caused by his blind love for a superior team, costing Bangladesh a semi-final berth.
Now, a group of researchers have come up with a proposal to save cricket from such gross partisan umpiring bordering on nepotism. Less reputed and upcoming teams may finally get some justice. Decisions could soon be made by an instant poll of select panellists – that is, live online voting by nominated formal national cricketers from all the cricket-playing nations. I have faith in those who have held a bat or bowled for their country. Their reputation among their international compatriots will be at stake.
To resuscitate cricket to its days of Donald Bradman, Frank Worrell and Kapil Dev glory, players will have to own up to contentious issues that are common during fielding. Kohli should have owned up, but he was not born in the 1960s.
Let cricket be organised and administered, played and officiated with the highest level of integrity at all levels and formats. After all, the game was once known as the game of gentlemen.
Dr Nizamuddin Ahmed is an architect and a professor, a Commonwealth scholar and a fellow, Woodbadger scout leader, Baden-Powell fellow, and a Major Donor Rotarian.