Pelé: Unseeing is believing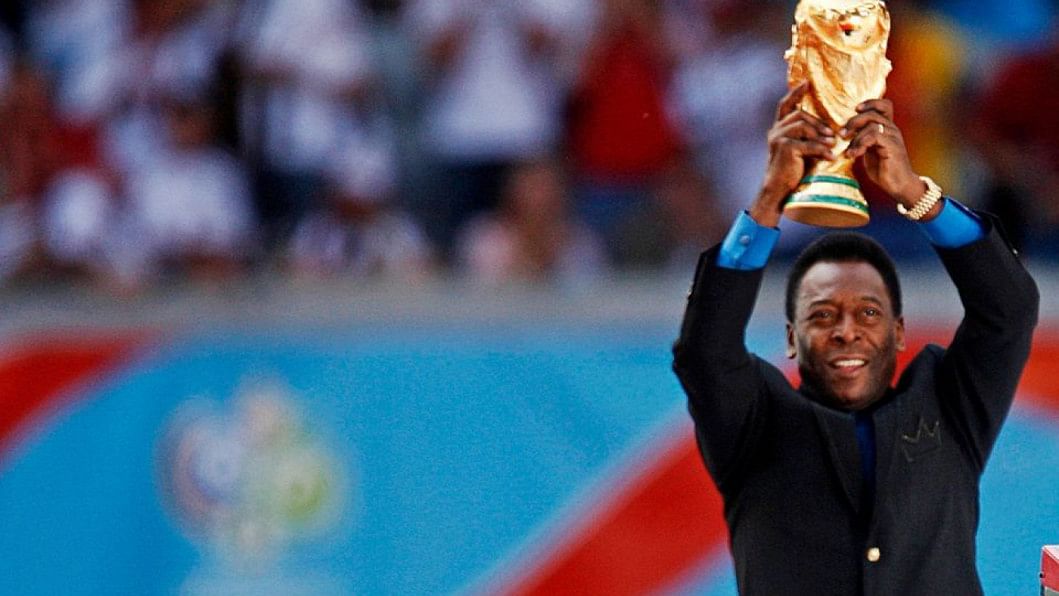 I came close to seeing one of the greatest sportspersons of the 20th century in September 1977 when both Pelé and I were in Kolkata; he representing New York Cosmos in a one-off game against the local Mohun Bagan, and I in desperation for a ticket. Neither of us won, because the exhibition match was drawn 2-2, and I could not get into the Eden Gardens.
Such was the obvious hype surrounding the match, a first ever, and so widespread was the glorification of Pelé, that only winners of a lottery among millions of paying subscribers could purchase a ticket. Don't rub it in, I did not win.
A Bangla daily had aptly summed up the presence of the artist in the "city of joy" with the headline, "Pelé ghumalo, para juralo" (Pele slept, locality quietened) when he retired for the night, and the teeming crowd that had followed him all day finally left.
The world became an admirer of Edson Arantes do Nascimento, known mononymously as Pelé, by reading about his athletic exploits, watching his magic on television, that too occasionally or often in black and white, and almost never having seen him in person.
Versatile in both feet, not common among the best in the world, Pelé would weave past his opponents with the gracefulness of a skater on ice, leave a defender stranded by tapping the ball through their legs, chest down a high lob and finish with a decisive volley, feign a shot to fool a rival, pierce a wall with a swerving free kick, and score at will with his trademark bicycle kick. He went on to score 757 goals in 812 official games. The Guinness Book of World Records, however, recognises his 1,363-game career in which he scored 1,279 goals; that is almost a goal per game.
Pelé also excelled in playmaking as a defensive midfielder, making deft passes to split the opponents' defence. Added to that dexterity was the verity that the Brazil number 10 never ever received a red card (he got one yellow though) in his long career, stretching from July 1956 with Santos to September 1977 with NYC. That is more than two decades of on-field good behaviour.
He won his first World Cup in 1958 at the tender age of 17 years 249 days as the youngest player ever, scoring two goals in the final against hosts Sweden, who lost 2-5. Ten days before that, he had become the youngest scorer in a World Cup by scoring against Wales. Five days before the final, Pelé became the youngest player to notch a hat-trick in the game's biggest stage by posting three past France in the semi-final.
Although Pelé won two more World Cups, he missed most of the 1962 edition because of injury. But by scoring in the final and winning the 1970 version at Mexico, he remains the only footballer to win three world championships with 12 World Cup goals, and he won them with able support from several other Brazilian greats.
Pelé's greatness was enshrined by the International Olympic Committee in 1999. Although never an Olympian, he was decorated Athlete of the Century for exuding the spirit of the Olympic Games. Time listed him as one of the 100 most important people of the 20th century. In 2000, the International Federation of Football History and Statistics honoured Pelé with the World Player of the Century title. FIFA did its part by upholding two greats, when along with Diego Maradona, Pelé was recognised as one the two greatest footballers of the 20th century. Honestly, both Diego and the "black pearl" belong to the football world.
But even Pelé is still human, proved by the fact that at club level, his 643 competitive goals for Santos (Brazil) was overhauled by another great of the game, Lionel Messi, when he scored his 644th goal for Barcelona in 2020. Cristiano Ronaldo also etched his name in the record book by surpassing Pelé's haul of 765 goals in internationals in February the following year.
Pelé also has a first-hand role in popularising soccer in a continent where football was more associated with rugby. In 1975, towards the end of his professional career, he was cajoled, with much difficulty, into signing for NY Cosmos. Within three years, Pelé transformed attendance at football matches from a few thousand to 80,000. The tide had turned, and today, many US players star for top European football teams – a legacy of Pelé.
The greats have unique ways of bowing out of centre stage. His last game was a tearful friendly at the Giants Stadium, New Jersey, between his two teams – long-term Santos vs short-term Cosmos on October 1, 1977. A full-house of 75,000 saw the King, as he was known in Brazil, play for both teams. In the first half, Pelé scored for Cosmos, but in the second, he played in the Santos jersey; a boy returning home. As the final whistle blew, Pelé broke down into tears along with some in the gallery, and many of those watching on TV.
Brazil has declared three days of mourning for their Pelé. But the world will grieve longer for one of its most gifted sons, who won the universe with his mesmerising feet.
Dr Nizamuddin Ahmed is professor of Architecture, practising at BashaBari Ltd., a Commonwealth Scholar and a Fellow, Woodbadger Scout Leader and a Baden-Powell Fellow, and a Major Donor Rotarian.