A world in trouble, not just Bangladesh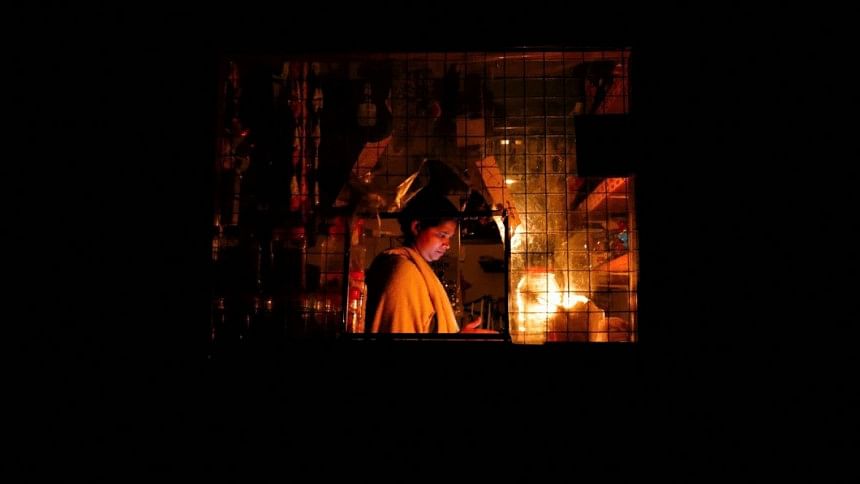 Along with many of you, I, too, am perturbed by the apparent panic (and muted enthusiasm) in some quarters, laced with immaturity and political aura, as the government, in late July, put into effect a countrywide load-shedding schedule. The move was cautionary "to conserve fuel amid soaring energy prices in the global market," due to which Bangladesh has been experiencing a daily shortfall of 1,000-1,500MW of electricity.
In early June, The Washington Post reported that load-shedding prospects loomed over the US during summer. The US power grid is under stress like never before, with regulators warning that the kind of rolling outages that are now usual in California and Texas could be far more widespread. South Africa is another country to face rolling blackouts. Europe's energy crisis is taking an ugly turn, no thanks to Russia's gas monopoly. Such a fluid situation threatens to intensify the stress and anxiety of shaky economies.
No "country" is an island, with due apology to John Donne. Almost any major incident causes a ripple effect across the globe – a few ripples lasting longer and spreading further than the others. Expert (read: political) opinions are also rife, as typified by BNP Standing Committee Member Mirza Abbas's declaration that "this load-shedding may lead to the fall of the [Awami League] government." Blaming the government for plundering electricity and load-shedding, he said whether there was electricity production or not, owners of quick rental power plants would get paid.
Now is not the time to bask in romanticism, because this is a global catastrophe, exacerbated by the war in Ukraine, a lasting deadly virus, growing shortage of food and an energy crisis, compounded by natural forces triggered by decades of human neglect and naivety.
Seemingly sleeping politicians seem to be wide awake to any remote opening of unseating a sitting government – whatever be the human cost. While governments are gasping to maintain the status quo, the opposition camps are considering this debacle an opportunity to topple and take over, forgetting that their personal destiny is tied to a government's rise and fall.
Imagine there is a change of guards by the twirl of a magic wand. Will gas ooze from the crevices of dried earth? Or shall coal sprout from a hitherto unknown volcano? Will the war in Ukraine come to an abrupt halt? Will global warming stop wreaking havoc in both hot and cold climates? Shall national entities across the borders learn from past misconduct and mistakes?
The Covid-19 contagion is now in its third year. Economic growth has been impeded. Physical and mental health has been severely affected. Nations, communities and many people have become poorer. Not complaining really, but a handful of companies have become wealthier by pouncing on the dire situation and gifted opportunity. All is fair in love, war and business.
The worldwide loss of lives is nearly 6.5 million, the number of positive cases estimated to be 600 million, recovery figures being 30 million less. Bangladesh has counted almost 30,000 dead and two million infected.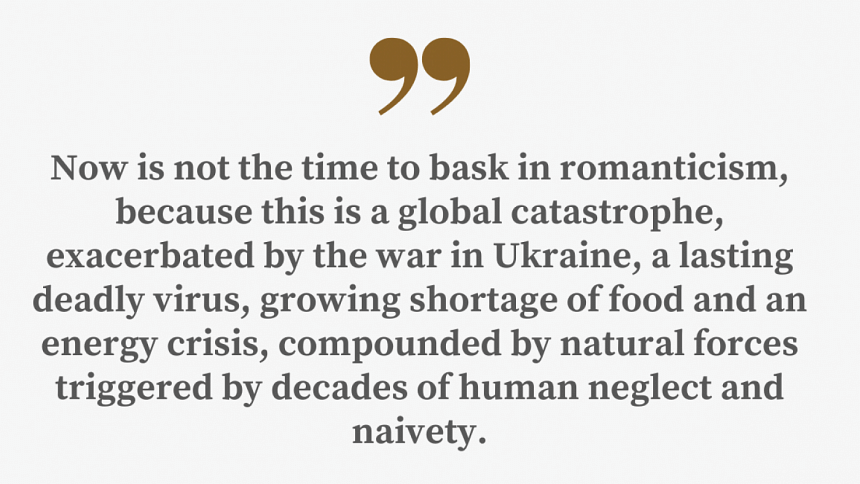 Covid has affected the production of all foodstuff and goods as well as hampering shipping and transportation, curtailing supply and increasing prices. Empty shelves in some of the biggest retail outlets made disheartening TV grabs. Costs of living soared. The unforeseen occurrences have jolted governments in all nations – poor and rich.
Examples are grim from all over the world. The US central bank had to raise the interest rate by 0.75 percent for the second time in a row to curb the soaring inflation. It is no better in the UK, where "very high prices" could increase household bills to 3,850 pounds in the coming winter due to electricity supply shortages. Households are already paying 1,971 pounds per year for energy bills after the price cap was increased in April.
To conserve water, hosepipes were banned in Hampshire and the Isle of Wight after England recorded its driest July in a century. The temporary ban was necessary because a drought threatened to damage the habitats of two neighbouring rivers. The extreme measure became necessary due to extreme heat and reduced rainfall, alongside demand. Wasa can claim it does not walk alone.
Forest fires have been a hallmark of climate change. Las Vegas in New Mexico (US) declared an emergency, with less than 50 days of clean water supply left. Currently relying on reservoirs, the shortage was caused by Calf Canyon-Hermits Peak Fire, the largest wildfire in New Mexico ever, due to which debris and ash contaminated the Gallinas River, the city's solo source of water.
Spanish Prime Minister Pedro Sanchez has called on workers in the public and private sectors to stop wearing ties, as an "urgent" energy-saving measure in the heat, as countries strive to become less dependent on Russian gas in the wake of the war in Ukraine. The prime minister said the move would ensure that people stay cooler and therefore lower energy costs, because air conditioners will be used less. In 2011, Japan introduced its "Super Cool Biz" campaign, which encouraged office workers to wear cooler clothes in summer. And during sweltering temperatures in the UK recently, politicians were told to ditch their suit jackets while in the House of Commons. We, too, were advised to save energy.
There is scarcity of food worldwide. It is not only in Bangladesh that customers are having to count more notes for the same-size chicken. A spokesperson for the fast-food giant KFC said, "Recent supply chain challenges have meant (that) some of our restaurants are facing a few shortages of poultry. It comes after KFC chiefs had to issue a similar supply warning in August last year."
Let's try to understand the current crisis in the global context. Despite our economic troubles, in several indicators Bangladesh is faring better than many other countries. That is credit to the entire nation. Let's stand by a government that boldly gave out mobile numbers for the needy to collect food when Covid was at its peak.
Allow me to conclude on a positive note. Bangladesh's July export earning target was over USD 3.47 billion, but the actual gross amount was more than USD 3.98 billion. Cheers!
Dr Nizamuddin Ahmed is an architect and a professor, a Commonwealth scholar and a fellow, Woodbadger scout leader, Baden-Powell fellow, and a Major Donor Rotarian.