Bangladesh caught in a narco triangle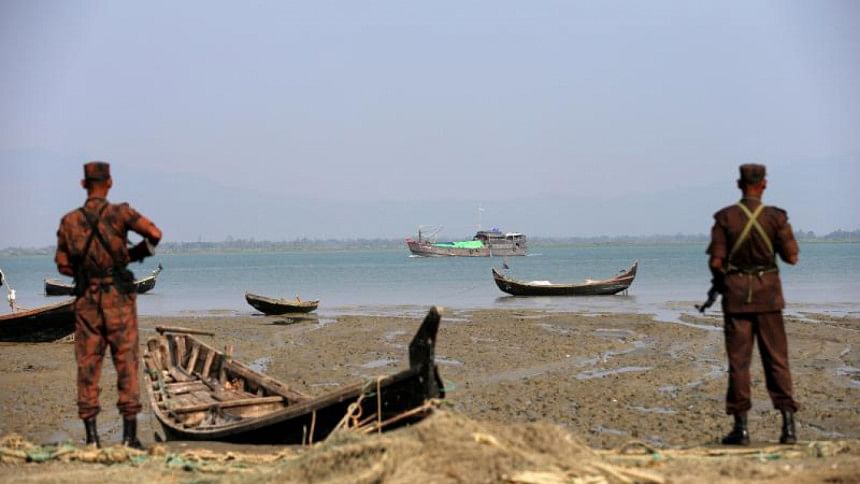 Recent revelations about the drug dealing hotspot in Chonpara, in the aftermath of the murder of BUET student Fardin Noor Parash and the killing of a DGFI official during a drug bust, have once again brought to the fore our painful struggles with the illegal drug trade.
While Bangladesh is not a significant narcotics producer, geography puts it at the heart of three major Asian drug trade routes: the Golden Wedge, the Golden Triangle and the Golden Crescent. This, unfortunately, makes the country a lucrative transit for the region's drugs, especially from Myanmar and India.
To understand the influence of these drug trade routes on Bangladesh, we need to look at the drug trafficking value chain. The Golden Wedge is perhaps the newest route, linking north Bangladesh to the Indian states of Himachal Pradesh and Uttar Pradesh, and expanding to encompass Nepal and certain parts of Bhutan. The Golden Triangle, which covers Myanmar, Thailand, Laos, and Vietnam, is a formidable zone that supplies almost all kinds of narcotics, and Bangladesh's southeast remains exposed to this drug route. The west of Bangladesh is vulnerable to the Golden Crescent, which sees the trafficking of massive amounts of opium and heroin produced in Afghanistan, Pakistan, and Iran.
Through these routes and others, drugs of all kinds have over the years passed through Bangladesh due to its easy access to the Bay of Bengal and its porous borders both with India and Myanmar. This strategic location means drug gangs from other countries are also active in Bangladesh, including from Sri Lanka and some African countries, and are trying to find easy routes to smuggle their product.
In the process of being used as a transit, Bangladesh has also become a growing market for drugs, especially yaba, mostly coming in from Myanmar. A report by the United Nations Office on Drugs and Crime (UNODC) suggests that the production of methamphetamine and its use in the manufacturing of yaba has increased significantly in the Golden Triangle region, especially in Myanmar, with Bangladesh being targeted as one of the key markets. A 2021 report by a local English daily, citing a top DMP official, revealed that yaba has a Tk 210 crore daily market in Bangladesh, with seven million pills being sold every day.
Unfortunately, ongoing efforts to curb the drug trade are not making much of an impact. The regular seizures of drug consignments, comprising of 20,000 to 30,000, or even 1-2 lakh yaba pills, are in reality very meagre quantities in comparison the overall volume being sold across the country. And this is only in the case of yaba. Drug use has penetrated all layers of society and affected people from all backgrounds. Law enforcers, politicians, administrators, entertainment personalities, corporate leaders, sports persons – you name the group and you will find people who are either abusing drugs or somehow involved in the business.
The Bangladesh government is signatory to all three UN Conventions on drug abuse and trafficking – the Single Convention on Narcotic Drugs 1961, the Convention on Psychotropic Substances 1971 and the United Nations Convention Against Illicit Traffic in Narcotic Drugs and Psychotropic Substances 1988. And according to a 2005 country profile by UNODC, it has also declared an all-out war on drugs – similar to the one undertaken in the Philippines, the pros and cons of which should be saved for another day – and taken up other measures, such as dope tests for police personnel. However, more needs to be done to fight the drug trade, and without this fight leading to human rights violations.
For one, while there have been repeated anti-narco crackdowns in areas that are part of the Golden Triangle routes, especially in Badarban, Teknaf, and other CHT locations, borders guards need to be more alert in the Golden Wedge region. We also need to keep a careful eye on the developments in the Rohingya refugee camps, since it has been suggested that certain quarters are exploiting their squalid living conditions and the desperation of unemployed refugees to use them as drug mules.
Moreover, the government needs to do a thorough assessment of law enforcement and intelligence agencies and build their capacity to effectively fight drug trafficking. They should also seriously investigate allegations of certain members of law enforcement being in cahoots with drug gangs, and take punitive measures to discourage others from choosing this path. On top of that, the plan to make drug tests mandatory in certain sectors should be implemented, but it should be expanded to include political party members and people's representatives. Having said that, we also need to think of the wider implications of criminalising users without doing enough to deal with those who directly benefit from the trade.
Drug trafficking is a complex and sophisticated process fuelling the growth of multiple extremely powerful transnational gangs across the world. While the situation in Bangladesh is still at a stage where it can be reined in, if we do not adapt our outlook, policies and methodologies in tune with global changes, it will not take long for things to spiral out of control.
Tasneem Tayeb is a columnist for The Daily Star. Her Twitter handle is @tasneem_tayeb