Why are we letting dengue get the better of us?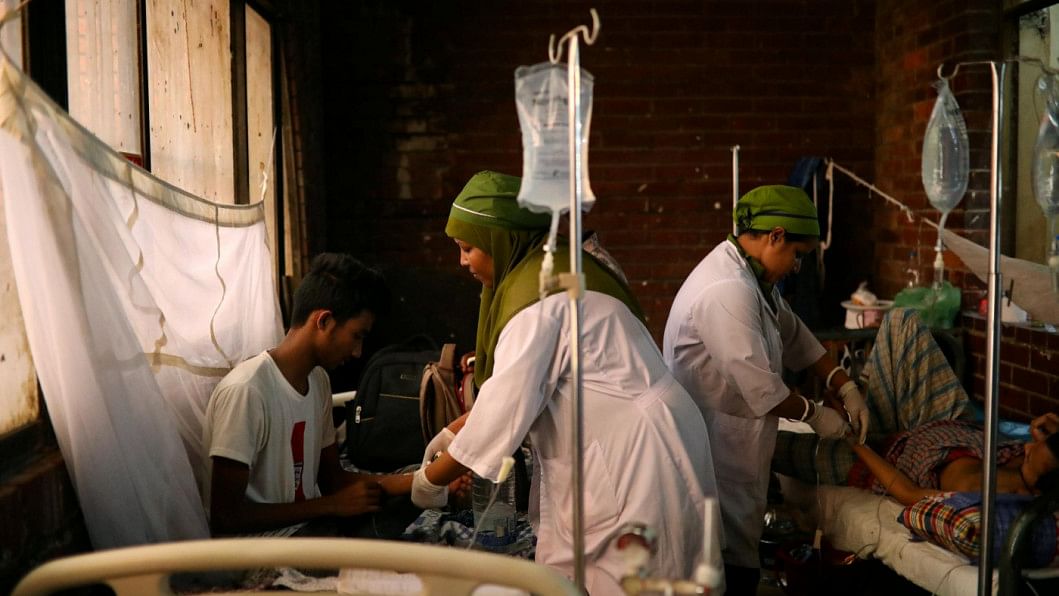 Dengue cases are on the rise again, with fatalities recorded almost on a daily basis. As of Tuesday evening, more than 32,000 individuals have had to resort to hospitalisation to seek medical care for dengue this year. More than 100 people have died – 51 deaths being registered in the first 19 days of October. In the 24 hours preceding Tuesday morning, at least 750 dengue patients were hospitalised, according to the health directorate.
The cacophony surrounding the dengue outbreak this year – media reports, TV commentaries, expert suggestions, remarks from city and health authorities – is like a déjà vu. All the soundbites, comments and excuses are nothing that were not said last year, the year before, and the year before that. This current scenario, in fact, reminds one of Nietzsche's concept of the cycle of the eternal return: living the same worries, anguish, pain, helplessness over and over again, with no respite in sight.
Unfortunately, the authorities' lackadaisical approach has also remained unchanged over the years, which is why we had witness three major outbreaks of dengue in a span of only four years: 2019 (more than 100,000 cases and 179 deaths), 2021 (more than 28,429 cases and 105 deaths), 2022 (more than 32,000 cases and at least 118 deaths as of October 25).
But the question is: why this apathetic attitude by the authorities? Why could they not pay heed to the warnings, which made headlines since at least March this year, of a possible major outbreak of the mosquito-borne disease? Why did the authorities not take any learning from the experiences of 2019 and 2021? If they did, where is the reflection of those learnings? Why did the authorities not take effective preventive measures to contain the outbreak this year? Despite the repeated havoc that dengue wreaks on our lives, why are we still so laid-back and mediocre in our approach to fight this menace?
In a column last year, I wrote about the need for an integrated vector management mechanism to combat dengue. By this, I mean yearlong programmes – consisting of both preventive and curative measures – with the participation of all stakeholders across the country, including local communities, to prevent the spread of mosquito-borne diseases.
A vector control policy has been in the discussions for some years now. So why are the authorities not able to formulate and implement this much-needed policy? What is stopping them?
Lack of a national plan or strategy to control dengue in Bangladesh has once again come to the fore as a result of the rapid spread of the disease in the last few months. Concern over this has been shared by public health expert Dr Be-Nazir Ahmed, who said dengue or Aedes mosquitoes cannot be brought under control without the formation and implementation of a national plan or strategy, as cited in a recent Prothom Alo report.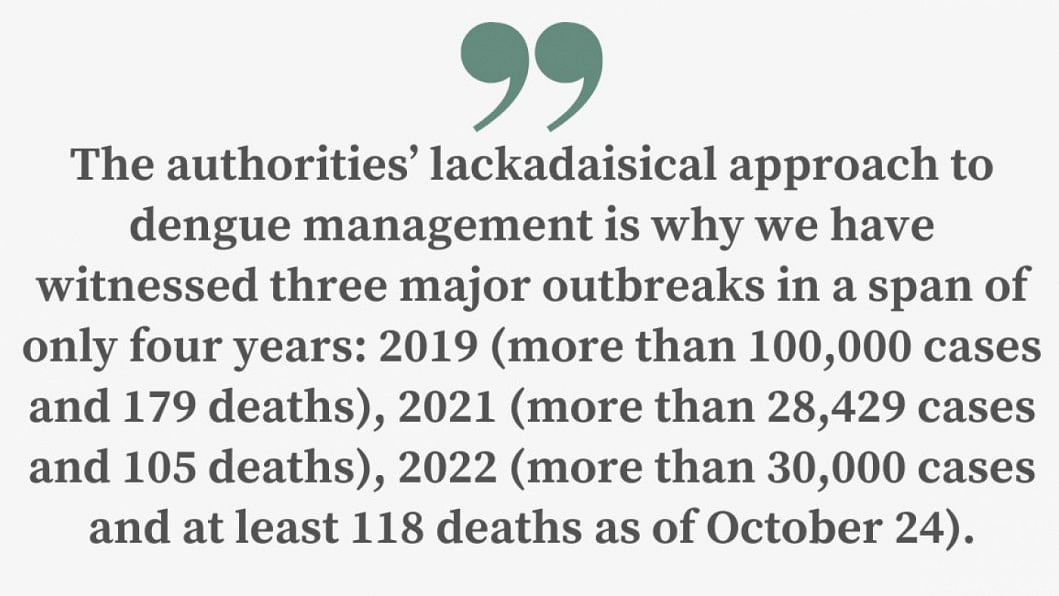 At this point, one might be pardoned for asking: what happened to the mid-term plan to contain Aedes mosquito-borne diseases that had been shared with the Bangladesh government by WHO consultant K Krishnamurthy way back in 2017? Has the plan been assessed or shelved or buried under the pile of "more important" projects? Or has it been scrapped completely?
In another opinion piece in 2020, I quoted former IEDCR Director Prof Mahmudur Rahman, who recommended the introduction of Wolbachia, a natural bacteria present in almost 60 percent of insects, including in certain breeds of mosquito, as a mechanism to contain Aedes mosquitos. The release of Wolbachia-infected mosquitoes can reduce the ability of Aedes mosquitoes to spread not only dengue, but also Zika, chikungunya and yellow fever. Research by the World Mosquito Programme also asserts the effectiveness of Wolbachia in curbing the spread of mosquito-borne viruses. Despite these suggestions, why only recently – in September this year – did the Directorate General of Health Services (DGHS) say they would introduce this bacteria? What took them so long to reach this decision? It has been a month since the announcement. Has Wolbachia been introduced yet? Or are we waiting for the situation to worsen further?
What is even more worrisome is that, although dengue has expanded its footprint across the country, there seems to be no coordinated drive by the local authorities to control mosquitoes outside Dhaka. Chattogram, Jashore and Pabna have some of the highest infection rates, with the Rohingya camps turning into some of the hotspots. What measures are we taking to address the situation? Also, is the healthcare infrastructure outside Dhaka sufficiently equipped to handle this crisis? This is an issue that needs to be looked into seriously by the health authorities, since the hospitals in Dhaka are struggling to accommodate and treat the increasing number of patients.
Although the DGHS has suggested that we may see a drop in dengue cases in November, given the erratic pattern of this viral disease – which has in recent years taken the form of an endemic – dengue will always lurk in the shadows, unless we take all-out measures to contain it.
It is high time the authorities reflected on their failures that are causing people to suffer so much, and took concerted actions to stop it. An integrated national plan or strategy, a robust vector management policy, and introduction of Wolbachia have become the need of the hour to contain dengue. The authorities must not waste any more time in shrugging off their lethargy and get down to work to fight this off.
Tasneem Tayeb is a columnist for The Daily Star. Her Twitter handle is @tasneem_tayeb