Aabha Limited: The ray of inclusion and empowerment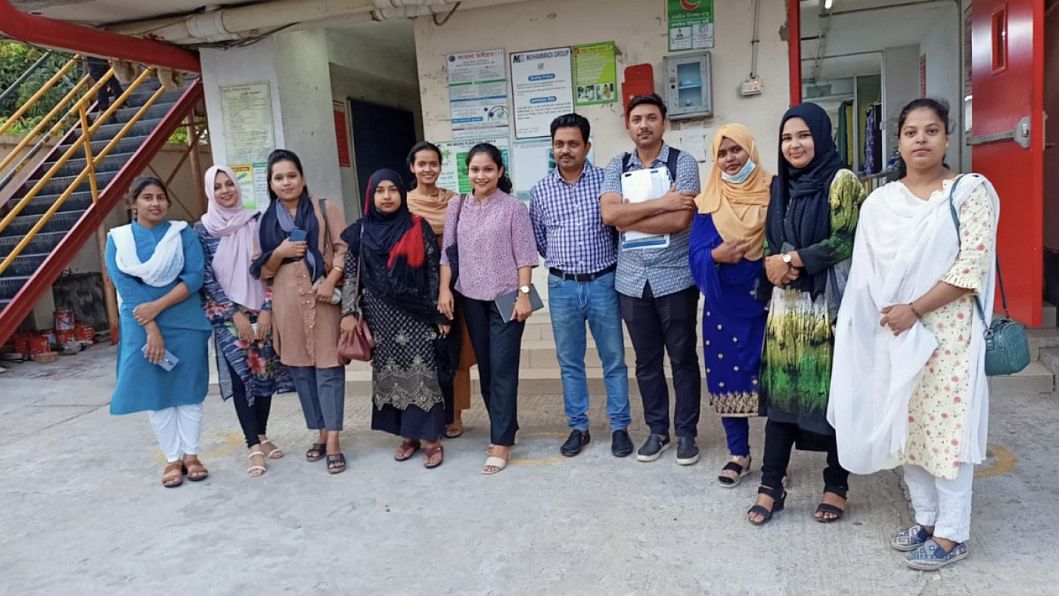 We talk about empowerment, run programmes, attempt pilots and often claim to be Work-in-Progress. Without undermining any initiative, I continue to wonder how long does it really take to change and pursue the single most important agenda of female empowerment. How do the lives of the underserved women change and who can potentially come forward and become a part of their story?
While feminism today has become the essential epithet that is de rigueur, while every star on stage, every actor on screen is proclaiming feminism on the red carpet, how far have we, in truth, travelled from where we were five decades ago?
The fact that in spite of Bangladesh having more than three million women in readymade garment sector, real empowerment in the real sense hasn't happened. Let alone female entrepreneurs, we lack female mid-level managers, and even female supervisors on the production lines. Is there any hope of this situation being remediated?
In response, let me share the story of the incredible six who neither fear their wings being melted or clogged while they soar to the skies. These five incredibly gifted women have had extremely challenging lives. Sadeka was born in Sunamganj, had a father who was paralysed and in spite of her good grades in HSC, had no other option but to join a factory in Dhaka where she worked as a quality inspector.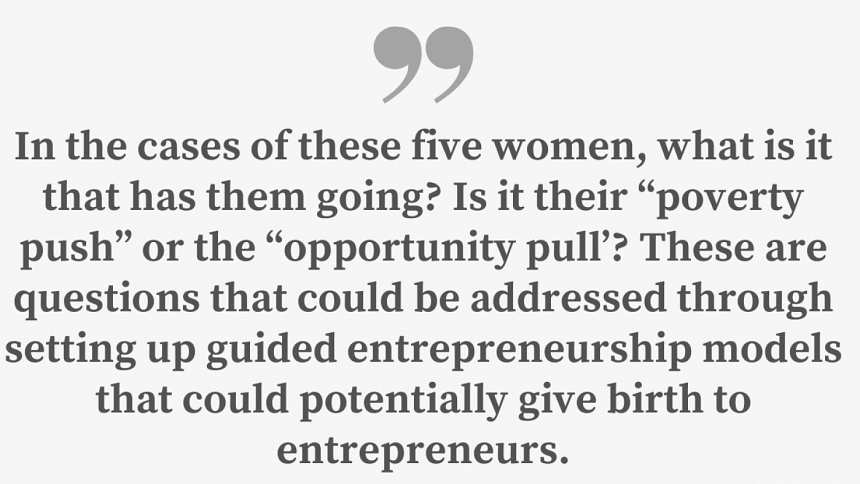 Farjana from Mymensingh had a father who gambled and was unemployed. She ran away from home, escaped marriage and finally passed her HSC exams in 2015. Wanting to pursue higher studies, she started working as a floorman at a factory just to support her tuition fees.
Daughter of a farmer, Tania was born and raised in the remote village of Bhaturia in Sirajganj, had five brothers and sisters. In spite of hardship, Tania got admitted to Rajapur Degree College. Three months into college, Tania got married and eventually had two children. She then tried her luck and landed up with the job of a quality inspector at a garment factory.
Sharmin Akter from Kishoreganj was the youngest amongst five siblings. With her father's death, her eldest sister dropped out of school and took a job at a garment factory to support the family. In 2016, Sharmin passed her HSC exams, followed her sister's footsteps and almost immediately started working in the Quality Department at a garment factory.
Our fifth hero, Mou was born in Noakhali but spent most of her formative years in Chattogram. With her parents divorced and with her mother's remarriage, she started living with her maternal grandparents. After her HSC exams in 2014, she found a job in the finishing department at a garment factory in Bangladesh.
And then, all their lives changed. At their factories, they heard about a university which was offering admissions to their "Pathways for Promise" programme that offered to prep them for admission. All of them sat for admission tests in their factories, got accepted to the pre-undergraduate programme and miracle followed right after…
In 2020, Sadeka graduated from Asian University for Women (AUW) as the Valedictorian of her class. She majored in Economics and minored in Development Studies. Two years later, Farjana majored in Philosophy, Politics and Economics and minored in Development Studies, while Tania, Sharmin and Mou are all currently completing their undergraduate degree with a major in Economics and a minor in Finance and Mathematics.
And today, their dream is not about getting employed; today their dream is about employing more women by becoming garment factory owners themselves.
Out of sheer curiosity, at one point, I conducted multiple interviews with 56 readymade garment workers, who had little or no education. It was soon revealed that neither did they have any motivation or courage to aspire for more. The concept of becoming an owner was alien and far removed from their reality behind sewing machines. In a separate phase, interviews were conducted with 37 former readymade garment workers who had received the same university degree, where, quite predictably, the cases again ended up being vastly different. Each one of them wanted to become an entrepreneur; each of them had the audacity to dream...
By then it was easy to establish that these respondents were clear cases of courage being fuelled by education.
In reality, societies don't change with measured interventions. Societies change when heroes like Sadeka, Farzana, Sharmin, Tania and Mou appear. Today, they have formed a company, framed the mission and vision, and have decided on their company being solely female. Today, these five are venturing out and looking at lands, buildings and planning the production lines.
In the cases of these five women, what is it that has them going? Is it their "poverty push" or the "opportunity pull'? These are questions that could be addressed through setting up guided entrepreneurship models that could potentially give birth to entrepreneurs. These models could help us ideate and implement mechanisms to empower women in low-end manufacturing, by providing reskilling through education, training and policies based on industry-academic partnership models. These models could also be based on the theory of guided preparation, where contextual learning practice will lead to achievement orientation.
In this particular case, our heroes, armed by education, prompted by encouragement and institutional support, march on. With a registered company, they have submitted the project to a financial institution for review.
What next?
Which financial institution will support these women? Which brand will book their capacity? And of course, how quickly will society endorse these heroes and offer a stamp of support?
Fingers crossed.
Rubana Huq is the current Vice-chancellor of Asian University for Women.