Modi's patronisation of Adani and its cost for Bangladesh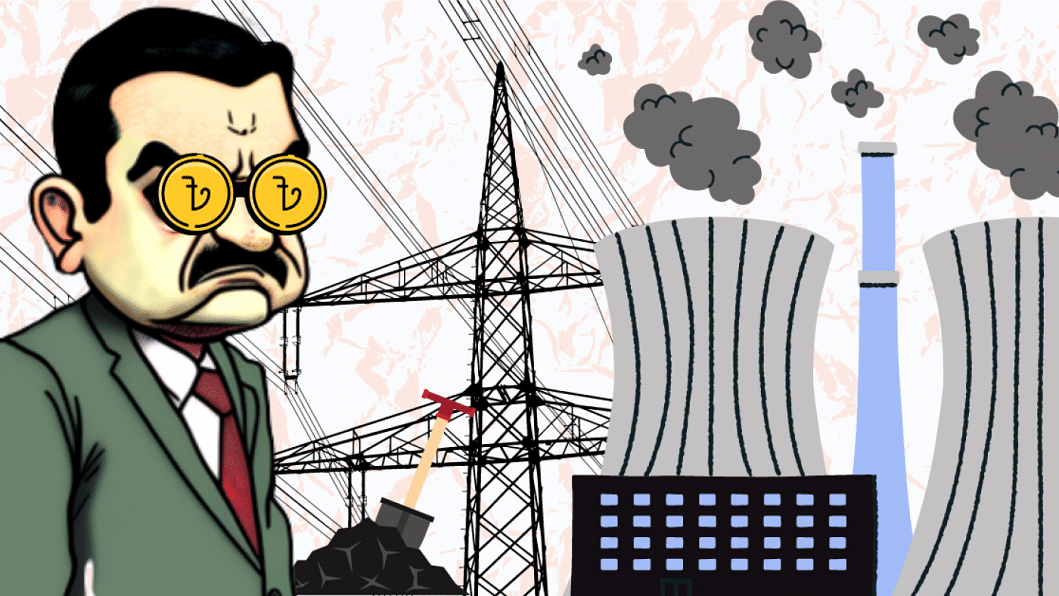 India's presence in Bangladesh's power and energy sector is increasing day by day. Currently, Bangladesh is importing 1,160MW of electricity from India. In addition to this, Bangladesh will buy 1,496MW of electricity from Adani Power Ltd for 25 years, under a contract signed by the Bangladesh Power Development Board (BPDB) in 2017. According to a report published by The Daily Star (January 4, 2023), Bangladesh will start getting electricity from India's Adani Godda Power Plant in March.
Whether this power import from Adani Godda Coal-Fired Power Plant would be beneficial for Bangladesh has been in discussion for a while now. The Institute for Energy Economics and Financial Analysis (IEEFA), in its 2018 report titled "Adani Godda power project: Too expensive, too late, and too risky for Bangladesh," dubbed this power import as "too expensive and a poor strategic fit for Bangladesh." According to its analysis, the reason for this relatively higher price is, instead of the local coal, Adani will use the coal imported from its stranded Carmichael coal mine in Australia. The imported coal will then be transported for 700km by railway from the seaport to the Godda Power Plant in the Jharkhand state of India. And all these costs will be passed on to Bangladesh, thanks to the favourable power purchase agreement for Adani.
Recently, this debate came to the fore again after the US-based The Washington Post published a news article titled "How political will often favours a coal billionaire and his dirty fossil fuel." In this report, the Adani Group's coal power export agreement with Bangladesh has been highlighted as an example of Indian Prime Minister Narendra Modi's extraordinary patronage for the conglomerate, which has even crossed the borders. Citing a source from the Indian foreign ministry, the report mentioned that, during his first visit to Bangladesh in June 2015, Modi asked Bangladesh to "facilitate the entry of Indian companies in the power generation, transmission and distribution sector of Bangladesh," one of the beneficiaries of which is the Adani Group.
Although the government claims that the power import deal signed afterwards with Adani, on the basis of unsolicited proposals under the controversial Quick Enhancement of Electricity and Energy Supply (Special Provision) Act, 2010, is beneficial for Bangladesh (Prothom Alo, June 10, 2015), after having the confidential 163-page power purchase agreement reviewed by three industry analysts, The Washington Post concluded that "the 25-year Godda deal is hardly favourable for Bangladesh."
First, Bangladesh must pay Adani Power Plant roughly USD 450 million a year in capacity and maintenance charges, regardless of whether it generates any electricity, which is very high by the industry standards. Second, the coal to fuel the power plant will be transported on an Adani-owned ship from Australia to an Adani-owned port in eastern India, then it will be transported to the plant on a stretch of Adani-built railway. The electricity generated will be sent to the border through an Adani-built high-voltage transmission line. As per the contract, shipping and transmission costs will be fully passed on to Bangladesh. Third, while other agreements with foreign power suppliers include clauses that would put a cap on the prices Bangladesh would pay if the cost of coal crossed a certain threshold, the Adani agreement stipulates that Bangladesh will pay the market price, according to The Washington Post report.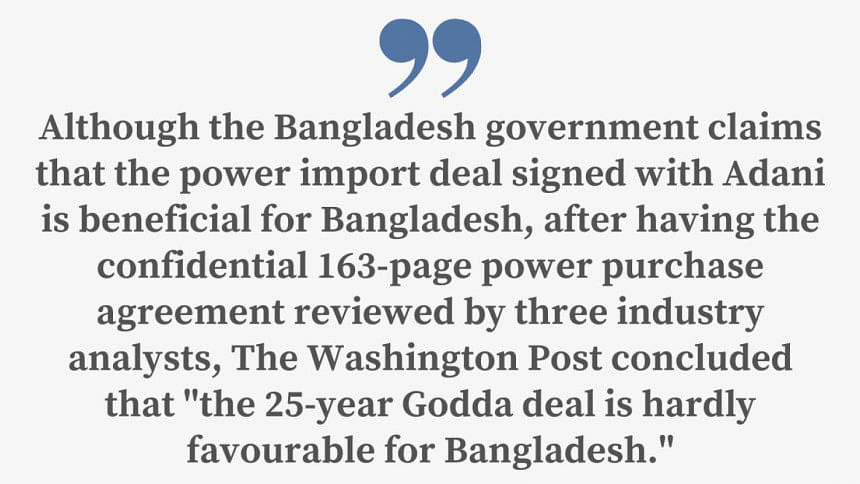 Currently, Bangladesh's electricity generation capacity is 22,700MW as of January 31, 2023, according to the BPDB. This capacity is being increased further – if the power plants under construction are commissioned, the generation capacity will increase by 13,000MW in the next four years. But so far, the highest generation was 14,782MW in April 2022. The average generation is 13,000MW in summer, which further decreases to 9,000-10,000 MW in winter. That means a large part of Bangladesh's power generation capacity remains idle throughout the year. But the BPDB has to pay capacity charges or rent for the power plants according to the contract, even if no power is generated. From FY 2010-11 to FY 2021-22, about Tk 90,000 crore has been paid in capacity charges (Samakal, July 25, 2022).
In the context of such a huge surplus generation capacity, even the current 1,160MW of electricity import from India needs to be discontinued to save foreign currency, let alone import an additional 1,496MW from Adani at an exorbitant cost. To import electricity from India, Bangladesh currently has to pay about Tk 1,500 crore as annual capacity charges. From 2013-14 to 2019-20, Tk 6,920 crore have been paid to India (Samakal, May 7, 2022). On top of that, if Bangladesh imports an additional 1,496MW of electricity from India's Adani Group for 25 years, it will only increase the pressure on our forex reserves. When Adani's power will be ready to be supplied to Bangladesh, two situations may arise: either Bangladesh will have to keep more local power plants idle and pay capacity charges, even if those power plants' electricity generation costs are lower than Adani, or Bangladesh will have to pay capacity charges to Adani in foreign currency without buying any electricity. Both situations are harmful for Bangladesh's economy. In both cases, the BPDB's cost of buying electricity will increase further, which in turn will create pressure to hike the electricity price even more.
The power department claims that Adani's electricity will be cheaper than that produced by the local oil-based power plant, so this electricity import is beneficial for the country, according to Samakal's May 7, 2022 report. This argument is not valid, because due to the increase in the price of coal in the world market and the absence of a cap on the coal pricing in the agreement, Adani's electricity price, which was initially estimated to be Tk 8.71, will be at least Tk 17, as per government sources, and up to Tk 24.28, according to recent news reports. Whereas, currently, furnace oil-based power costs around Tk 15 per unit, according to a report by The Business Standard.
Moreover, the phase-out of the oil-based power plants is already long overdue, and to make it happen, gas- and renewable energy-based power plants need to be built within the country. And that is why it is very important to take proper initiatives to increase the national capacity in gas extraction from the country's offshore and onshore gas blocks and build solar- and wind-based power plants as many as possible. Importing electricity from India is not beneficial in terms of energy security and the overall economic stability of Bangladesh.
And to phase out the oil-based power plants, if Bangladesh needs to import power from the Adani Group, spending valuable foreign currency, then what was the reason for constructing so many large power plants inside the country? Not only that, the capacity payment to the local private power plant owners is already a burden on our economy; now, if the capacity payment in foreign currency is added to that burden, then it will become unbearable. According to a report co-published by the Bangladesh Working Group on External Debt (BWGED) and India's Growthwatch, Bangladesh will have to pay around USD 11.01 billion in capacity charges to Adani power over its 25 years of agreement, with which Bangladesh could build three Padma Bridges, nine Karnaphuli River Tunnels, or four metro rails.
Bangladesh is going to pay such a high price in the name of importing power from Adani, which is currently in big financial trouble due to allegations of "brazen stock manipulation and accounting fraud scheme over the course of decades," made by a New York-based activist investment firm Hindenburg Research.
Corruption allegations against Adani are nothing new. Earlier in 2016, India's Directorate of Revenue Intelligence accused 40 Indian power companies, including five Adani subsidiaries, of inflating the price of coal imports from Indonesia to hide profits in overseas tax havens, according to a 2016 report by The Guardian. Then how can we be sure that a corrupted conglomerate like Adani will not do the same while importing coal for Godda Power plant in order to extract more money from Bangladesh?
Most importantly, apart from economic considerations, from geopolitical and strategic points of view, it is dangerous for a relatively small country like Bangladesh to increase its dependence on a big neighbouring country for strategic goods like electricity and energy. The ups and downs of the Russia-Ukraine relationship can be a good cautionary tale for Bangladesh.
It is widely believed that the Adani Group, as one of the largest business conglomerates in India, is getting exclusive support from the Indian prime minister. This unnecessary and expensive power import by Bangladesh from the Godda Power Plant will be cited by international observers as an example of Modi's patronisation of Adani even outside the Indian border.
Kallol Mustafa is an engineer and writer who focuses on power, energy, environment and development economics.