A riverine country with dying rivers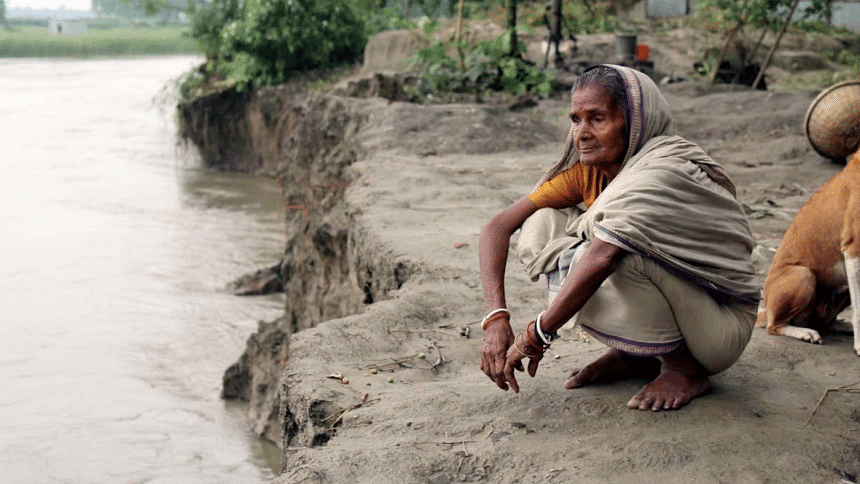 In my two years working at The Daily Star, I've found myself completely baffled at how we, the people of a riverine country, have pushed our rivers to their certain death.
The story goes like this: for years, locals near the rivers, in absence of proper waste management facilities, dump household garbage (which include large amounts of plastic) right into the river, thinking that the water will carry it away. It obviously doesn't, and when local authorities are informed of the situation, they usually claim ignorance or say the matter will be looked into – but they hardly ever follow through to solve the problem.
Too many regulatory bodies taking care of rivers only means one thing – the broth has turned spoiled, and the broth here is the policies concerned with river management. So what can be done to make a dent in the huge pile of problems? Have we led ourselves to inevitable doom?
Then there's the other common story. Authorities like Bangladesh Inland Water Transport Authority (BIWTA) invite tenders to dredge rivers for better navigability. The offers usually get approved via internal political vetting, and the tender winners overstay their welcome way beyond the contractual period. While their presence goes unnoticed during this extra time, the contractors dredge sand beyond the river's limit, creating sinkholes and eroding embankments (the usual reason behind river erosion), ultimately affecting livelihoods. The sand is then dumped on farmlands or used to fill different parts of the river during the dry season.
Now you might ask who takes ownership of the newly filled lands. If you're thinking that these lands are used to repopulate displaced communities who have lost their homes to river erosion, you couldn't be further away from the truth. The lands' ownership remains inconclusive – but more often than not, "local influential groups" occupy the areas using political muscle. Some of these spaces are turned into khas land (land under government ownership), and in the far outskirts, government personnels too take advantage of the lack of oversight and sell off these lands informally. Locals are often too afraid to speak up.
Something different can be seen in places like Sylhet where, due to lack of timely dredging and robust embankments, massive floods affect the region's most vulnerable populations for days on end. In June last year, the worst floods in 122 years hit Sylhet and Sunamganj, displacing millions from the vast swathes of inundated land.
And how are the rivers in metropolitan areas like Dhaka faring? We cannot even think of the historically and economically significant Buriganga without imagining its deep black waters. Locals encroach the banks faster than the BIWTA can make a dent with its numerous intervention drives. The dumped waste (an issue city corporations are supposed to monitor) is not picked back up often enough. And let's not forget the numerous factories, especially tanneries and run-down establishments, that dump their toxic waste. Research states that about 60,000 cubic metres of toxic waste is dumped into Buriganga and its tributaries every day, mostly from nine major industrial clusters (Tongi, Hazaribagh, Tejgaon, Tarabo, Narayanganj, Savar, Gazipur, DEPZ, and Ghorashal). All the other rivers in Dhaka suffer from the same symptoms.
Taking a closer look at all these scenarios, a few things become clear, that there's not enough oversight from regulatory bodies on river-related issues – which not only concerns tackling erosion but also waste dumping, holding illegal dredgers accountable, and monitoring waste regulation – and that locals are not aware of the repercussions of dumping garbage into the river.
Taking a look at existent laws and policies for taking care of our rivers, another issue comes to light. The Water Act, 2013 is the latest and most important water policy in Bangladesh. It absorbs content from earlier water regulations, and supersedes all previous water-related policies. And so, its implementation is crucial.
Even though the Water Act is broadly a strong law, there are some aspects (such as water pollution and drinking water provision) that are not adequately covered, and some contradictions exist with previous and connected policies. In general, documents are sometimes unclear about the mandate and powers of individual water institutions, and there are contradictions over which agency is responsible for implementing particular activities. The water governance bodies and connected institutions include the Ministry of Local Government, Rural Development and Co-operatives; Ministry of Agriculture, Ministry of Water Resources; Executive Committee of National Water Resources Council; Planning Commission, Ministry of Industries; Department of Environment; Flood Forecasting Warning Centre; National River Protection Commission; and the Ministry of Textiles and Jute. These bodies hardly ever sit together and convene issues faced by each ministry to solve them.
Too many regulatory bodies taking care of rivers only means one thing – the broth has turned spoiled, and the broth here is the policies concerned with river management. So what can be done to make a dent in the huge pile of problems? Have we led ourselves to inevitable doom?
Well in reply, all I can say is a ripple can cause a wave. Each problem needs to be addressed individually. If uncontrolled and mostly illegal sand extraction from riverbeds are killing rivers and farmlands, we need to start depending on sustainable alternatives for sand to beat these "sand mafias." When buildings are demolished, the waste can be crushed and mixed into cement, and the rubble can be used for building foundations and roads. Germany for instance recycles more than two-thirds of its construction waste. But in countries like India and Bangladesh (with dense cities and growing population) the amount is still paltry. Moreover, to curb incessant dredging, finding and certifying sustainable sources of sand would make it easier to track illegal extractions, apart from significantly raising the bar for punishment and fines for illegal dredgers.
Secondly, behavioural change campaigns are a must for the waste dumping issue, and city corporations can take steps by identifying the intervention points and monitoring change for at least five years. A countrywide ethical waste dumping campaign needs to be set up with appropriate provisions for bins in every locality. While authorities may point to how mammoth of a task a mass river clean-up programme is, it must be noted that Cambodia has already shown it is possible. Once every year in Cambodia, the organisation River Ocean Cleanup partners with the Royal Government of Cambodia and others to clean the country's most polluted rivers and tributaries, not within years but at times within days. Why can't we do the same in Bangladesh? Until the authorities answer this question, our identity as a riverine country hangs in the balance.
---
Nazifa Raidah is a journalist at The Daily Star.
---
Views expressed in this article are the author's own.
---
Follow The Daily Star Opinion on Facebook for the latest opinions, commentaries and analyses by experts and professionals. To contribute your article or letter to The Daily Star Opinion, see our guidelines for submission.
---