Strong message from Beijing to Washington, Moscow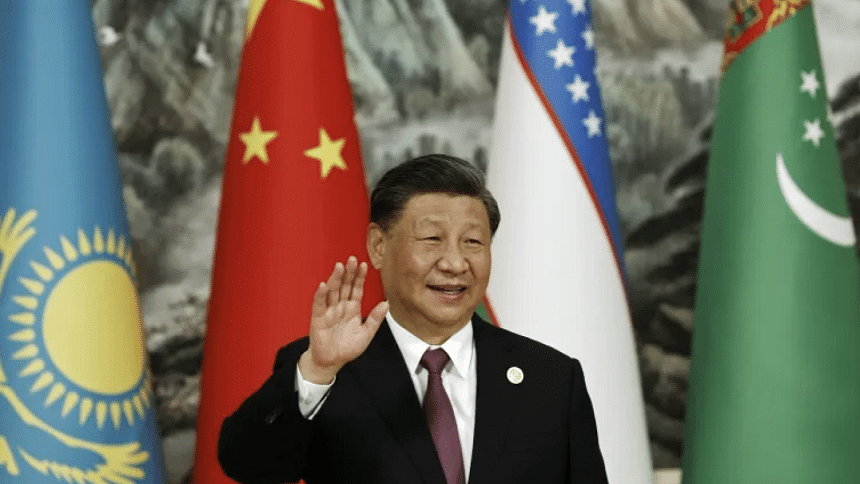 Was the timing of the recent China and the five Central Asian countries' summit (C5) a mere coincidence? It took place almost simultaneously with the G7 event in Hiroshima, making similar headlines all over. The venue, the historic city of Xi'an at the eastern end of the ancient Silk Route that connected China with Central Asia and many other cities all the way to the Middle East, was no less significant either, aptly symbolising the summit's theme of connectivity and shared future shaping up in extensive transport and energy networks.
In stark contrast, the G7 summit in Hiroshima was mainly on two not-too-benevolent agendas: strangle-holding Russia and containing China. But is the rest of the world with them? 
Indian Foreign Minister S Jaishankar was blunt about how Europe (and the US) is trying to impose its problems on the rest of the world. Delhi, defying Western sanctions, is also leading the "Laundromat" countries (India, China, Turkey, UAE, and Singapore) that are increasingly buying Russian crude and selling refined products to Europe. Brazil's President Lula de Silva squarely pointed out who should be responsible for the Ukraine war and suggested that Kyiv should come to a settlement with Moscow. South Africa's Foreign Minister Naledi Pandor made scathing remarks about selective applications of "international order," referring to the different ways it applies to Palestine and Ukraine. The oil producing group OPEC+, led by Saudi Arabia, angered the US by refusing to increase production, and maintained warm relations with both Russia and China. Turkey, a Nato member country, positioned itself as a neutral player in the Ukraine war. Most other countries are watching precariously, trying hard not to appear to be on either side.
Amid such strong voices of dissent, China is steadily rising on the world stage as it brokered the Iran-Saudi Arabia deal, challenging US monopoly. It has also become a major player in the global arms trade on the back of its economic growth coupled with sustained military modernisation campaigns. Then there is the increasing push for de-dollarisation in the BRICS and other economies such as Saudi Arabia. All these are telltale signs that Washington's global grip is steadily loosening.
The C5 Summit was just one of many ways the world is changing. But will the US and other G7 members care to admit?
Now let's see how Moscow may perceive its smaller neighbours' cosying up with Beijing.
Russia and China have long been competing for influence in the huge landmass that lie between these two powerful nations. Neither wants an Afghanistan-like situation to spill over, and both want to reduce American influence in their neighbourhood. Despite such common interests, they remain competitors and vie for influence that has a long history since the 1600s. It continued after the Bolshevik revolution as the Kremlin followed a cold-blooded geopolitical strategy against Mao's Communist Party and supported Chiang Kai-shek. Later, as the Communist Party defeated the Nationalist regime, they became strategic allies, though occasional border clashes continued.
During the Soviet era, Central Asia was under Moscow's control. Even after its dissolution in 1991, it acted as the power broker and security provider. But that started to wane as China's economic and military might grew. It became more prominent as Beijing launched the Shanghai Cooperation Organisation (SCO) in 2001, which has all countries in the region as members including Russia, India, and Pakistan, with Iran and Afghanistan as observers. After many years of watching from the sidelines, China has now secured a strong foothold in Central Asia, almost replacing Russia. In 2022, President Xi Jinping travelled to the Central Asian countries in a whirlwind tour that nearly resembled a victory lap, and inked several wide-ranging deals. The C5 Summit is a culmination of the last few decades of carefully choreographed plans where Beijing has made it clear that Central Asian countries should better turn to it for trade, commerce and security, more so when Moscow is bogged down in Ukraine.
The Central Asian countries have their own security calculations too. Moscow's invasions in Georgia in 2008 and Crimea in 2014 made the former Soviet republics nervous about what may happen if they don't abide by Moscow's wishes. Now that the power balance has shifted significantly towards Beijing, especially after Russia's Ukraine quagmire, they feel more comfortable in freely choosing a trading and security partner, allowing China to increase its influence. The C5 Summit has made it abundantly clear, sending an unmissable message to Moscow.
Potentially, that is also opening another front for China-US rivalry – famously known as the Eurasian Heartland, a landmass of immense strategic importance that no superpower would like to let go of.
Dr Sayeed Ahmed is a consulting engineer and the CEO of Bayside Analytix, a technology-focused strategy and management consulting organisation.