The role of Bangladeshi universities in the era of AI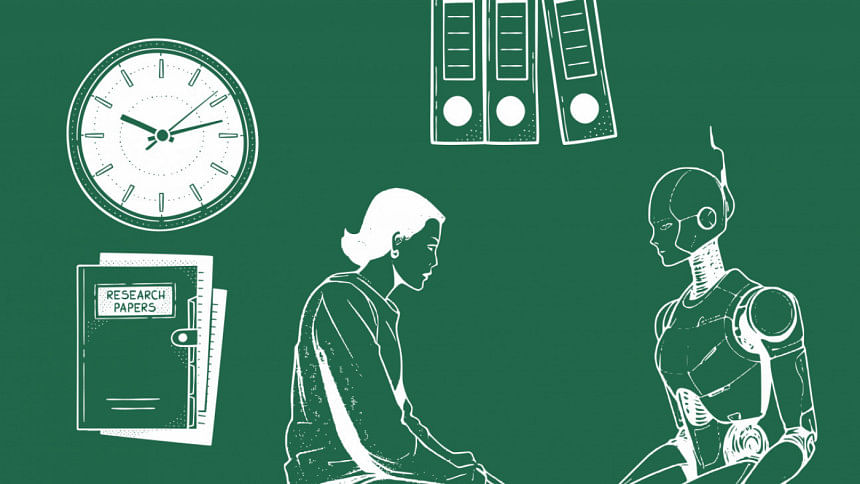 Adopting an educational system that enables graduates to find jobs is one of the primary responsibilities of a university. And this role is even more crucial now, as we are in the era of artificial intelligence (AI), which has advanced enough to compete with human brains in many fields. So, what are the universities of Bangladesh doing to adapt to this change?
AI has attained the capability to understand language, recognise patterns, make predictions, compose creative work, and do much more. Once these algorithms are as intelligent as human beings, there will be almost nothing they cannot do – or cannot learn to do quickly. As a result, it is anticipated that a good number of jobs involving direct human participation may be eliminated. Because of this, people seem to be cautious about welcoming such technological advances.
During the first industrial revolution, human- and animal-powered machinery was replaced by steam-driven ones, the second revolution increased mass production using electric energy, and the third revolution replaced a lot of jobs with partial automation using advanced technology.
People welcomed the three revolutions because even though they eliminated many jobs, especially for workers who engaged in manual labour, many new employment opportunities were created. A new socio-economic class – the middle class – emerged, and education reached the masses during the second and third revolutions. However, many countries still follow the traditional educational system, which is unsuitable for the times we live in. So, when AI came along to shake up how the world works, people began to fear it.
But it is predicted that AI could create jobs as well. What kinds of jobs it will create is still somewhat unknown. However, jobs that require human ingenuity, creativity, morality, judgement, and critical thinking, and work relying heavily on social and emotional skills, will not be replaced, at least in the near future.
How many jobs will disappear in a country depends on the industry, type of work, and pace of AI development. To predict and prepare the future job market in Bangladesh, it is necessary to conduct a study on the willingness of industrialists to use AI-powered automation and the interest of companies to use advanced technology in daily operations. The application of AI in governance, service delivery, health, banking, and retail is growing fast in Bangladesh, and industrialists will likely accept AI to remain competitive in a globalised economy. Bangladesh will therefore need graduates with the knowledge and skills needed for the ever-evolving job market.
Universities in Bangladesh are now primarily responsible for producing graduates with knowledge of technology and enduring skills that can be applied in a variety of settings. These skills include effective collaboration, high-order thinking, as well as cognitive and interdisciplinary dexterity, along with a drive for lifelong learning.
The best way to go would be to incorporate these skills in the curriculum and allow students to practise in professional contexts. Education researchers have proven that the traditional instructional paradigm that relies on the lecture is a highly cost-effective way of teaching, yet an ineffectual way of learning. Test and lecture methodologies have been proven to result in 70-90 percent learning loss only a few short months after the semester's end. It is well known that our ability to retain information decreases fast over time, as demonstrated by the Ebbinghaus forgetting curve. Adopting the "fully active learning" pedagogy – in which teachers do not lecture but instead actively engage students to improve their comprehension of concepts – is a powerful strategy.
Undoubtedly, we are in a situation where none of us can foretell how the world will change or what kinds of jobs will dominate the future. But that is precisely why universities should equip students with enduring skills and the cognitive ability to transfer them into new and unknown contexts. However, this will continue to be little more than a pipe dream unless we change the way we educate students.
---
MM Shahidul Hassan is the vice-chancellor of East West University (EWU). Email him at vc@ewubd.edu
---
Views expressed in this article are the author's own.
---
Follow The Daily Star Opinion on Facebook for the latest opinions, commentaries and analyses by experts and professionals. To contribute your article or letter to The Daily Star Opinion, see our guidelines for submission.
---