What hurts the most? My 'cultural' sentiments, of course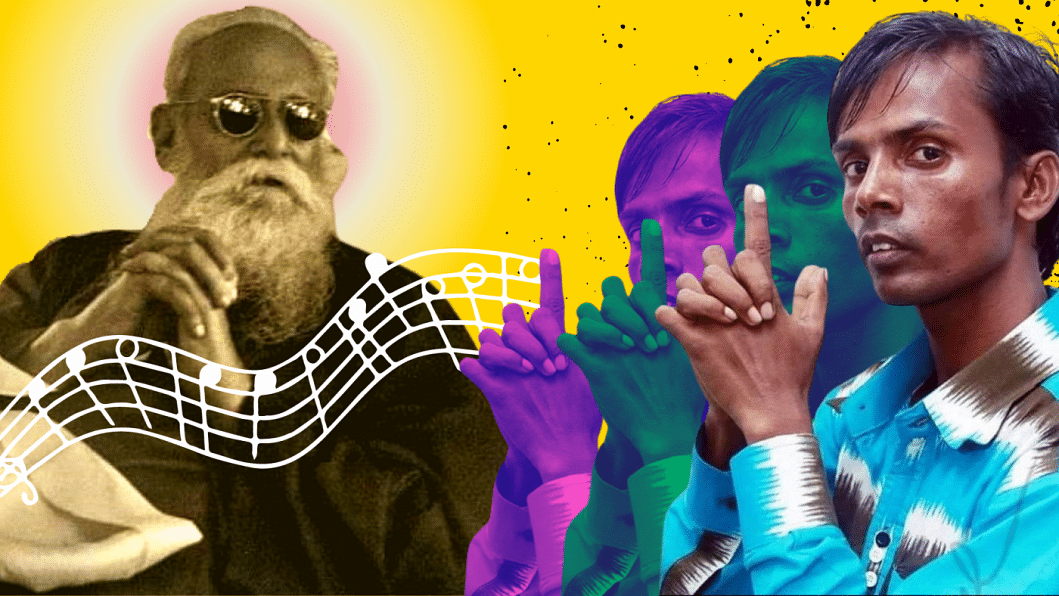 "Let us be rid of all false pride and rejoice at any lamp being lit in any corner of the world, knowing that it is a part of the common illumination of our house." 
– Rabindranath Tagore, in a letter to C F Andrews in 1920.
Since yesterday, I have been deeply, deeply affected by social media sensation Ashraful Hossen Alom's (mostly known as Hero Alom) rendition of Amaro Porano Jaha Chay (lyrics by Rabindranath Tagore). I came upon news reports of Alom being questioned in-person by the Detective Branch (DB) of Dhaka Metropolitan Police (DMP) on July 27 regarding 1) him wearing the uniform of a constable in one of his skits while portraying a DIG "without permission" and 2) his cover of the legendary Tagore piece, which has been termed by "many citizens" as being a "distorted" and/or "perverted" version of the original. Now, how the police handle reproductions of their own image on-screen is completely their business. But to hear that Hero Alom had tarnished the sanctity of our Bangalee culture by colouring it in his brand of kitsch had me fuming. I did not even dare look up the said video, but trusted the girth of our law enforcers' reaction to believe that, indeed, Alom's cover must have been disrespectful enough to warrant such interrogation. 
But I then aimed to paint a picture for you, dear reader, of just how poorly Alom had reenacted the elegant verse of Tagore. And so I gulped down my pride, searched YouTube for "hero alom robindro songeet," and clicked. I listened objectively and I listened judgmentally, but the only features of the video that I could term "offensive" were Alom's highlighter pink and blue satin shirts. Otherwise, my pearls remained unclutched as the performer lent his voice to the classic and strummed his guitar (or pretended to). There were no rap verses, no noticeable modification of the original lyrics, no abrupt electric guitar riffs. Granted, Hero Alom lacks rhythm and tone, but so do many media personalities, TV channel owners, and Bangalee toddlers whose parents upload videos of them singing similar classics. If it is a matter of upholding the originality of Tagore's craft and that of other historically significant Bangalees, it's a wonder how all of us – let alone the cast of Coke Studio Bangla, as many have pointed out – haven't yet been rounded up and admonished by law enforcers. 
Alom has reportedly been told by police to not post any more videos on social media using "incorrect Bangla pronunciation" and has signed a bond declaring he will not attempt to sing any more of Tagore or Nazrul's songs ever again in a distorted manner. 
So, what is it that sets apart Hero Alom's "inaccurate" rendition of a Tagore song from others like his? Well, first off, Alom has a huge following online of fans and naysayers, which makes him a more reachable and noticeable target for the wrath of the cultural purists/police. But he is also someone who is often referred to as being self-made. However distasteful his content may be for the general public, it is also them who have made him as famous as he is now. Yet, given that the feelings of the public towards him are largely negative, it is no surprise that, being so famous, he still is not popular. So much so that, in 2018, the High Court had to step in to rule that the Election Commission must allow Hero Alom to participate in the national election as an independent candidate from the Bogura-4 constituency.
Do we really "other" this man solely because his tastes are different than ours? Who are "we" anyway, and why do we get to decide that the songs of Tagore are untouchable for Hero Alom and others like him? Who do we think are the "others like him"? Surely not those like us, sitting in air-conditioned offices and making sweeping decisions about the lives of those to whose hardships we are blissfully unaware and against whom we gatekeep culturally important works of art and literature. It is sadly ironic that our culture is only "threatened" by the likes of Hero Alom, but is completely okay to reproduce and revamp when it is peddled to us by corporations who have bottled it up to be "classy."
The lack of sympathy from the public for Hero Alom is abundantly clear, and we need only dig a bit further to find that ridiculing him on such a large scale likely stems from our distaste for his humble socioeconomic background. As developed as our infrastructure is becoming, it would be a shame if, in five, 10, 20 years, we still remained a nation so deeply obsessed with class, discriminating against citizens whose hands helped build us, only because their tongues speak (and sometimes sing) our language in a way we regressively deem "distorted."
Afia Jahin is a member of the editorial team at The Daily Star.