Confronting Racism in LaLiga
At what point is it enough?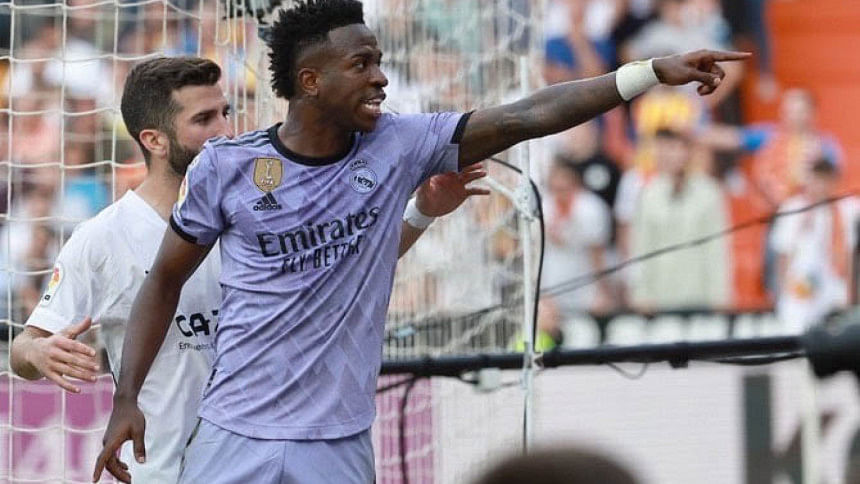 LaLiga has problems. A lot of problems. But you can rest assured that racism is not a problem – at least not to them, and that is where the problem lies.
Last Sunday, Vinicius Jr, commonly known as Vini, the talented young Brazilian winger of Real Madrid, received a red card for angrily reacting during the game against Valencia. Throughout the course of the game, he was subjected to racist chants from the home fans and tensions eventually reached a boiling point. Tempers flared and Vinicius Jr was shown the red card for shoving Valencia's Hugo Duro. Interestingly, it was Vinicius Jr who was held back by the neck just seconds before he reacted, but the referee seemed to only perceive wrongdoing in Vini's actions.
The conversations that have taken place among fans, pundits and his fellow players since then have raised the same question that has persisted for a decade: at what point is it enough?
During the height of the pandemic, George Floyd's story shed light on the deep-rooted racism that permeates our society. Football, which rightly sees itself as a catalyst for change, decided to showcase its support to eradicate racism from the sports. We took knees, wore armbands, donned T-shirts, and created advertisements proclaiming that there is no place for racism in football.
Yet, one of the biggest leagues in the world continues to find itself embroiled in allegations of racism, time and time again. The unfortunate target of discrimination this time: a young man of Real Madrid who happens to be one of the most talented players of this generation.
The manner in which Vini reacted was not surprising. There is only so much someone can endure, and that is precisely what happened on Sunday. In fact, Vini was perhaps much calmer than how most of us would have reacted had we been in his shoes, especially since he has been enduring this brazen prejudice season after season.
It is not just a current issue; it has always been a problem and will continue to be, unless LaLiga takes significant actions. By the looks of LaLiga President Javier Tebas' reaction on Twitter, it is evident that the league is far more concerned about its own image, rather than the welfare of the player. The league's response is muddled with deflecting responsibilities and somehow diverting it towards the player himself, suggesting that the reaction from fans is more a response to how he plays the game, rather than a racist attack.
In whatever way you look at it, Tebas' stronger reaction to Vini's comments about Spain being a country of racists and racism being normalised there, rather than directing his anger or condemning the fans, reveals the deep-rooted problem of racism in Europe. Tebas' comment reflects that he, as a privileged white male, is completely unaware of the implications such vile discrimination may have – not just on the individual who is subjected to such harassment, but also on society in general. The cookie-cutter phrases of "Stop Racism" and "Say no to racism" are great campaigns, but unless stern actions are actually taken, all this will remain ineffective.
So, the question is, how do we eradicate this? As former footballer Ian Wright mentioned in his podcast this week, the answer is, "Walk out." Yes, walk out.
When you step onto the field as a player or as a member of the staff, you accept the possibility of criticism and jeering from fans as part of the game. However, once the fans cross the line, that's it. They do not deserve to be a part of the match any longer, and the only way to make a real stand is to leave the pitch and refuse to play in front of those who welcome racists. Only then will the authorities truly take notice, as it will hit them where it hurts the most – their wallets.
The loss of match day revenues and broadcasting streams will have a significant impact, forcing them to look beyond their distorted perspectives. Vinicius Jr is a world-class player, backed by one of the greatest clubs in the world, and yet LaLiga has turned a deaf ear to his repeated concerns, offering little protection. What happens when the victim is another lesser-known player, who does not have the same level of influence as Vini? We never even hear about it.
For now, LaLiga has fined Valencia 45,000 euros and ordered a partial closure of the Mestalla Stadium's south stand, which Vinicius had pointed to during the second half on Sunday as the originating points of racist taunts. Valencia has appealed this decision, but it is crucial to remember that unless a collective punishment is imposed on the entire club or the league, meaningful changes will not occur. It is vital to address the issue seriously enough to make a club take drastic measures to tackle racism. It is all too easy to sweep it under the rug when it does not directly affect you.
As football fans, lovers, players or anyone remotely connected to the game, we must stop apologising or making excuses for the existence of racists within our society. We need to stop conflating racism with rivalry. They are not the same and they do not coexist. Racism is racism; there are no two ways about it. And if things do not improve, UEFA and FIFA will need to consider imposing sanctions on clubs embroiled in such incidents. They took action against English fans, the "Hooligans" in the 1980s, and significant progress has been made since then. So why are they hesitant to enforce anti-racism policies against clubs and leagues in 2023?
Raiyan Binte Rafiq is pursuing an LLM in International Law, while freelancing for FootballCo and INDIVISA to cover UEFA Women's Champions League and Women's Super League. She also oversees recruitment at Next Level Sports Management based in Bangladesh.