In funding climate actions, we can be more creative
A simple $5 loss and damage aviation levy could be imposed on every passenger flying on any of the airlines under the jurisdiction of the UAE.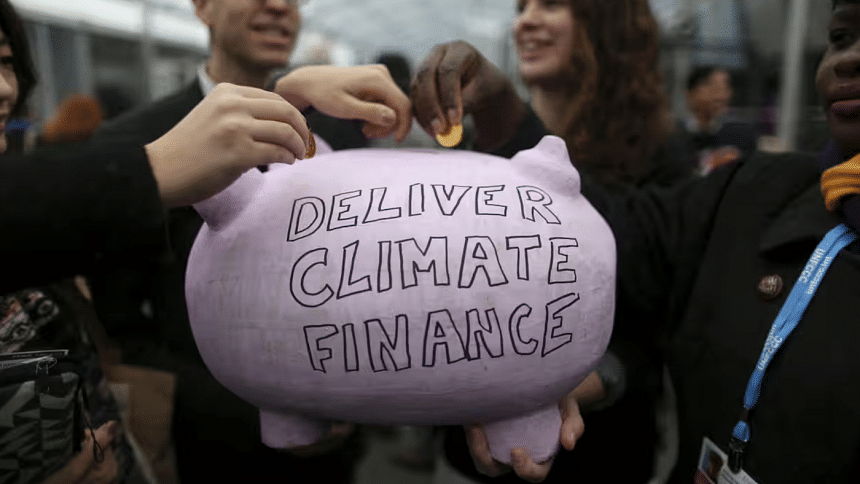 There are only a hundred days left until the start of COP28 in Dubai, set to be held on November 30, and already the world has crossed the critical threshold into what I call "the era of loss and damage," and what the UN Secretary General Antonio Guterres calls the era of climate boiling. July was the hottest month on Earth in over 100,000 years. We are therefore at a point that can be described as a new world of climate change impacts leading to more losses and damages than ever before. Just in the last few days, extraordinarily heavy rainfall in the Chattogram region of Bangladesh led to landslides that killed tens of people. The port city is still largely waterlogged, bringing misery to its citizens. Similarly, the US is currently facing the deadliest wildfire it has seen in over a century, happening in Maui county of Hawaii. Over 90 people have died so far, with the death toll expected to rise significantly in the upcoming days.
With all this in mind, one can say that we have left behind the old era when climate change was perceived as something that would happen in the future. As such, the upcoming COP28 should be considered as COP1 of the "new era," where climate change is no longer a threat for the future, but one that is increasingly impacting the present. Leaders who attend COP28 will have to rise to the occasion with the sense of urgency that the crisis requires today.
The COP28 President-Designate, Dr Sultan Al Jaber, has been travelling around the world meeting leaders with the aim of conveying this sense of urgency. He recently made a brief stop in Bangladesh to meet the government and Climate Envoy Saber Hossain Chowdhury.
The president-designate also made time to meet with a group of young climate change leaders, for which I am grateful to him. One issue for which I have high expectations from COP28, concerning the fulfilment of the COP27 agreement last year in Egypt, is the setting up of a new loss and damage fund. The United Nations Framework Convention on Climate Change (UNFCCC) has set up a Transitional Committee (TC), which is tasked to come up with related recommendations by COP28.
However, having observed the UNFCCC process for over 27 years, I can predict that even with the strongest will in the world from the committee members – and they are all excellent individuals – they will most likely not finish the work and will come to Dubai asking for more time. But time is something we have run out of. So, unless the COP28 president and United Arab Emirates (as the host) make a declaration now, with a hundred days left, that they want a new loss and damage fund set up in Dubai and put pressure on the TC to deliver on it, I am afraid that we will end up with a lost opportunity.
Therefore, I would recommend that the UAE government make a declaration expressing its intentions to set up a new loss and damage fund by the end of COP28 in December. In order to push the TC to come up with something concrete, the country should declare its intention to make $100 million available for the fund and ask the TC to come up with an interim plan to utilise the funds immediately.
To procure this fund, a simple $5 loss and damage aviation levy could be imposed on every passenger flying on any of the airlines under the jurisdiction of the UAE. This would generate approximately $100 million in a year. A similar levy could be imposed by individual governments on the airlines under their jurisdiction. Take for example France, where a few euros are imposed on all passengers buying an airline ticket, which is collected by the airline. Then, the levy is passed onto the French government, and the amount collected is used to finance organisations implementing health programmes for developing countries. This practice has been operating successfully for over ten years. The French levy has nothing to do with climate change, but a new loss and damage levy would be justified as every air passenger is indeed a polluter.
There is no need to reach a collective decision by all countries or for all airlines. But each country, especially the developed ones, could decide to impose the levy on airlines under their jurisdiction and contribute to a new loss and damage fund. None of this would involve the taxpayer or the central government budgets of any country, but would be a nominal amount of a tax on air passengers who do in fact act as polluters.
Another aspect of this proposed levy is that it is a trivial amount – less than the cost of a coffee and croissant at any international airport – and will make absolutely no impact on the decision of a passenger to purchase their ticket. In fact, air tickets have no set price per passenger, as almost every passenger pays a different price for their ticket, depending on when they bought it.
I would urge the UAE government to take this idea forward and for the COP28 president to use the remaining days to talk to all his counterparts around the world and persuade them to contribute to the new loss and damage fund in December. If the loss and damage fund agreed upon at COP27 is not set up in Dubai, I will deem COP28 to have been a failure.
Dr Saleemul Huq is the director of the International Centre for Climate Change and Development and a professor at Independent University, Bangladesh.