On-field glory, off-field controversies: The World Cup so far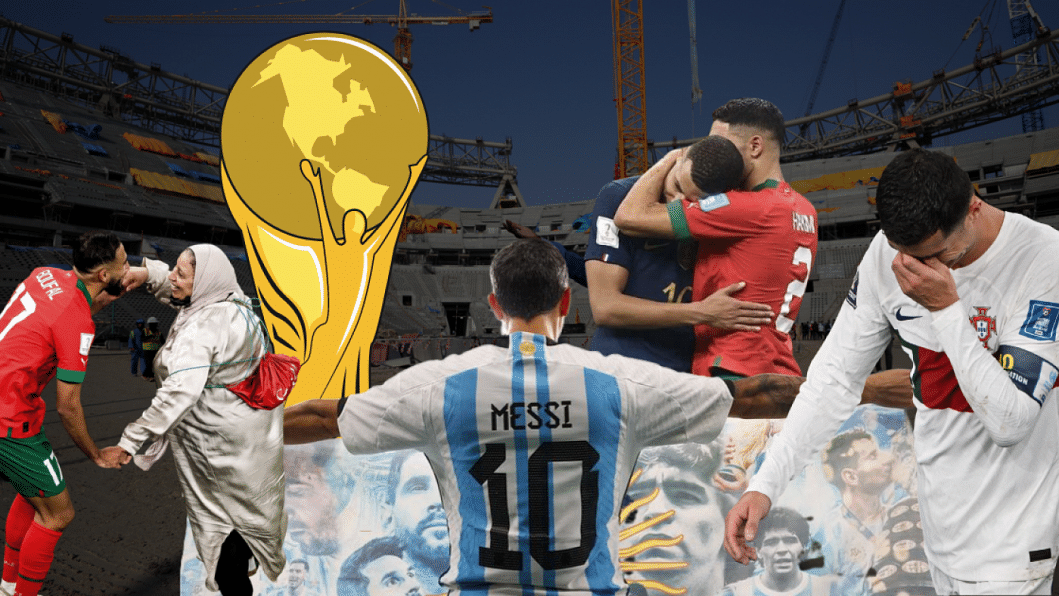 There have been plenty of off-field controversies surrounding the 2022 FIFA World Cup being held in Qatar – from the very real labour rights violations that took place during the preparations for the World Cup, to the hypocrisy of the West to pointing that out, all the while ignoring the huge role Western corporations had played in that, to the Qatari media pointing that out, all the while ignoring that their government had repeatedly turned a blind eye to such issues from way before any of the preparation began. 
From the discrimination against showing solidarity for the LGBTQ community, to the racist comments coming out of European media giants against Middle Eastern and African nations, which recently took an absurd turn when a left-leaning German media opined that Moroccan players who pointed towards the sky to thank the Almighty were mimicking the Islamic State (ISIS) terrorist group, or that those who chanted "free Palestine" or raised the Palestinian flag were either supporting a country "that does not exist," or the idea of driving all Jews into the ocean.
Yet, it is the Moroccan team that has perhaps best captured the imagination of football fans across the world, who have mostly done a great job of transcending petty politics that have seeped into the world of football. Now, I am not saying that politics and football should be separated at all levels. Firstly, to think that would be possible is completely unrealistic. Secondly, as much as I love football, I am fully aware that football, like all forms of entertainment, is often used by ruling-elites as the modern-day "bread and circus" for the masses, to distract them from political matters that have much more important bearings on their lives.
At the same time, despite the off-field controversies, it has been a delight to see the players separate themselves from such quarrels when on the field. In every practical sense, all matches in this world cup have been played in great spirit. A Tweet by France's Kylian Mbappe addressing Morocco's full-back Achraf Hakimi after their semi-final encounter saying: "Don't be sad bro, everybody is proud of what you did, you made history," with a photo of Hakimi embracing Mbappe (where it looks like Hakimi is the one consoling Mbappe instead of the other way around), perhaps best sums up that spirit.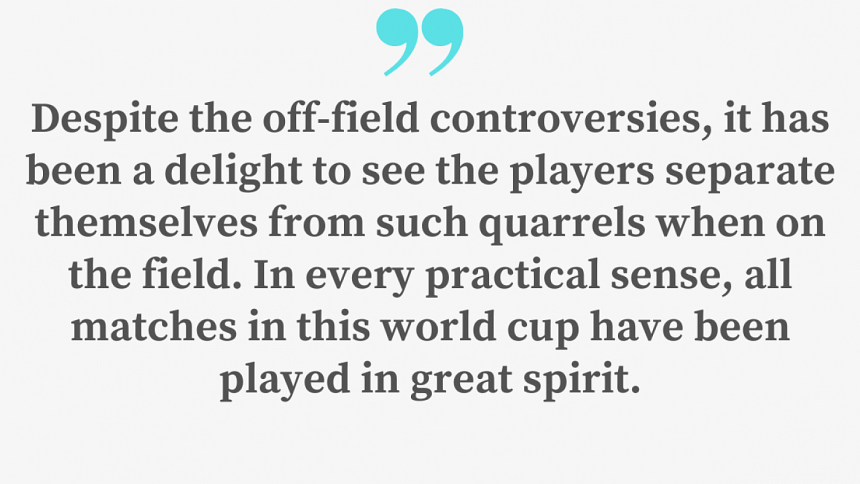 From a neutral point of view, this world cup has also given us great moments that resemble David overcoming Goliath. Saudi Arabia's victory over Argentina, Japan defeating Germany, only to get beaten by Costa Rica, a country with a population of only 5.1 million people, in the group stages, made plenty of football pundit's heads spin. But the upsets did not end there, Morocco then went on to defeat Belgium, one of the tournament favourites, Tunisia clutched victory over France – the reigning world champions, who have again reached the final – Japan beat the 2010 champions Spain to make it to the knockout stage, and finally, both South Korea and Cameroon capped of the group stage upsets by defeating two giants of football, Portugal and Brazil.
In the knockout stages, the underdogs kept putting up great fights, with Morocco's victory over Spain and Portugal, and Croatia's dogged win over Brazil, stealing most of the global headlines. In the end, however, both their fairy-tale runs were cut short by the eventual finalists, France and Argentina.
For Argentina, the possibility of a fairytale ending looms large in a completely different way. Lionel Messi who, for some, is the second coming of the legendary Diego Maradona – even though Messi has done plenty to have established himself in his own light – has already announced that the upcoming world cup final will be his final world cup match. The only achievement that has alluded him so far is the satisfaction of leading his country across the finish line to winning the world cup. Plenty of Argentines, meanwhile, will be hoping that Maradona will be looking down on their team raising the trophy on Sunday.
Along with Messi, another football great of this generation, Cristiano Ronaldo, bowed out when Portugal was defeated. Pictures of Ronaldo in tears, after he realised that he will not get to taste world cup glory as a player, made rounds in the media and social media. France will be hoping to inflict similar pain on Messi, as they look to become only the third team – after Italy and Brazil – to win back-to-back FIFA world cups.
With all this drama yet to unfold, this world cup has had plenty of ups and downs for fans around the world. It also had many lessons to teach us. While behind the scenes of the beautiful game lie plenty of unbeautiful moments – which we, in good conscience, cannot ignore – the sympathy, empathy, determination, hard work, love for their country, yet solidarity with other countrymen, displayed by the players on-field, should teach us plenty about how we should act off the field.
Following the example of all the players who have participated in the tournament, we too, can learn a lot about not cutting any corners in pursuit of our goals; and yet, in the end, be prepared to be grateful in victory, and graceful in defeat.
Eresh Omar Jamal is an assistant editor at The Daily Star. His Twitter handle is: @EreshOmarJamal