The lives of medical students
Being a doctor grants you the privilege of helping fellow human beings. As rewarding and respectable as the medical profession is, the pathway to becoming a doctor is trying and tedious.
University admissions in Bangladesh is a story of ruthless competition. The medical admission test may just be the most competitive of them all.
To obtain a seat in any medical college, private or public, you must pass the admission test. In 2022, 139,742 students sat for the medical admission exam. Candidates who ranked within the first 4000 or so places gained a seat in a public medical college.
The exam itself consists of 100 multiple-choice questions, with a duration of one hour. Thus, to attempt each question, one would get roughly half a minute. Each incorrect answer deducts 1.25 marks. Five different subject areas consisting of Biology, Chemistry, Physics, English, and General Knowledge are tested.
However, the competitive nature of the exam does not make it impossible to crack. Planning ahead helps. The first step is to be absolutely sure that medicine is the goal. A long-term preparation process is made easier with genuine passion.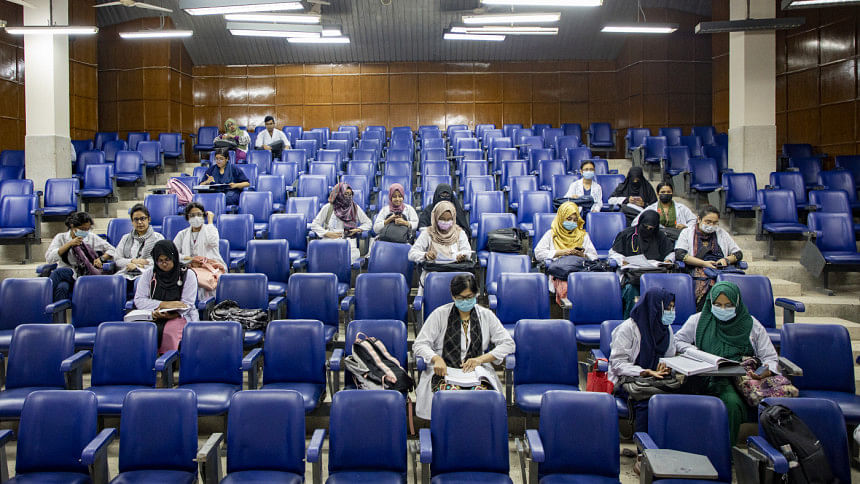 Abid Bhuiyan, a 4th-year student at Dhaka Medical College (DMC), shared how he set his goal early.
"In class 9, I decided that I wanted to know more about my body. I did some research on the question patterns for medical college admission test. Till HSC, I emphasised more on biology and also touched on the other subject areas tested in the admission test," he said.
After HSC, Abid joined a coaching centre to help with time management and the pressure of the exam.
The journey of preparing for the same test looks very different for two groups of students in Bangladesh, with it being more challenging for English medium students. Since a different syllabus is taught at O and A Levels, the NCTB structure is completely new territory, all to be crammed in very little time.
Khondkar Rashkih Tasnim went to Scholastica before enrolling at Mugda Medical College. Currently a third-year student, she revealed that delving into the admission test as an English medium student served as a reality check.
"Most of us in English medium schools get infected with a certain sense of pride. But admission tests reveal that we are a minority, and we have to study the national curriculum syllabus within just a few months," she said.
Then again, challenging does not mean impossible. Rashkih reaffirmed that the key is starting early.
"My preparation started in class 11. An alumnus of my school tutored me at his home alongside two other medical students. Major preparation started after my A Levels. I used a technique of active recall, where I would learn a topic and blurt the information from memory on paper. I joined the exam batch of two coaching centres as well," she added.
While the ability to go abroad for higher studies is coveted by many Bangladeshi students, benefits exclusive to medical colleges in Bangladesh bring in an unexpected number of foreign students each year. One such student is Tanvin Dola, a Bangladeshi-American who grew up and underwent schooling in Florida, but moved to Bangladesh to study medicine at Sir Salimullah Medical College under the non-SAARC quota.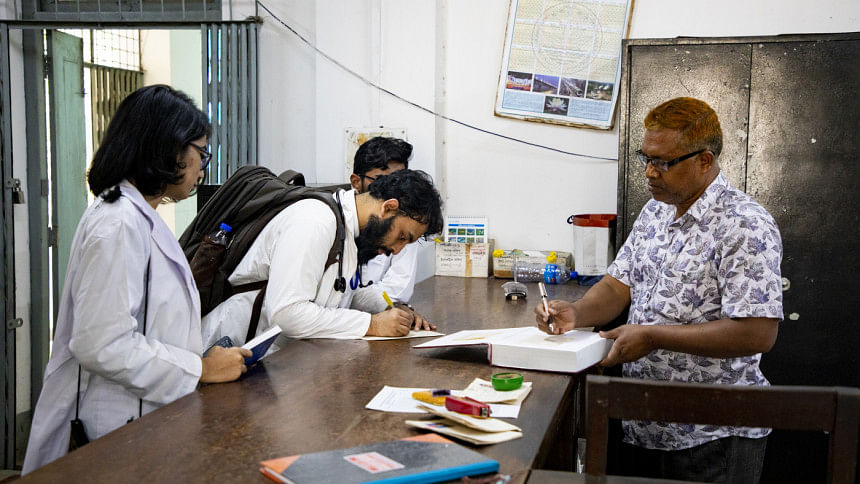 "In America, I would first have to get an undergraduate degree before enrolling at medical school, then graduate with a lot of debt. To come to Bangladesh, I didn't have to sit for any admission test, as there are very few applicants under the non-SAARC quota. I do have to pay a tuition fee of USD 5000 per year. Even so, it is much cheaper than what I would have to pay in America," she said.
Even though the admission system in Bangladesh comes with its fair share of limitations, there is one aspect that Rashkih appreciates.
"In Bangladesh, they don't care about your background. Admission into a public medical college does not depend on my parents' income. Money is a big factor in determining which institutions you get accepted to abroad. Here, I'm studying alongside students from many diverse backgrounds but we all have two things in common, we want to become doctors, and we aced the admission exam," she said.
Dola appreciates the number of chances Bangladesh gives you. "The five years in Bangladesh were hard. Competing with the memorisation abilities of the brilliant and dedicated Bangladeshi students took adjustment. However, you can take as long as you need and can afford to pass. Unless you sign yourself out, you won't be expelled from medical college," she said.
Dola is now back in America. When asked about whether her degree from Bangladesh puts her at a disadvantage, she shared that in America, the USMLE, which is the licensing exam to practise in America, is incorporated into the medical school curriculum. Dola has to take a couple of years to prepare and sit for the three steps.
The pathway to getting an MBBS degree is divided into four phases, the end of each phase marked by a professional exam. An interesting characteristic of medical colleges is the "item", which is an oral exam usually taken every single day up until the 4th year. You have to pass all the items to be eligible for a "card" or term exam, and pass 3 term exams and a ward final exam (held third year onwards) to be eligible for professional exams. Passing all four professional exams grants you the MBBS degree.
The fact that all professional exams are conducted by one of four central authorities (depending on the geographical location of a medical college) makes the negative implications surrounding private medical colleges unreasonable. Public and private medical colleges each have their pros and cons, which should be considered to decide which is the right fit for someone.
Bishal Rashid, a student of Uttara Adhunik Medical College, shared how his private medical college benefits him, "In private colleges, exams are taken more regularly and rigorously. A possible reason behind this is that private colleges have more liability to us for the tuition fees and also to the governing body. My friends from public colleges often talk about how items are not taken regularly, but card and term exams do happen, so they have to cram."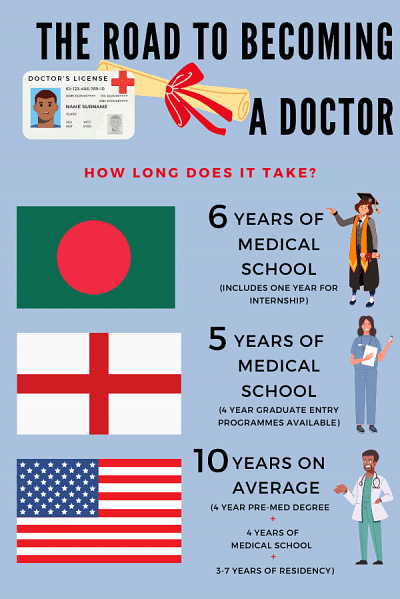 According to Bishal, social implications result in an inferiority complex and lack of morale amongst students from private medical colleges.
Studying a difficult subject like medicine demands that other aspects of life, like accommodation, are well taken care of. When asked about the state of the halls in public medical colleges, Abid shared that conditions are being improved.
"When I first came to DMC, I was assigned to one large room with 12 people, which was upsetting. But two months in, 6 people could move to a different room. As we become more senior, we are assigned to less crowded rooms. Currently, there's four of us and it's pretty comfortable. The location of my campus is also nice, with nature and greenery."
According to Abid, the government has acknowledged the poor conditions of medical halls and is renovating them. The newer medical colleges have been built with nicer halls and facilities.
However, the state of the medical college hospital wards warrants rapid improvement.
"Due to the wards not being able to accommodate the sheer number of patients we receive, it is impossible to properly attend to each patient and maintain proper hygiene. The cramped conditions do not foster a good learning environment," shared Abid.
It is a given that medicine will come with an intense academic workload, which may imply that only academically oriented people are capable of succeeding. However, it is evident from my conversations with medical students that being completely consumed by studies is unsustainable in the long run. To preserve your mental health, it is important to make an active effort to maintain a work-life balance.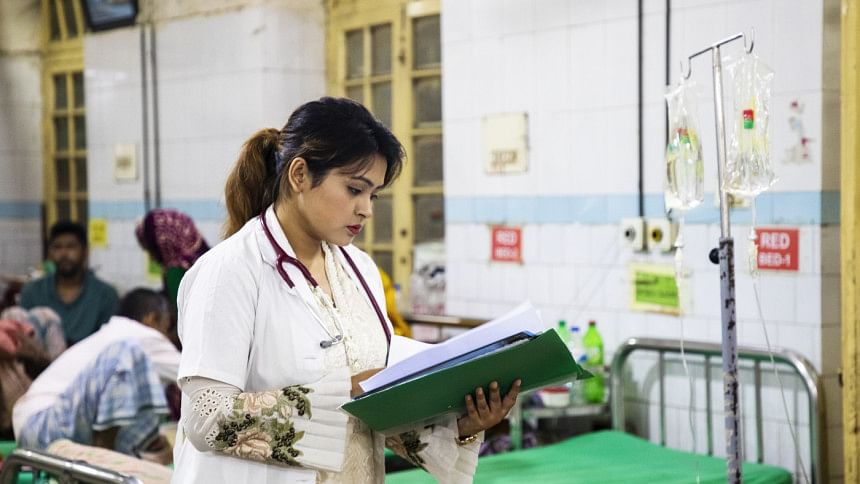 The most important exams in medical college are the four professional exams. The different types of testing conducted in these exams disprove the popular belief that memorisation skills guarantee success as a medical student. The tests are written, viva, OSPE (Objective Structured Practical Examination), and practical. For viva, you need to be able to speak fluently and confidently under pressure. OSPE is an interesting type of testing with stations, you get 2 minutes in each to identify a specimen and/or answer a question. Passing the professional exams requires you to know the content to the point of being able to apply it, and attend to a patient. Passing your professional exams grants you the MBBS degree and makes you a doctor, so the challenge matches the stakes at play.
After passing the final professional exam, students go on to work as intern doctors for a year. However, the salary for this position has remained unchanged at BDT 15,000 for many years.
"The amount offered is not appropriate for the hard work you did to gain admission, the hard work you did for 5 years to become qualified for the position, and the hard work you do working as an intern doctor," commented Bishal.
Abid added that throughout the internship period, you are required to spend a segment of time working in every department. Given that you had no income source for five years, the salary offered is not enough compared to the inflated prices of basic necessities.
Pursuing medicine is a decision that should be carefully made, with a meticulous assessment of your motivations. The right motivations, often something more than yourself, are what prove most helpful in enduring decades of strenuous physical and mental labour that the pathway demands.
Contact Amrin for details of lesser-known interesting work at amrinrafa@gmail.com