Vespertine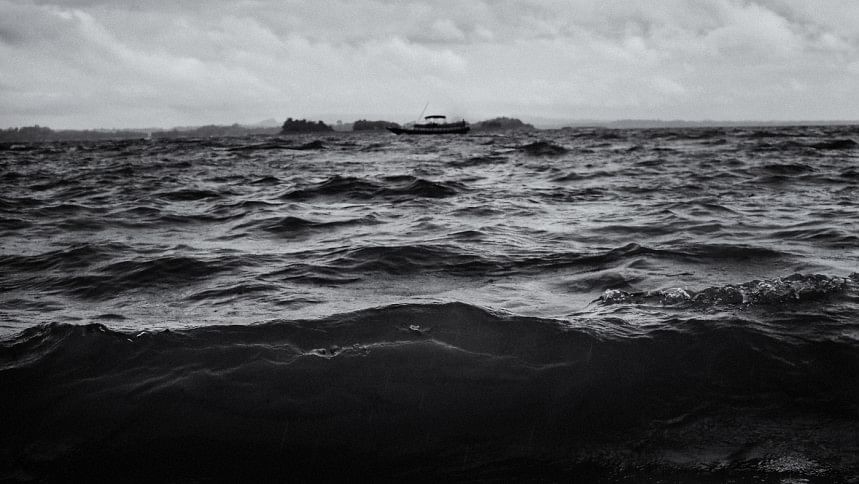 The blue never ended here. The lights did not go out either.
I did not know it was a possibility in all the years of my existence here. But to be fair, even the elders of our community speak of it either as lore or as play pretend – it is a tale known by many but believed by none.
In our small, peaceful community, nothing ever went out of order, the mills never stopped running, the supply of fresh produce never ended, and of course, the lights never went out. We never questioned why because that's the way things had always been. This is what was called perfect, I think. But we had never known anything but perfection, we had not known anything named a flaw.
The children here took scraps of thick fabric that were once either blankets or shrouds we'd used to cover the dead with and wrapped it around their heads and over their eyes. I did it too when I was younger. It was supposed to mimic what it would be like during night-time but it truly only ever provided a soft orange tint over the lids, like the colour the sky sometimes turned to between two bouts of absolute, blinding lights.
I haven't played with other children my age in a very long time. No one is a child anymore after they lose their parents, I heard the remark thrown around carelessly in the wind and decided to catch it, to keep it. I did not know what it meant back then but I have been taught ever since.
I threw a flat rock across at the pond, and an absurd thought crossed my mind – that the pond would throw a boulder back at me in response. The rock did not skip across the surface like I intended it to. Instead, it sank to the bottom of the water. I stood there for a while, waiting for the pond to hit me back. It did not, so I turned and began to walk away.
The endless blue sky stretched out like my allocated monthly allowance. We'd seen hyper-realistic projections of how the Earth's sunsets and sunrises used to be but the intangibility of it upset me back then too. One of my classmates laughed and said you cannot touch a sunset or the sky. It was true, but I could never explain how I felt that way. On Earth perhaps, the sky was still something you could claim, something you could connect to.
People trying to claim everything – to try and grab more than they could fit into their palms – their houses, their hearts, was the very reason they had to eventually leave it all behind on Earth and shift to this planet. This is something we are reminded of at every turn and at every task: to look at the ground and not at the sky; to be humble. After all, pride and gluttony had nearly wiped-out humanity once, and it could happen again. We had run out of backup planets, hence the extra care, and the extra caution.
All the care and caution in the world did not prepare us adequately for this anomaly it seemed. Our otherwise perfect town was in a pickle. All the information we had was based on a completely different planet, and people were apparently debating over which what-if scenario seemed most logical. In some cases, some of their absurd hypotheses cancelled each other out. Everyone settled on darkness being the greatest issue and so, beams were being heaved to hang makeshift lanterns from. It was entirely beyond me how this happened every twelve hours or so back on Earth, but people were used to living in a world that was not as carefully orchestrated.
Dusk had come like it did any other day but it did not take a peek to only dissolve in the face of glaring light. The sky grew darker by the minute. It was like watching a dragon from the pages of a myth wake from its endless slumber.
I thought I was getting goosebumps from the intensity of bearing witness to an unforeseen event, but others around me were shivering as well. Old blankets with patches sewn on them were being handed out from dusty cardboard boxes. The blanket I got was ashy and too big for me, so I wrapped it around my shoulders.
All around me, I saw families huddled together in blankets that looked like tents, trying to get closer to the lanterns. I felt a quick, sharp jab just below my ribs. A blanket twice wrapped around my torso could not shield me from the bitter iciness I felt from the absence of a family that could have been there, splitting both the blanket and the warmth with me.
I wandered around aimlessly for a bit – the soft humming of frightened people receded and there had only been a few lanterns in sight. The sky was like one huge canopy the colour of my blanket, but with way more holes in it – small specks of light leaked through them. Stars, I knew them to be, bespeckled the sky like sesame seeds on a bagel, and it had been the most mesmerising thing I'd ever seen – so much that I almost did not notice the lump near my foot.
"Hello?" I asked.
"Hi," the lump replied in a small voice.
The lump uncoiled himself and I saw a tiny boy with bony knuckles and purple marks under his sunken eyes. A child sitting alone on the outskirts of the town could have only meant one thing – he is like me. I forgot that I had been feeling sorry for myself and my chest swelled with pity for this little creature. I sat next to him. He shifted in his place but didn't scoot away.
"Back on Earth, people believed that when someone died, they became a star," I said to no one in particular, but the boy listened with intent. "When only you can see one particular star twinkling, it's actually your loved one winking at you."
He and I looked at the sky. I unfolded my blanket and draped it over his head. "That one blinked at me" he pointed upwards. "Did any of them blink at you?" he asked.
I couldn't tell because with my vision blurred with tears. I saw thrice as many stars as there really had been.
Upoma Aziz is a slouching, crouching, grouchy Goblin with a hoarding issue. Hold a virtual intervention for her to declutter her desk and her mind at upoma.aziz@gmail.com