Restrictive upscale areas in Dhaka make commuting a nightmare for students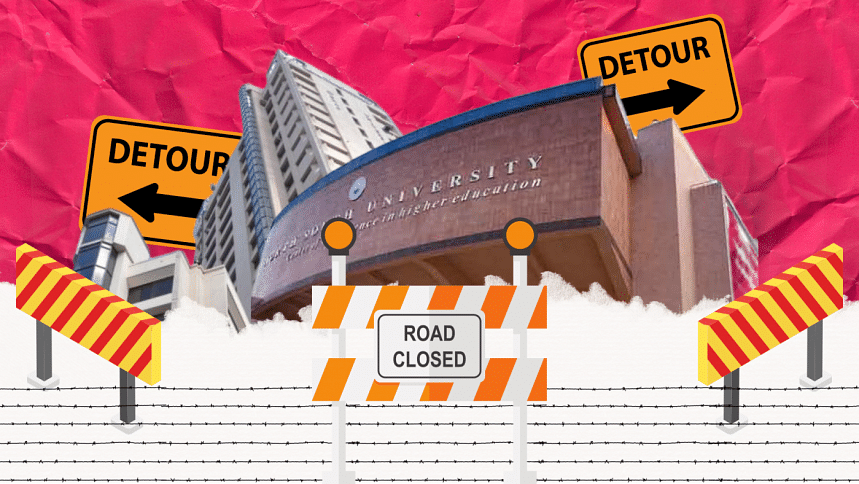 If you're one of the countless many who regularly commute via public transport to institutions located in certain upscale areas of Dhaka, there is a high chance that travelling in and out of these places has always been an unpleasant ordeal. Be it as a pedestrian, via public buses, or rickshaws, these places have probably never felt friendly as an outsider. And yet over time, it seems as if their desire to enclose themselves as miniature cities within cities keeps growing. Those who have to travel to these areas and face difficulties in doing so usually don't get to have a voice in the decision-making process.
And with all this, one fundamental question arises – how did we get here?
Take Bashundhara Residential Area as a prime example. Outside rickshaws have always been restricted from entering the area, and while students studying at either North South University (NSU) or Independent University, Bangladesh (IUB) have managed to commute with the residential area's own internal rickshaws, the recent hike in fares has made the situation direr. 
Rezwana Ahmed Aunu, a 21-year-old student at NSU and a resident of Bashundhara, shares her experience, "The rickshaw fare is outrageous," she says, "There is no set fare, so the rickshaw pullers can set whatever price they want. And the roads are absolutely terrible, so walking isn't an option either. Unless you have a private vehicle, commuting even within the area is very difficult." 
For students having to commute to Bashundhara Residential Area, the experience is nearly universal. Bashundhara as an area is home to not just the two aforementioned private universities, but to many schools as well. As such, it has been a centre for students of all ages. For them to be facing such terrible roads and exorbitant prices just to travel within the area is completely unfair. Yet the situation arises only because the authority responsible seems unwilling to address it. 
Instead, with recent developments, they have made Bashundhara Residential Area far less accessible, closing off many pedestrian entrances, and opting only to keep the major vehicle entrances open. As expected, this has led to commuters having to take detours just to enter the area and reach their institutions. 
"I always used to enter Bashundhara through the Ghatpar gate. After it was closed, I had to change my whole route. I now have to change buses multiple times just to reach my destination. Inside, the rickshaw fare is unbelievably high. I try to walk but the open drainage system makes it unsafe," says Azmira Hossain Aney, a 22-year-old student at NSU, sharing her experience of travelling from outside of Bashundhara to her university.
Many have argued that the reason behind closing down pedestrian entrances is to reduce traffic, yet, from personal experience, it seems that traffic has only increased at the other entry points where now more pedestrians are having to compete against vehicles for the slightest amount of room to enter.
One of the many ways these upscale areas grow in size and popularity is by introducing educational institutions inside of them, pulling in families and students to live in or around these areas. Yet, due to that same reason, these areas have restricted entry points to help control traffic and ensure the safety of all foreigners and businesspeople living in the area. The result is roads that are perpetually clogged and there remains a lack of proper public transportation.
Bashundhara Residential Area is not alone in this. Areas like Gulshan and Banani also fall under the same umbrella of problems. Though they are not home to many universities, the schools and coaching centres in these areas have resulted in many students frequenting these places.
Sayed Inan, a 23-year-old student of BRAC University, shares, "I have to travel through Gulshan to get to my university, and my route always requires me to change transportation halfway through. There is no direct way through Gulshan, and this wastes a lot of my time just on the road. Rickshaw fares are also very costly, which is why I don't get on rickshaws either."
With all these in mind, many students frequenting these areas opt to walk to and from their destinations instead of the more expensive alternatives that are available. This brings into question the state of the roads themselves in these areas. While it may be seen that most roads in Gulshan and Banani are of decent quality for pedestrians to use, Bashundhara has seen complaints for the derelict state their roads constantly remain in. 
Rezwana shares her account on this, "Sometimes they close off a road at any given time without any sort of notice, causing everyone to take detours. The pavements themselves are also of poor quality, and walking gets far more inconvenient than it should be."
With all this coming to light, it seems rather clear that these areas are progressively shifting towards infrastructure that is friendly only to private vehicles. The disregard shown towards pedestrians and public transport users in these cases has persistently grown worse with no sign of stopping. Where does that leave the common folk? Especially with how in many private areas, the situation of the roads themselves are of exceptionally poor quality, why are no steps being taken to alleviate the problem? 
As multi-faceted as these situations can be, the bottom line is clear – we, who are meant to grow up and eventually inherit the city, deserve better treatment. 
Raian's favourite activity is shouting. Shout alongside him at raibedin@gmail.com