The evolution of cooking shows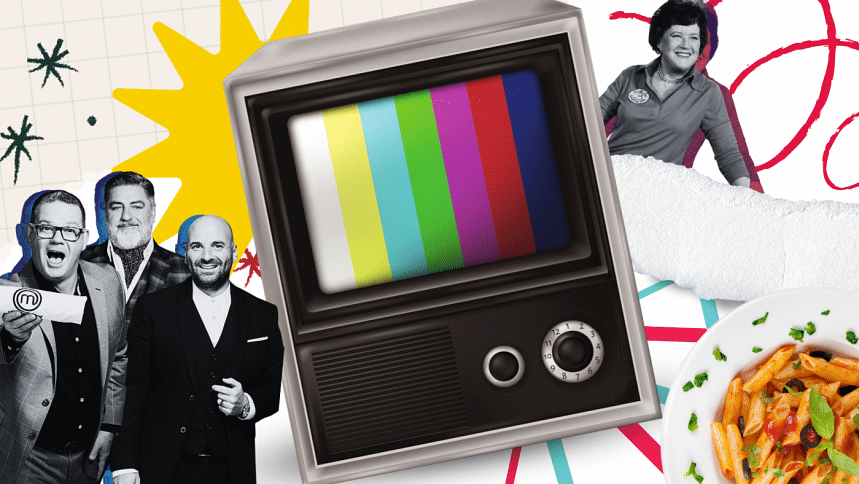 Cooking shows have been around for almost a century now. Their ever-changing nature has helped the genre evolve and expand over multiple mediums to stand the test of time. 
At first, cooking shows were broadcast on radios and focused on helping homemakers with recipes rather than for entertainment purposes. It was 1946 when cooking shows made their transition to televisions. According to the Guinness World Records, British chef Philip Harben's Cookery was the first show to be broadcast on television. This was closely followed by the first American cooking show, I Love to Eat. Shows like these, with well-known chefs, were focused primarily on teaching how to cook certain dishes. Among these was also Julia Child's The French Chef, famously known for showing mistakes one might make in the kitchen. 
The transition of cooking shows from being educational to a form of entertainment happened quickly throughout the late 20th century. As television became a more accessible commodity, shows became more concerned with their entertainment value and marketing. Simple demonstrations of cooking became outdated, and the hybrid of cooking and reality shows became the standard. These new shows often took the form of cooking competitions, such as MasterChef, a show that is still relevant and running in different parts of the world. 
With the widespread access to social media platforms across the globe, content related to cooking of all sorts has become a part of pop culture. With platforms like YouTube or TikTok, now you don't even have to be a chef to create your cooking-related content. This fact played out in a rather positive way during the 2020 pandemic. People confined within their homes turned to cooking and social media – often combining the two – and made as well as uploaded content. These online contents ranged from commentary, Mukbangs, or even visual ASMR (autonomous sensory meridian response) content. 
Food content now serves a variety of purposes. From instructional videos to people channelling their inner cooks, food content now brings people of all cultures together to share the simple pleasure they derive from consuming cooking content. 
Speaking of ASMR, neither cooking nor eating rather, just watching food videos trigger a sense of pleasure in people. Content creators often go a step ahead in making their own studios at home, giving an aesthetically pleasing ambience to their videos, with wholesome settings or cute utensils. Surrounding noises and a lack of voiceover are a speciality in creating this ambience. Certain channels go beyond their home or studio setting and create a whole setup in an outdoor place, giving their videos a very rustic feel.
As it often happens online, every platform and each piece of content is ever-evolving and caters to the taste of the consumers. Following this pattern, even food content has adapted and evolved to match the trends.
What started with an early period of focusing mainly on instructional videos to help homemakers with their cooking has quickly transitioned and focused itself on entertainment with the widespread access to televisions. From there it was not long before the age of the internet and cooking videos adapted themselves to online content. One thing that remains constant is people's connection with food thus making this genre of shows or videos everlasting. 
Watching cooking videos takes up a lot of Rudaiba's time. Send time management advice at rudaiba.rhymee@gmail.com.