Late penalty gives embattled Spain 3-2 win over Sweden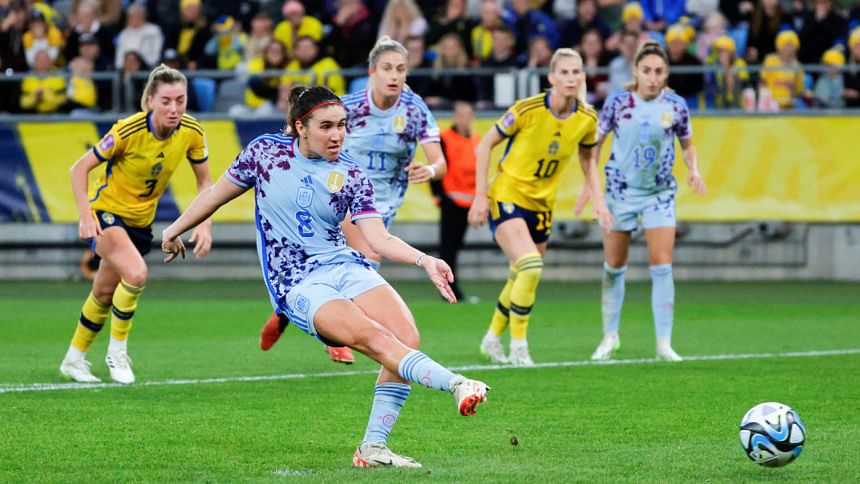 World champions Spain battled to a 3-2 win over the world's number one-ranked team Sweden in their Nations League Group A game on Friday after a week blighted by uncertainty caused by the continued fall-out from their World Cup win.
Mariona Caldentey struck from the spot deep into second-half stoppage time to give the Spaniards a boost after another turbulent week that included threats of a boycott and late-night meetings to ensure that they could field a team.
The team's long-running conflict with their association was exacerbated when former Spanish FA (RFEF) president Luis Rubiales kissed player Jennie Hermoso after the World Cup final in Sydney.
The contention of Rubiales, who subsequently resigned, that the kiss was consensual was strongly refuted by Hermoso and the incident is the subject of an ongoing criminal investigation in Spain. Coach Jorge Vilda has also left his post.
With the Spaniards only managing to name a squad earlier in the week, the two teams staged a joint protest before kickoff with a banner saying "Our fight is the global fight", and they went on to engage in a thrilling end-to-end battle over the 90 minutes that followed.
The Swedes opened the scoring midway through the first half when Magda Eriksson headed home a corner, but Athenea del Castillo equalised with a drive from the edge of the box that Zecira Musovic saved but couldn't hold, and the ball spun over the line.
Both sides attacked relentlessly in the second half and Spain took the lead in the 77th minute when Eva Navarro, who came off the bench seven minutes earlier, curled a beautiful shot from distance into the top-left corner.
Urged on by the 16,114-strong home crowd, Sweden levelled five minutes later when a promising attack on the right saw the ball fall to winger Lina Hurtig, who slammed it home. However, Caldentey's penalty silenced the fans as she snatched victory for the visitors.
"At last we ended up playing. We went through some very difficult last few days, nights without sleeping, we are exhausted but we are not the type that make excuses," Castillo said.
"We came here, showed up and we fought until de end. Very proud of our team and how we delivered this win with heart and grit."
With the Nations League doubling as a qualifying tournament for next year's Olympic Games in Paris, Spain meet Switzerland in Cordoba on Tuesday, while Sweden are away to Italy.