Lionel Messi: The 'greatest' leaves PSG on low note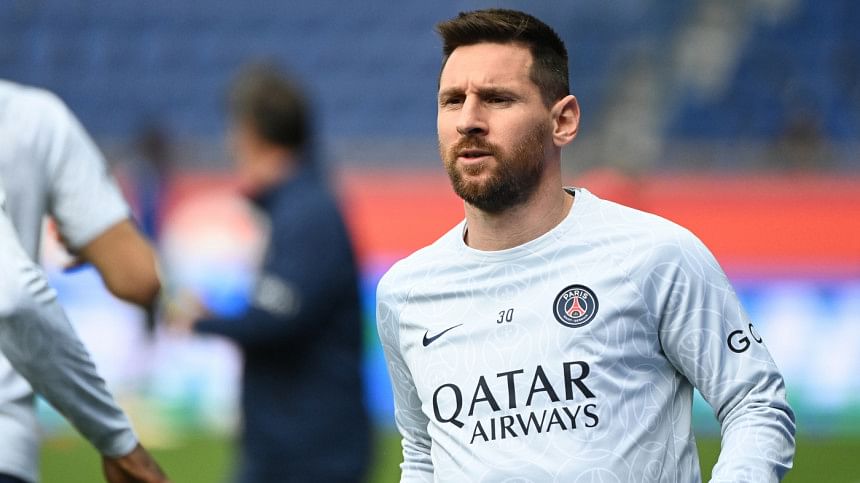 Lionel Messi's uninspiring two-year stint at Paris Saint-Germain is set to come to an acrimonious end with a move to join long-time rival Cristiano Ronaldo in Saudi Arabia, just months after his crowning glory at the 2022 World Cup.
For his legions of admirers, the debate about Messi's right to be regarded as the greatest footballer in history was officially put to bed when he led Argentina to the title in Qatar in December.
But his career at the highest level in Europe appears to have finished on a low note.
Messi was suspended by PSG last week for making an unauthorised trip to Saudi Arabia.
He has scored 31 goals in 71 appearances for the French champions and is likely to win a second consecutive Ligue 1 title later this month, but failed in his mission to help PSG to a maiden Champions League triumph, suffering back-to-back last-16 defeats.
Barcelona had been hopeful of bringing the 35-year-old back to the Camp Nou, where he won 10 La Liga titles and four Champions League crowns before a tearful departure in 2021.
Instead though, Saudi Arabia, regularly accused of sportswashing, or hosting the biggest names in sport to deflect attention from its human rights record, will be able to boast having arguably the two greatest players of the modern era in their unheralded domestic league.
Ronaldo is playing for Al Nassr, while a source close to the negotiations who told AFP that Messi's move to Saudi Arabia was a "done deal", stopped short of saying which club the Argentine will join.
World Cup mission accomplished 
The absence of a World Cup winners' medal had long been Exhibit A in the argument about why Messi did not rank above Pele and Diego Maradona in football's pantheon.
But with Argentina's victory over France in last year's jaw-dropping World Cup final in Doha, the case was surely closed.
In a glittering career that has spanned three decades, Messi has won 37 club trophies, seven Ballon d'Or awards and six European Golden Boots.
There has been a Copa America title, an Olympic gold medal and a list of scoring and statistical records that may never be beaten.
In his final World Cup appearance, Messi scored twice as Argentina battled to a 3-3 draw in extra time before prevailing on penalties.
Not even Kylian Mbappe's hat-trick for France could upset Messi's appointment with destiny on a night that seemed pre-ordained.
Whether Messi really is the 'greatest ever' is a question, of course, that is as futile as the answer is subjective.
Ranking greatness
What is undeniable though is that by sheer volume and range of silverware, Messi has won more than the other serious rivals to his "G.O.A.T" status: Pele and Maradona.
While Pele's three World Cup triumphs remain unrivalled, the Brazilian icon's club career pales in comparison to Messi's.
In his peak years with Barcelona, the Argentinian regularly scaled the pinnacle of European club football in the Champions League -- arguably a technically superior arena than international football.
Maradona meanwhile won only one World Cup, and never lifted a European Cup during a club career in Europe remembered mostly for spells with Barcelona and Napoli.
The counter-argument of course is that Pele and Maradona played in an era where players were offered far less protection than the likes of Messi and Ronaldo.
Pele hobbled out of the 1966 World Cup after taking one brutal tackle too many; Maradona was also subjected to roughhouse treatment throughout his career.
Maradona's former international team-mate Jorge Burruchaga is reluctant to compare players across generations.
Burruchaga, scorer of the winning goal -- set up by Maradona -- in the 1986 World Cup final victory over West Germany has said simply that Messi is the greatest player of his era.
"Win or lose, Messi is not more or less than Maradona," Burruchaga told AFP during the World Cup. "Messi is going to be in history whatever happens.
"There are five players in the past 70 years who can be considered the best in the world -- (Alfredo) Di Stefano, Johan Cruyff, Pele, Maradona and Messi."
The last name on that list is potentially leaving the European elite for good, but Messi is yet to end an international career that has already produced 102 goals in 174 matches.
The Copa America in the United States next year could still provide a fitting swansong.