'Slim chance' for women's friendlies before SAFF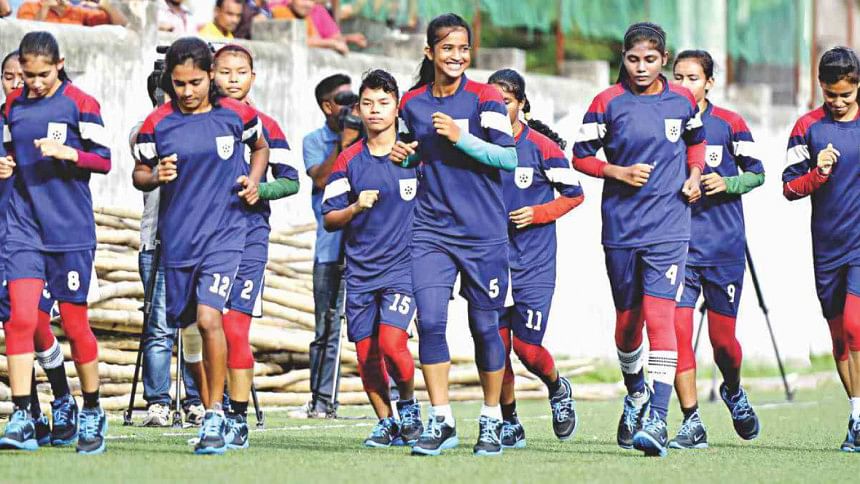 Bangladesh women's football team might go to the SAFF Women's Championship early next month without a preparation match as United Arab Emirates declined to come here for two friendly matches later this month.
The Bangladesh Football Federation was trying to convince it's UAE counterparts to send their team for two friendly matches as part of preparation. BFF had even earmarked August 29 and September 1 the two likely dates for the two friendly matches, which were supposed to be held at the Bashundhara Kings Arena.
However, UAE Football Association, on Saturday, relayed its message to BFF that it was unable to send the team to Bangladesh, according to BFF's general secretary Abu Nayeem Shohag.
"We tried to convince UAE FA and had the talks at a latter stage, however, they have conveyed their message today about their inability to send the team due to alternate priorities on their part," Shohag told reporters on Saturday.
The BFF spokesman, however, said they are trying their best to ensure at least one match for the women's team, who will take part in the regional championship, starting on September 6 in Kathmandu.
"Since SAFF Women's Championship is a very important tournament for us, we really wanted one or two matches before that tournament.
"There is a slim chance of having a friendly match or two against Indonesia. We have been communicating with Indonesia Football Association and there is a 50/50 chance of having them brought here or our team flying to Indonesia for one or two games. We will be confirmed by the Indonesian FA about the decision on Monday," the BFF spokesman said.
The Women's SAFF Championship is supposed to feature all seven teams of the region but India's recent ban by FIFA has put the format of the championship in a limbo. The SAFF said it will observe development of the issue till this Tuesday before deciding on the final lineup and format of the championship.