Tenacious Maria Manda
A common scene preceding a friendly neighbourhood football match is random players gathering and two seniors-turn-captains taking turns in picking the players. Usually, the top strikers are recruited first, followed by playmakers, wingers, and so on. 
Bangladesh midfielder Maria Manda is the type of player who would get picked in the very beginning in the aforementioned type of scenario. A playmaker and a fierce competitor, all packed in one -- Maria Manda is the complete package that no team would want to play against.
The prevalent notion of physicality being a decisive factor for footballers to thrive is falsified when one keenly observes the girl from the Garo foothills in action. She follows the long line of midfielders in history whose height, for instance, becomes insignificant in front of their towering presence imprinted on the field.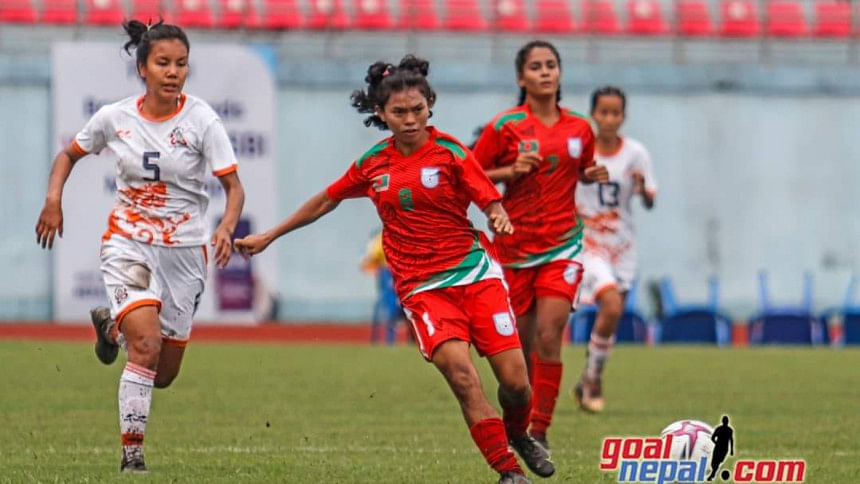 Maria appears the type who breathed and lived football ever since she kicked the ball for the first time. She comes across as someone who'd not sleep the night before a big football match and wouldn't be able to stop fantasising about scoring a late winner -- the type of which came from Spain's Andres Iniesta, as the unlikely source, in the final of the 2010 World Cup.
Case in point, in the SAFF final on Monday, Maria had catapulted way more shots from a distance than she typically does. But, when considering the rain-soaked pitch at Dasarath Rangasala stadium not being conducive to Bangladesh's passing game, Maria's street-smart nature and her winning mentality were dominant. 
She opted for a pragmatic hat and kept it simple. The idea was to dominate or prevent the opposition from doing so. There were several moments in the first hour against Nepal on Monday where she resorted to slide tackles all over the water-logged pitch, took hopeful shots from distance, and lost possession, but only to get up on her feet in an instant and move on to help her teammates, who would have found it near impossible to frown at one of Maria's misjudged decisions after seeing her make-up efforts. 
With an imaginary metronome ticking inside her head, she is usually seen facilitating quick passes, ones that break the lines in offensive transitions. Her signature move is when she takes a few extra touches to deceive her marker as she marshals the centre of the midfield. Wearing a serious and calculative look, as if she's about to cross a busy Dhaka street where vehicles typically approach from all directions, Maria looks to the right and then to the left and to the right again, in seconds.
Even when pressed, she takes an extra second if needed, to filter out the better moves from the obvious. A smooth operator, reminiscent of another pivotal midfielder of that Spain World Cup winning side in Xavi Hernandez whose height never mattered.   
Be it the SAFF final or an afternoon neighbourhood game at Kalsindur village back in the day, "You shall not pass!" seems to be her motto. Maria could, as if, chase a demon back to the underworld if that bothered any of her teammates. And it's no wonder she was given the armband to lead the U-19 side that won the SAFF Championship in 2021.
Maria is the vice-captain of the national side and her SAFF Championship-winning teammates, especially the Bangladesh captain Sabina Khatun, may validate that there could be no one better to be the next in line in the leadership.