China ready to surprise all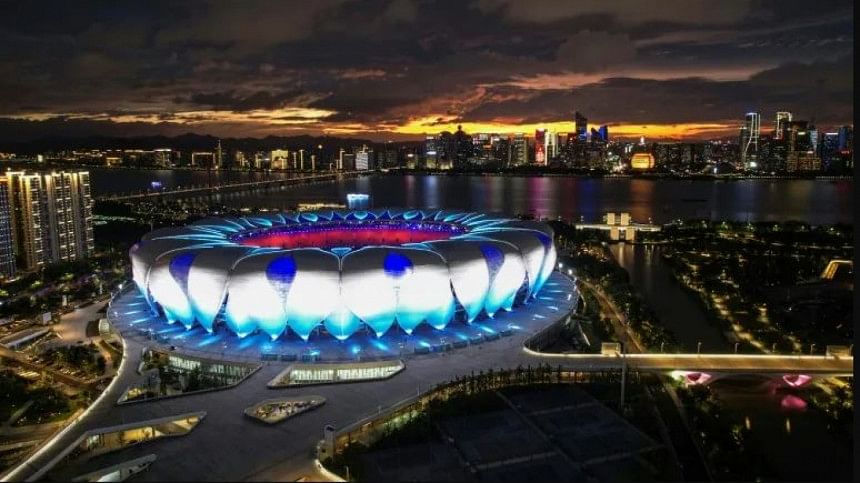 Though football and cricket already got underway four days before, the curtain of the 19th Asian Games opens tonight with a lot more to offer than just a visual spectacle as hosts China look to surprise the world with a high-tech showcase of its historical and cultural attractions.
President XI Jinping is expected to declare open the 16-day multi-sports extravaganza at the Hangzhou Olympic Sports Center Stadium, with many historic firsts being promised alongside a blueprint of a sustainable and digitally enhanced future for such gala events.
Projections depicting Hangzhou's past and present, glass-free 3D animation of athletic actions, and the innovation of lighting of the cauldron that will involve a virtual torchbearer, will be among some of the showpiece moments of the approximately 115-minute programme.
Hosts China have also a backup plan to perform an abridged version of the opening ceremony at a nearly indoor venue in case of any extreme weather and they tested the arrival and departure of 50,000 spectators in a safe way while they had rehearsals five times to make the opening ceremony perfect, assured the event's organisers at a press conference on Thursday.
Of 17 disciplines Bangladesh are participating in, the athletes of 10 have already reached Hangzhou and they are excited to take part in the Games as well as the opening ceremony.
"I think the arrangement, facilities and hospitality of the Hangzhou Asian Games have almost been the same with previous Asian Games but I think this has technologically been improved and we expect to see a spectacular show," said Commonwealth Games double silver medalist, Bangladesh shooter Abdullah Hel Baki, who is set to participate in the Asian Games for the fourth time.
"This Games has been different for me in every aspect because it is my fourth Asian Games appearance. Besides, I always took part in the 10m Air Rifle in the Games but this time, I am going to participate in the 50m Three Position Air Rifle event. So, there is a lot of difference but I never considered it, rather I am focused on my target to perform well," said Baki.
Grand Master (GM) Niaz Murshed said he felt proud to be part of the Bangladesh contingent for the second time since he first played in the event in 2010 in Guangzhou.
"It is a nice feeling because chess is not a regular event in such Games. Besides, I am also nearing the end of my career and don't know whether I will get another chance, so I am feeling really good and it is an honour for me," Niaz said. "I think China is very much a specialist in staging such events. They have infrastructure, manpower and organising capability and there is little to complain about. The experience of 2010 was pleasant. Now it is also pleasing."
Niaz, the sub-continent's first GM, also believes the stage of the Asian Games is a place to take inspiration to look forward.
"For upcoming players, it is something to look forward to as we can take a few medals from only a few disciplines and winning a medal is a big achievement for all. Everyone can prepare keeping these achievements in mind," he added.
Hockey player Rasel Mahmud Jimmy deemed this Games as a special one for him pointing out the uncertainty of whether he would be able to compete in future Games or not.
"I was really excited to participate in the Asian Games for the first time in 2006 and it has also been challenging to continue participating in the Games. Barring the 2014 Asian Games, it has been my fourth appearance in the event which is special because I don't know whether I will get another opportunity to take part in it or I will have the form. So, I want to make it memorable individually and will be happy if I can help Bangladesh do better," said Jimmy.
Bangladesh Olympic Association secretary general Syed Shahed Reza said that they were expecting good performances from archery, shooting, cricket, kabaddi, and boxing, highlighting that he expects something special from US-born Zinnat Ferdous and England-born sprinter Imranur Rahman.
Facts & Figures
**Hangzhou is the third city in China to host the Asian Games after Beijing and Guangzhou in 1990 and 2010.
**With 12417 registered athletes, the Hangzhou Asian Games will feature more participants than the Tokyo Olympics as well as surpass the 10,500 set to participate in the 2024 Paris Olympics.
** North Korea is set to compete in the Hangzhou Asian Games, making its first participation in an international multi-sports event since 2018.
**The 20th edition of the Asian Games will be held in Japan in 2026.
**Esports make its debut as an official medal sport at the Hangzhou Asian Games.
**For the first time in the Asian Games history, boxing is going to be a qualifying event for the 2024 Paris Olympic Games.
**Of 56 venues being used for Hangzhou Asian Games, only two venues were newly made to host the multi-sports event.
**Hangzhou boasts the world's largest bike sharing system with more than 75000 bicycles available for public use around the city.
**The Asiad aims to be as environmentally friendly as possible and has adopted a low-carbon green policy omitting fireworks in both opening and closing ceremony.
**Advanced technology at the Hangzhou Asian Games features mosquito eradication bots and fully automated clearing machine.