Ironman Arafat achieves best timing amongst Bangladeshis in World Championships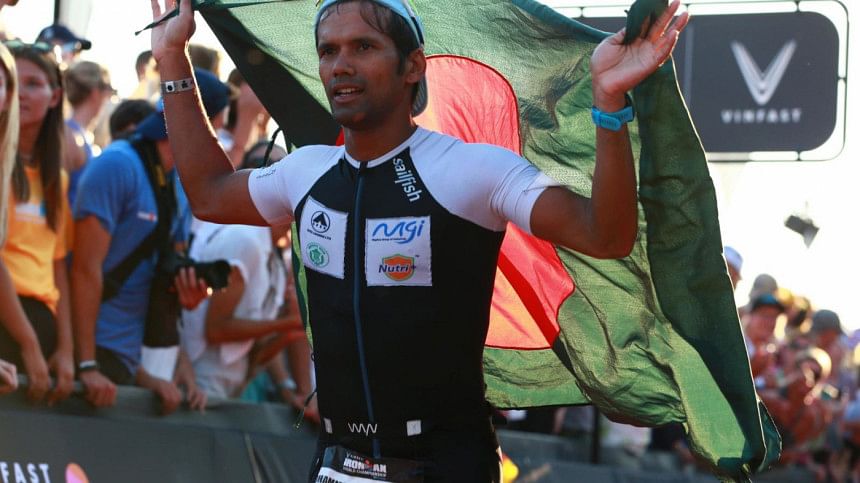 Mohammad Shamsuzzaman Arafat completed the Ironman World Championship in Nice with the best timing amongst Bangladeshi participants on Sunday.
Arafat, a Deputy Director at the Bangladesh Bank, took 11 hours and 31 minutes to complete the race consisting of a 2.4-mile (3.86 km) swim, a 112-mile (180.25 km) bicycle ride, and a marathon 26.22-mile (42.20 km) run, raced in that order. His timing ranked him at 708 out of 2186 athletes from 93 countries and placed him 129 out of 222 athletes in his age group.
He took one hour 10 minutes and 48 seconds to finish the swimming leg after which he cycled the 180 km course in six hours 35 minutes and 51 seconds, and capped off the race by finishing the 42.2 km marathon in three hours 33 minutes and two seconds.
This time, Arafat managed to better his best time of 11 hours and 32 minutes that he recorded in the 2021 Ironman World Championships in Utah.
Arafat along with compatriots Arifur Rahman (13 hours 12 minutes and 23 seconds), Mishu Biswas (13 hours 41 minutes 18 seconds), and Shubho De (15 hours 28 minutes and 34 seconds) were able to finish the race, while one other Bangladeshi participant crashed out after falling ill straight after the swimming leg.