'Aspiring girls won't face barriers anymore'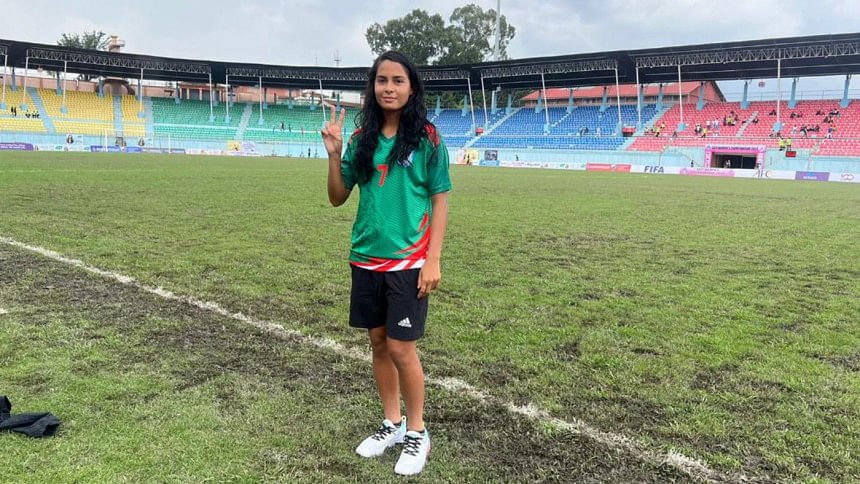 Sanjida Akhter has been one of the poster girls of Bangladesh football since she began her journey with Bangladesh's Under-16 side in 2014. The 21-year-old forward, now studying economics at a private university but struggling to attend classes due to training sessions, became the centre of discussion after an emotional Facebook status ahead of the SAFF Women's Championship final won the nation's hearts. The Daily Star's Anisur Rahman talked to her regarding that status alongside different aspects of women's football. The excerpts are below:
The Daily Star: What was going through your mind as you wrote that status on Facebook?
Sanjida Akhter: I have been in these camp over the years and I have listened to my teammates, understood their feelings and watched different things unfold in our society. Of course, my personal feelings from the area I come from were also reflected. Sometimes it is not possible to discuss your feelings with others, so I disclosed my feelings through Facebook. But I never thought that the status would get such attention.
DS: You said that you wanted to answer back at the ridicule from society by winning the SAFF Women's Championship. What kind of ridicule did you face on your journey?
SA: All of my teammates are from rural areas and came this far despite ridicule from society. When we started playing with shorts, people around us would hurl abuse towards us and our family. They may not have understood the impact of their comments, but they should never have said such things. I have heard a lot of ridicule, even about how my parents would arrange my marriage. However, some people praised us, the young girls who brought electricity and development to Kalsindur village through football.
DS: You also mentioned that you wanted to deliver the trophy to some dedicated individuals who helped bring you into football. Who are they?
SA: They are those at the grassroots level, who defied societal barriers and taught us how to play football. They are likes Mofiz Sir, Minoti Rani madam, Razib dada and Jewel bhai in our village. Mofiz sir and Minoti madam urged my parents to allow me to play football. They took all the responsibility. The people in our village also helped raise funds to send the girls to play in different districts. There are other people like Mokbul Sir, Borhan Sir, Salahuddin Sir and Sultan Sir. But the message was meant for everyone, including all our fans and followers.
DS: Do you believe the triumph will inspire more aspiring girls to play football?
SA: I have seen comments on social media from people wanting advice on how to get their girls involved in football. I don't think anybody will create barriers for aspiring girls anymore.
DS: What was the experience of the four-hour journey on an open top bus on your homecoming?
SA: I did not demand an open top bus, but we got it. The journey was really exciting as thousands of people turned up. We thought only cricket had huge support in our country, but the response from the fans on our arrival proved us wrong. It was a memorable day for all of us.
DS: When did you start believing you could become champions, especially considering the coach and captain said their target was to reach the semifinals before departure?
SA: Our target was actually to play the final but we did not disclose it to media. We wanted to show it on the ground instead of openly declaring it. We made a good start to the tournament and the win over India doubled our confidence. We wouldn't have any regrets if we lost since we had achieved our target. In the final, when the left-winger and left-back began to mark me, we sensed Nepal were fearful. So we started playing attacking football. We also made a good start and the early goal from Shamsunnar gave us more confidence.
DS: We know you have worked tremendously hard over the years, but what specifically does your routine look like?
SA: Generally, we wake up at 5:00am for a two-hour training session. Each players gets a GPS and must record between 5,000-11,000 meters of movement on a normal day. There are of course other exercises. After returning to the dormitory, we have a gym session for one hour. There is also yoga, studies and tactical sessions. The day is full of football-related activities.
DS: What the main strength of this team?
SA: Previously, we had deficiencies in terms of the goalkeeper, defence or further upfield, but now we are not lacking in any department. The biggest thing is the bond we share since we have been together for nine years. So we know how each individual's tendencies very well.