How long before toll collection is automated?
Manual toll collection is causing congestion and suffering of commuters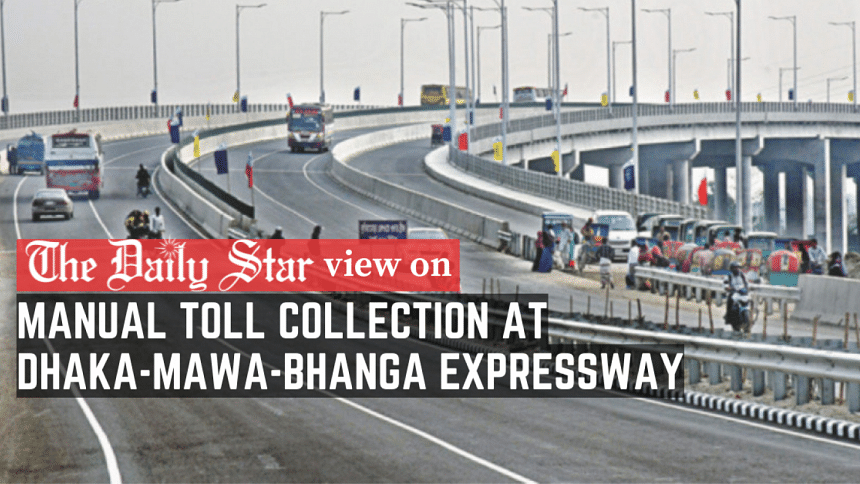 It seems strange that even two years after the inauguration of the Dhaka-Mawa-Bhanga expressway, the Roads and Highways Department (RHD) has not yet been able to introduce an automated toll collection system for the motorists. Reportedly, the department has only recently appointed a joint venture firm for toll collection, albeit manually, and without even setting up the required number of booths. As the firm has started their work unprepared, it has been creating long tailbacks on the highway. Transport experts fear that the tailbacks will be longer during the upcoming Eid holidays.
This isn't the only instance of such poor preparedness. The authorities also couldn't introduce an automated toll collection system at the recently inaugurated Padma Bridge. According to the Bangladesh Bridge Authority (BBA), it would take around six months to launch the system for this megastructure. Until then, tolls will be collected manually.
The question that naturally arises is: how could these modern structures start operations without ensuring a vital service like a modern toll collection system in the first place? Shouldn't those have been opened to the public after all necessary preparations were made? When it takes two years to just appoint a firm for toll collection, the loss suffered in terms of revenue collection isn't the only concern here. Commuters also have to suffer because of such manual operations, causing long delays in toll payment. It's unfortunate because an automated system is supposed to be an integral part of such expressways, and seldom, if ever, will you see one without it anywhere in the world. Clearly, this has happened due to a lack of efficiency and proper planning.
Besides showing such apathy to a modern toll collection system, the RHD has also made another blunder – it began collecting tolls without consulting with the associations of transport owners and workers. So now, drivers are often seen quarreling with the employees of toll plazas over the amount of fees fixed, resulting in more delays. Such mismanagement is a major barrier to smooth traffic movement, which in turn threatens to cancel out the expected benefits of such structures.
The Padma Bridge and the Dhaka-Mawa-Bhanga expressway are supposed to significantly reduce the time of travel to the country's south and southwestern regions from the capital. But this may not happen if an adequate number of toll booths are not set up on the entry and exit points of these structures. This needs to be fixed. Equally importantly, the government needs to introduce a modern toll collection system for all megastructures and follow it up by introducing it everywhere tolls are collected. This will make them more efficient and people-friendly.