When justice remains elusive for victims of gender-based violence
Gender-based violence (GBV) has always been a major cause for concern in Bangladesh, but it reached an alarming level in the last two years.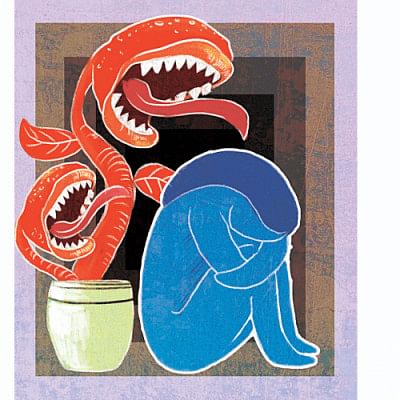 A few weeks ago, friends of the Kalabagan rape victim organised a candle light march, marking a year of the brutal death of the 17-year-old. The incident escaped the minds of the citizens, as they always do with so much happening every day. The recent death of DU alumnus Elma Chowdhury Meghla, who died after alleged torture by in-laws, made the news as well. And we, as usual, were quick to forget. 
Gender-based violence (GBV) has always been a major cause for concern in Bangladesh, but it reached an alarming level in the last two years. According to Ain o Salish Kendra (ASK), at least 1,321 women were raped or gang-raped across the country in 2021, of whom 47 were killed after rape and nine died by suicide. At least 640 women faced domestic violence, of whom 210 were tortured for dowry. Of the 640 women, 372 were killed and 142 died by suicide.
In the end, all of them become just numbers. Most incidents of GBV remain unreported; only a fraction of such cases make the news. Seeking justice is a process with utmost complications—accessible and comprehensible for one group, but not the same for others. Even when cases are filed, there are loopholes that can be exploited against the victims—even the most educated, capable and aware ones. Then there are thousands of others without formal education, awareness or even proper guidance on legal issues. These are the ones who lack proper access to information that gives them the minimum advantage in the process of seeking justice.
About a month ago, I had the opportunity to participate in a fact-finding mission on the GBV situation in the most remote areas of Rajshahi, organised by the Research Institute, Bangladesh (RIB), DASCOH Foundation, NETZ Bangladesh and National Conflict Transformation Platform. My experience of meeting a victim and two other's families from Rajshahi's Godagari upazila made me wonder: Does access to justice depend on class and socioeconomic identities? Is there a rampant inequality when it comes to the mere process of seeking justice?
Take Mahbuba, for example. Mahbuba (17) is an acid attack survivor, who was forced into a marriage by her husband Murad (27). In 2018, 15-year-old Mahbuba was married off and went to a different village to live with her in-laws, who would torture her for months over dowry. Four months before the acid attack, Mahbuba came back to her parents. Murad tried repeatedly to take her back home, but she refused to go unless he could ensure her well-being at his house. On October 2, 2020, Murad threw acid on Mahbuba from outside her window, burning her face, neck, one eye and part of her chest. 
Mahbuba's father filed a case on the same day under the Acid Control Act, 2002. Murad was arrested, and there were multiple hearings. On November 30, 2021, Murad was granted bail. 
According to the Acid Control Act, 2002, a tribunal has to complete the whole trial within 90 days of receiving the first written instruction. All crimes under the act are cognisable, non-compoundable and nonbailable. Yet, in Mahbuba's case, the perpetrator was released on bail. The case is still on trial.
When the fact-finding team mentioned this information to Mahbuba's family, there was visible confusion. Turns out, even their lawyer didn't mention this to them. When asked if their lawyer was government-appointed, some said yes, while the others said they were paying the prosecutor. 
According to Section 15 (A) of the Acid Control Act, any acid victim or someone on their behalf can apply to the district committee for legal aid, leaving a clear provision for government-appointed lawyers. But what good is a provision if it doesn't benefit those who need it the most, solely due to the information gap?
An 11-year-old from another village of the same upazilla was murdered after rape at her own house during robbery in the area. No case was filed by the victim's family, having limited education and counsel to avail justice. The local camp of Rapid Action Battalion (Rab) later reported that the perpetrator had been found and killed in a "gunfight." No trial was held. The family of the deceased is left with nothing but the consolation that the perpetrator was punished, even if in an extrajudicial manner. The local police, who were involved in this operation, refused to comment on how they caught the perpetrator or how he was killed.
Fatema Khatun's (28) married life was afflicted with domestic violence from the very beginning. Her family paid around Tk 2 lakh in dowry, but that couldn't satisfy her husband Motaleb Hossain (38) and his family. Despite trying many times, Fatema couldn't get separated from her husband, thinking of her two daughters. On June 15, 2021, a few hours after physical assault in her husband's hand, Fatema was found hanging by a tree in the yard. 
Fatema's family allege that Motaleb and his brother murdered her and later framed it as a suicide. They filed a case with Godagari model police station for domestic violence and abetting death by suicide. Her brother claimed that they wanted to file a murder case, but filed a case of abetment under pressure from police. They tried to have the case transferred to the PBI or the CID on grounds of negligence, but with no success. 
When asked, Kakonhat police OC Kabir Hossain said they often recommend plaintiffs to file certain cases after examining the autopsy report and other evidence, but the plaintiffs have the option to file cases as they see fit. But Fatema's family got stuck in the legal loophole like many others, and not much useful counsel is available for them to pursue justice the way they want. 
We could only observe three cases from such proximity, but they give only a glimpse of the situation when it comes to seeking justice for gender-based violence. The unavailability of legal aid and counsel for those in need is an issue that needs to be discussed alongside the more prominent discourses regarding GBV. Victims or plaintiffs making well-informed decisions with all the assistance permissible by law is also a prerequisite for proper enforcement of such laws. It's high time we made the judicial system more accessible for people across all classes and socioeconomic identities. It's high time we ended this vulgar disparity in seeking justice. 
 
Nahaly Nafisa Khan is a sub-editor at the Metro desk of The Daily Star.