The Slap: When toxic masculinity becomes the language of love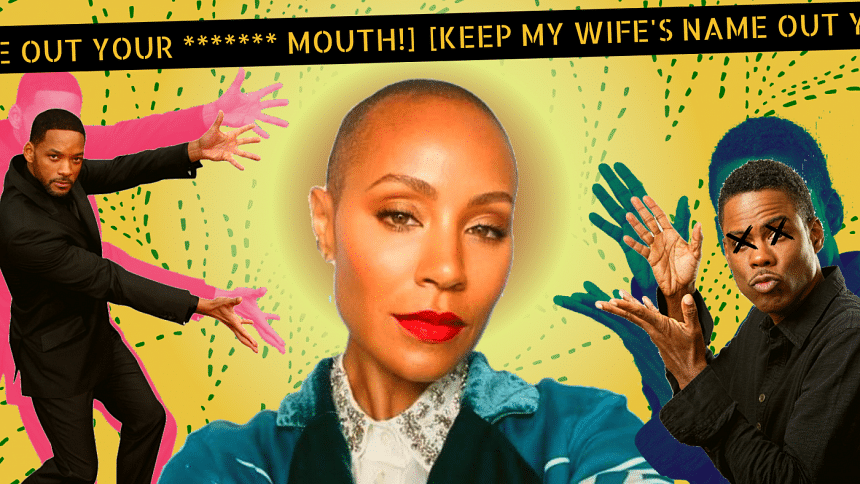 The perception of the public regarding Will Smith is fascinating, and its evolution—especially over the past couple of years—has been a whirlwind. For years, when you thought of Will Smith and Jada Pinkett Smith, you would only think of that one photo. You know the one: Smith striking a pose of pride at the direction of his missus on the red carpet, as if to tell the world, "Look at her! She is mine." Remember when that was the epitome of all that romantic love could be? The visualisation of how a man should treat—nay, worship—his woman? 
Then, of course, Smith became the internet's laughing stock after being "cuckolded" by a man a couple decades Pinkett Smith's junior—followed by the episode of Red Table Talk (a talk show wherein Jada, "her daughter, Willow, and her mother, Adrienne Banfield-Norris, discuss a wide variety of topics") which gave us the ever-applicable GIF of a weeping but resilient Will Smith (check any fifth comment section on your Facebook feed to see). That candid heart-to-heart (viewed by tens of millions) ended the affair chapter of the Smith-Pinkett Smith duo's life. And it seems now we are back to square one, with Will being the dutiful husband—only this time perhaps in a little less of an "aww"-worthy way. 
At the 94th Academy Awards ceremony on March 27, comedian and host Chris Rock cracked a joke about Jada Pinkett Smith's hair, comparing her to the character of G.I. Jane, who also sported a bald look. Except that Pinkett Smith suffers from alopecia, a condition which causes her to lose hair. As soon as Rock delivered his line—looking around with a dowdy grin and seeking reassurance from the audience: "That was a nice one, okay!"—the displeasure of the target of his joke was obvious. And her husband, though he was laughing freely at first, upon spotting her reaction did what one could expect, going by his past extravagant reactions: Smith walked up onto the stage and slapped Chris Rock across his face. 
Of course, the whole thing blew up on the internet. Upon first viewing, most laughed. After some time, some accused Smith of not being able to take a joke. Others made their own jokes about how Smith played the role of boxer Muhammad Ali in the 2001 film Ali, but still couldn't throw a decent punch. Many lauded Rock for reacting so nonchalantly to the whole thing.
Still others wondered whether this incident was the culmination of a feud silently brewing between the three. After all, during the 2016 Oscars, when Chris Rock was hosting, he had made jabs at Jada Pinkett Smith and the actor's decision to boycott the awards show due to its lack of diversity, especially in terms of nominating people of colour.  
Post the incident, Will Smith first apologised to the Academy during his Best Actor acceptance speech. Later, he posted on Instagram, apologising to Rock and terming his own behaviour "unacceptable and inexcusable." 
Rather than being an instance of side-taking, I believe we should all see this debacle as a display of how toxic masculinity, and the cavemanly behaviour it incites, transcends classes and races. I agree with Smith's statement that violence "in all of its forms is poisonous and destructive." Besides not being very creative, Rock's joke targeting Pinkett Smith was disrespectful because that is how the latter deemed it to be. What anyone else thinks of it is irrelevant. The same goes for people scrutinising Smith and Pinkett Smith's marriage and whether it is an open one or not. And while Smith's violent reaction to Rock's joke may be understandable to some, it was neither professional nor rational. 
But this is textbook caveman behaviour. Toxic masculinity is when we act out of a violent instinct to dominate another and/or to "protect" something of ours. It is pure aggression that achieves little in the way of resolution. I doubt Smith's punch made anyone feel better, least of all his partner, whom he was trying to defend in the first place. 
Sure, this particular display of masculinity may seem quite macho to some. A man "standing up for" his woman, telling the world—albeit using violence—that no one is allowed to disrespect her. But why is a man seen as the default protector to a woman? Why do we believe that a woman cannot protect herself—let alone decide when she does or does not require protection? 
Notions of femininity and masculinity are instilled in us since childhood, directly and indirectly, through fiction and in reality. Growing up, we perceive romantic relationships as ones wherein the female vows to love and serve while the male vows to love and protect. 
Beyond Will Smith, in general, it often happens that men begin to also adorn their actions towards their loved ones with the same toxic masculinity—being insecure for no reason, suffocatingly dominant, and invasive towards the women in their lives.
Unfortunately, these feelings of inferiority can manifest as physical abuse. But even when that abuse is not directed towards the women in his life, a violent man still risks the strength of his relationships with them as his actions towards others may result in him being seen as unreliable or volatile. Even worse, unlike Will Smith, most toxically masculine men do not even make it far enough to actually acknowledge that their behaviour is wrong and something that they need to work on. 
So while this may pass in a day or two, we can hope that it will serve as an example of how a man should not "defend" the women in his life. The desire to protect what we love is normal. But we must learn ways to deal with conflict in an effort to actually find resolution, rather than to only make things worse for everyone involved by resorting to violence. 
Afia Jahin is a member of the editorial team at The Daily Star.