5 Chhatra Union activists hurt during "BCL attack" in Ctg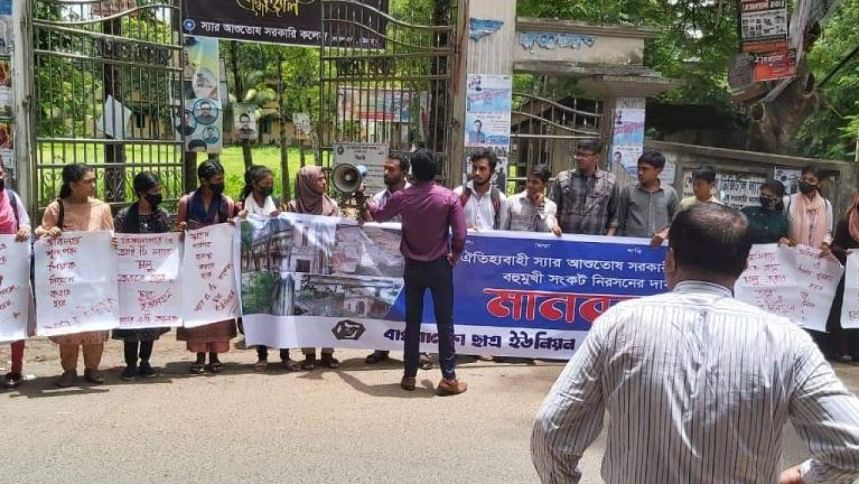 At least five leaders and activists of the Bangladesh Chhatra Union of Sir Asutosh College unit at Boalkhali upazila in Chattogram were injured in an attack allegedly carried out by the activists of Bangladesh Chhatra League on the college campus today (August 13, 2022).
The injured are Himel Chowdhury, convener of the college unit Chhatra Union, Sajjad Hossain, Yachin, Amit and Rashed, reports our Chattgram staff correspondent quoting the injured.
Himel Chowdhury claimed that there has been a shortage of teachers, academic buildings and a scarcity of drinking water at the college for a long time.
"We submitted a memorandum to the college principal around 11pm demanding the resolution of these problems," he said.
After that, they formed a human chain in front of the main gate of the college. At that time, some Chhatra League activists attacked them, leaving them injured, he said.
Four injured were admitted to Chattogram Medical College Hospital.
He added that they verbally informed the matter to police and file a complaint.
Arafat Hossain, convener of the college unit Chhatra League, claimed that general students attacked them when they wanted to form a human chain in front of the college by bringing outsiders.
During the attack, Chhatra League leaders and activists were present there, he claimed.
Abdur Razzak, officer-in-charge of Boalkhali Police Station, said a clash took place between two student groups of the college.
"We sent police to the spot, rescued the injured and sent them to the hospital," he said.
However, no one has yet filed any written complaint in this regard, added the OC.