Web Review: Get traffic alerts on Facebook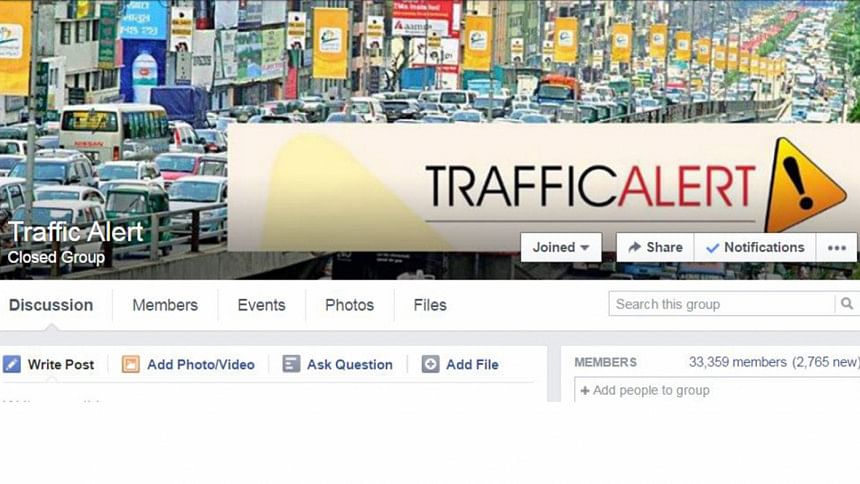 You can now sip coffee in the morning and have a look at the latest traffic updates on the web to decide when to start for office, instead of starting your morning stuck in the long Dhaka traffic, a common incident.  It is an everyday scenario for the commuters in Dhaka city to spend a significant portion of their time stuck in long tailbacks in different parts of the capital. The traffic condition in Dhaka is getting worse with time. As more and more people flock to the city, Dhaka is experiencing vertical growth along with a steady rise in the number of cars and—owing to this we end up wasting valuable time on the road jeopardizing our professional, academic and family affairs.
However, social media activists have come up with a unique way to use this novel platform to ease our daily sufferings. 'Traffic Alert', a Facebook group, now popular among Dhaka commuters, is the initiative, where commuters engage in a web community sharing the updates of traffic conditions around the city.
Now you can get updates on the traffic status of your route and decide beforehand whether to take an alternative route to reach your destination. You can also figure out how long it will take to reach somewhere based on the updates.
In the group, you may also post inquiries related to the traffic conditions in a particular route that is on your way, or you may ask for the route to somewhere you are headed. It helps people get easy directions to unfamiliar places and also give you a probable time frame to your destination.
The members of the group began the initiative from this view that it is highly unlikely for the traffic condition of Dhaka to ever head towards something positive, and it is up to us to figure out the solution to this problem to ease our sufferings.
It would not be surprising if we find these small initiatives making a big difference one day and create a positive impact on the traffic condition in the capital.