Amar Ekushey Boi Mela: Fun day for the little ones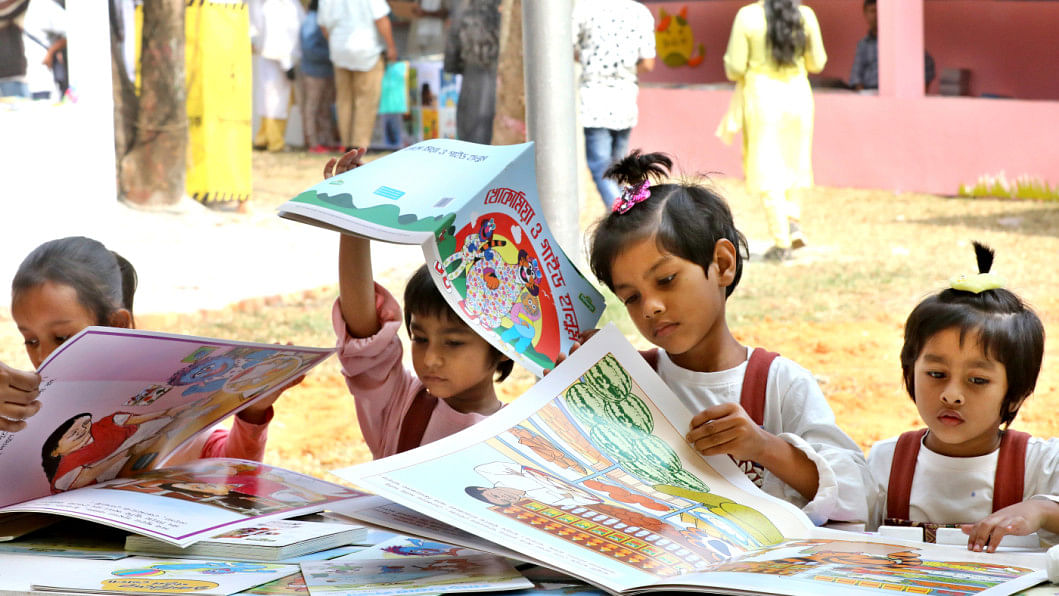 Shankha Saha was having too much of a good time to pay heed to his father.
The seven-year-old was busy moving around the book fair at Suhrawardy Udyan this morning.
Meanwhile, his father Shantanu Saha not only had to keep an eye on him, but also buy him books from the Sisimpur stall.
"Shankha kept on forcing me to come to the book fair. He did not want to miss the first Shishu Prahar (special hours dedicated to children)," he told this correspondent.
Like him, hundreds of children surrounded Sisimpur Mancha at Amar Ekushey Grantha Mela this noon, shouting, "We love to read books!" They were accompanied by mascots of the popular characters from Sesame Street's Bangladeshi adaptation.
Marking the first "Shishu Prahar", Sisimpur's Halum, Ikri and Tuktuki recommended the children to read more books and consequently performed skits, much to their excitement. Besides, children were seen walking around holding the hands of their guardians, some were also being carried by the adults accompanying them.
The Shishu Prahar was inaugurated by Bangla Academy Director General Md Nurul Huda at Sheikh Russel Shishu Chattar on the fair premises at 11:00am.
Nurul Huda said, "Like every year, special arrangements have been made for children. The Shishu Chattar has also been set up with more space, doubling their joy."
Yasin Araf, an attendant at the Sisimpur stall, said, "We have more sales on Fridays and Saturdays, and the trend has so far continued on the first weekend of the fair this year."
This year, the Shishu Chattar saw an increase in space on the right side of the entrance via Ramna Kali Mandir. Around 111 units of 71 institutions have been set up.
Later in the afternoon, a separate Shishu Prahar was organised by Sisimpur on the Shishu Chattar, which was inaugurated by Prof Muhammad Zafar Iqbal.
"Instead of handing mobile phones over to the children, give them books. Books will make them more intelligent," he said.
However, in the afternoon, readers of all ages started coming to the fair.
Badrul Alam, who came to the fair from Segunbagicha, said, "I look forward to this fair all year round. I have a separate budget for this year's fair alone."
Later, the unveiling ceremony of Banani Roy's "Srotoswini Jibon" was held at publishing house Subarna's stall.
According to Bangla Academy, 96 new books were published at the fair yesterday.
The book fair will open its gates for visitors at 11:00am tomorrow.