When literature meets food
The author paints an engrossing picture of her experiences and memories, both influenced by food, which is true for most of the people in this world, and particularly for South Asians.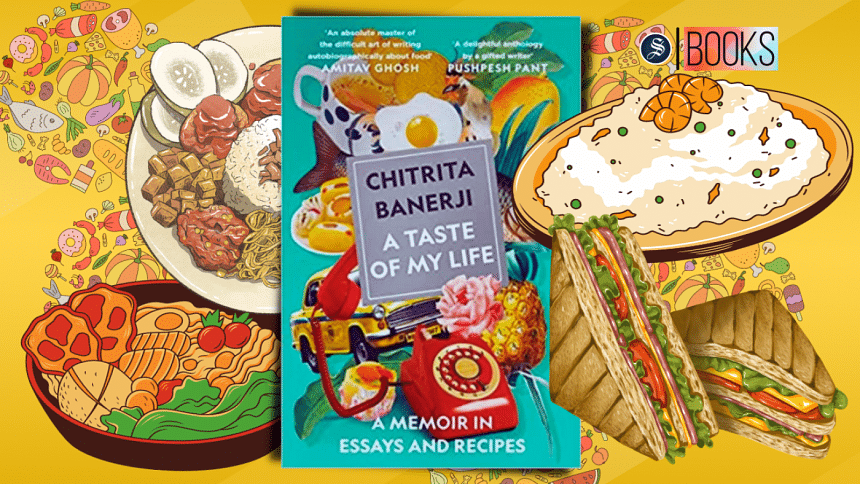 I believe you can categorise people into two distinct groups: foodies and non-foodies. Foodies are often mistaken as gluttons, but truth be told, this is a group of people who have helped elevate the essence of culinary skills to a sophisticated art form. Food writers, in my opinion, are the gods of that art, and getting to know Chitrita Banerji through her food memoir, A Taste of My Life: A Memoir in Essays and Recipes (Picador India, 2021), was both a pleasure and an inspiration. For once, I read something at one go which was not a murder mystery; rather, it was a woman's journey portrayed through recipes. 
The book is a collection of essays written over the course of her life, extending from childhood to adulthood. The essays use food and drink as a unifying theme to connect the various events that make up her existence. Read collectively, an associative pattern emerges among the articles, tapping into the collective memory of many Bengalis. According to Banerji, "food is life," and we can all attest to that notion.
As a Bangladeshi reader, I found the recipes she shared to be relatable and interesting, especially considering that Chitrita Banerji spent a portion of her life in Bangladesh, which she talks about fondly in her book. When you read her account, you will find almost all the recipes to be very familiar to our palate, although certain elements may be improvised.
She paints an engrossing picture of her experiences and memories, both influenced by food, which is true for most of the people in this world, and particularly for South Asians. The book is written in the form of a three-course meal: 'Sundries', 'Mains', and 'Endings', comprising 12 chapters. Each of these chapters talks about a particular memory associated with the dish, and at the end of the chapter, Banerji kindly shares the recipe as if she is writing a cookbook. She understands the importance of not depriving her readers the opportunity to experience the same tastes she did. The emotions invoked might not be the same as hers, but she seems to know that her essays and recipes can leave a powerful and lasting impression on her readers.
She not only talks about the food but describes an item's representation of gender roles, responsibilities, and practices. "To me it was a wonder", Banerji writes, "that the paan seller could arrange his leaves with such exquisite unvarying symmetry. The process starts early, the man told me, when I once asked him. As a commodity, paan is fragile more so than greens and vegetables used in cooking. Damage from rough handling reduces its value."
"The subtle rivalry between the sisters became evident when they peeked at each other's supplies of shupuri to determine whose was chopped the finest."
"It took me a few years to figure out that my mother, the only working woman in the family, had the least amount of free time and her shupuris were never as fine as those of her sisters." The excerpts from the second chapter, 'Pleasure in a Cone', reads.
The book is easy to read and full of insights into the culture Banerji grew up in, the same as ours and our ancestors'. The tone of her account when talking about different households on different continents is so nostalgic and amusing that, whether or not you cook, you will end up enjoying reading the recipes.
Chitrita Banerji describes how food has played a significant role in her experiences of adventure, conflict, love, loss, and reconciliation through vivid description of the meals she had with her family and other memorable gastronomic contacts in both personal and political settings. She introduces us to the foods and beverages that hold the most sentimental value for her, such as Kadam Bhai's duck bhuna, chicken sandwich, and tea, as well as seasonal pleasures like sweets made of coconuts (narkel naru). Throughout, she charms us with her exquisite and alluring prose.
Memories associated with food give you the ability to travel through cultures, traditions, and relationships. Traversing these domains, you will realise that, whether you are a foodie or not, you cannot help but associate food with feelings and emotions. In today's world, in which we are so keen on identifying and understanding love languages, it does not take much to figure that cooking as a love language is subconsciously inherited and proliferated. 
Published in 2021, A Taste of My Life is Chitrita Banerji's most recent book. Her other notable works include Eating India: An Odyssey into the Food and Culture of the Land of Spices (Bloomsbury USA, 2007), Bengali Cooking: Seasons and Festivals (Serif, 1997), among many others. All her books are brimming with history, culinary knowledge, and personal anecdotes. She is a master when it comes to weaving food thematically into her autobiographical accounts.
This profoundly reflective collection of essays, which describes culinary events at various stages in the author's life, transcends the personal and taps into the culinary history and culture of most Bangalis. This particular book is so well written that I remember reading it in one breath when I was going through a major reading slump. Chitrita Banerjee is not just a food writer, but a storyteller who knows how to appreciate the sentimental value of different food items and use concise language to describe them in a way that touches your soul.
Salwah Chowdhury is a bookworm and a toddler mom who works full-time at an NGO. She loves the rush of thinking, reading and writing and takes on freelance projects every now and then. Please follow her on Instagram @salwah_chowdhury and share any book recommendations or your thoughts on the article.