'Rising from the Ashes' arrives in Bangladesh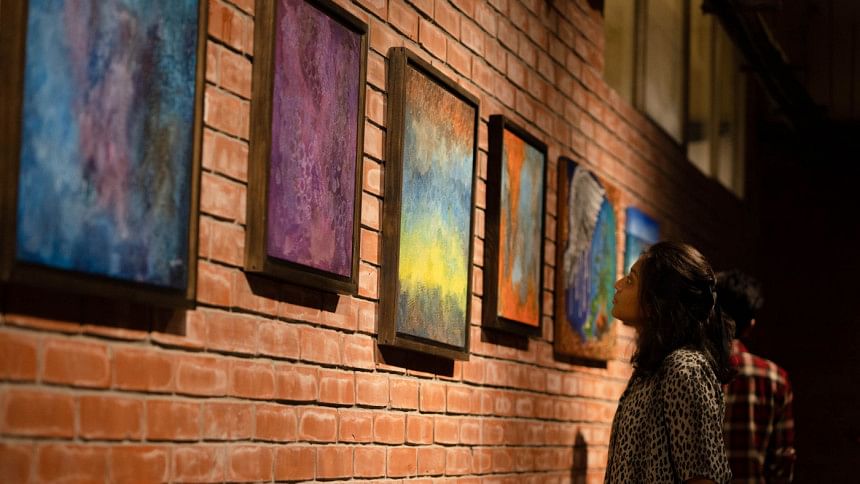 The noted exhibition, "Rising from the Ashes", has finally arrived in Bangladesh after traveling through five nations. This collaboration features artworks by Turkish and Bangladeshi artists, focusing on the aftermath of an earthquake.
The five-day exhibition began on September 22 and will continue until September 26 in Aloki. Turkish Ambassador to Bangladesh inaugurated the ceremony Ramis Sen. Many art connoisseurs and social workers attended the programme.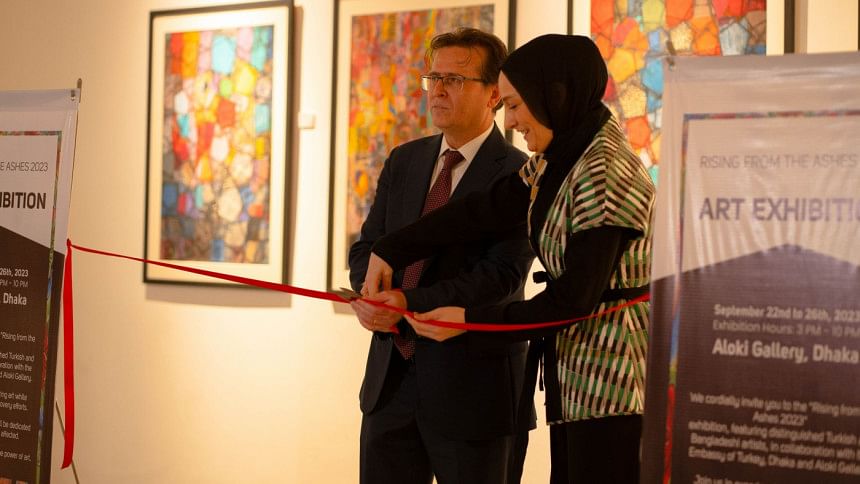 The "Rising from the Ashes Exhibition 2023" has already taken center stage worldwide in New Jersey, Istanbul, Kuwait City, Doha, and Milan. The series' voyage is set to continue with planned exhibits in Kuala Lumpur and Amsterdam, generating escalating excitement.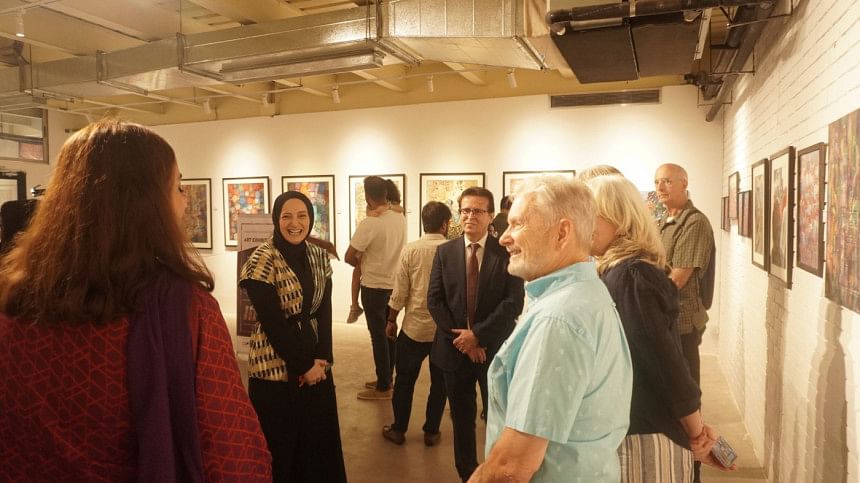 The exhibition brilliantly demonstrates the strength of human resilience in the face of natural disasters.  Humans, like the phoenix rising from the ashes, find a way to thrive despite massive disaster and adversity. This perseverance is expressed through art, whether on an artist's canvas or through a photographer's lens.
Turkish artists participating in the exhibition include Tuba Ahsan, Ihami Atalay, Cemal Toy, Mediha Atalay, Canan Aydoğan, Zafer Örs, Rüveyda Görmezoğlu, Faruk Erçetin, Kübra Ökmen, Furkan Türkyılmaz, Elif Tarakçı, Melike Zeynep Yıldırım, Ayşeğül Odabaşı, Barış Görmezoğlu, Mustafa Başarır, and Hümeyra Yorgancı.
This bilateral exhibition also features the artworks of several Bangladeshi artists, including Azizee Fawmi Khan, Rakibul Anwar, Hridita Anisha, Masuda Khan, Anannya Mehpar Azad, Suborna Morsheada, Auntora Mehrukh Azad, Taiara Farhana Tareque, Shehzad Shahriar Chowdhury, Sarah Jabin, Soma Surovi Jannat, Najib Tareque, Farhana Afroz Bappy, Kazi Tahsin Agaz Apurbo, Shaharin Sultana, Jannatul Ferdous Mukty, Sadia Khalid Reeti, and Nazia Ahsan Chaity.
The organizers hope to involve local artists in this initiative, aiming to bring out a unique expression of the friendship between Bangladesh and Turkey. They believe this will promote creativity and empathy, creating a unique blend within diversity. This platform also provides young artists in Bangladesh with a different opportunity. They are not just elevating their art; they are elevating it with a grand purpose. They are not just carrying their artwork; they carry a great goal.
The "Rising from the Ashes 2023" series is spearheaded by Istanbul's renowned fashion designer and artist, Tuba Ahsan, and the Cemal Toy Art School. Their common cause raises funds to finance the construction of long-lasting wooden homes for victims of this year's horrific Turkey-Syria earthquake on February 6.