Rising From the Ashes: Turkish Embassy in Dhaka initiates diplomatic outreach though art exhibition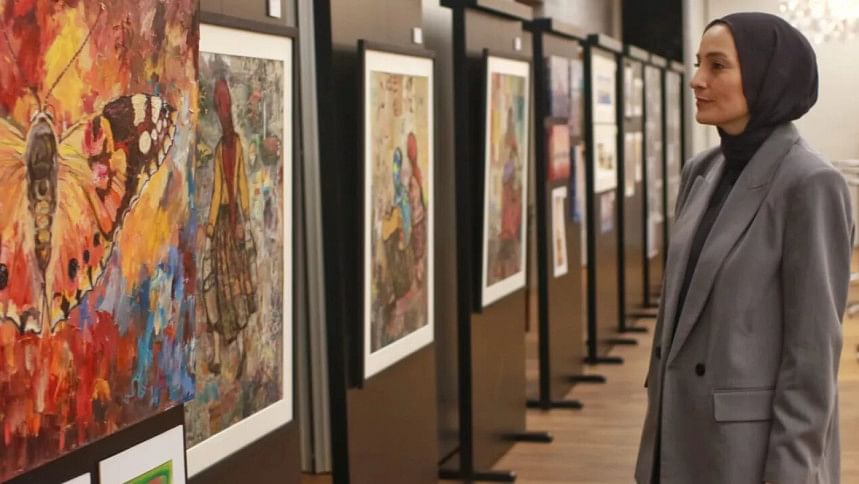 Uniting Turkish and Bangladeshi artistic visions, the Turkish Embassy in Dhaka initiated an exclusive diplomatic outreach on Friday evening, marking the inauguration of the upcoming "Rising From the Ashes Exhibition 2023."
The exclusive exhibition is scheduled to take place from September 22 to September 26, at the Aloki Convention Center, Tejgaon in the capital, aiming to bring together the artistic finesse of Turkish and Bangladeshi creators in a vibrant display open to the public.
On Friday, the outreach event was attended by the Turkish Ambassador to Dhaka Ramis Şen, alongside esteemed Turkish diplomats, art connoisseurs, and social leaders, and the event underlines the strengthening of cultural connections between Turkey and Bangladesh.
Istanbul's esteemed fashion designer and artist Tuba Ahsan and the Cemal Toy Art School spearhead the "Rising from the Ashes 2023" series. Their united cause channels funds to support the construction of sustainable wooden homes for victims of the tragic Turkey-Syria earthquake which occurred on February 6th, this year.
In Dhaka, Tuba Ahsan expands the exhibition, amalgamating talent from Turkish and Bangladeshi artists. This synergy symbolizes her relentless passion for art and charitable causes, capturing the essence of the "Rising From the Ashes Exhibition 2023."
"Featuring artworks that embody the resilient spirit of Turkish culture while portraying the blossoming friendship between Bangladesh and Turkey, the event is a showcase and a nexus, binding diverse cultures in a shared fabric of creativity and compassion," Tuba Ahsan told UNB.
Beyond artistic representation, this exhibition profoundly commits to social change, aiding those impacted by natural calamities. The event stands tall as an emblem of unity, urging concerted efforts towards disaster-stricken communities, according to Tuba Ahsan.
"Rising From the Ashes Exhibition 2023" has already graced international stages in New Jersey, Istanbul, Kuwait City, Doha and Milan. Anticipation is building as the series is slated to continue its journey, with upcoming showcases in Kuala Lumpur and Amsterdam.
From September 22-26 at Aloki, the exhibition will showcase the artworks of Turkish artists including Tuba Ahsan, Ihami Atalay, Cemal Toy, Mediha Atalay, Canan Aydoğan, Zafer Örs, Rüveyda Görmezoğlu, Faruk Erçetin, Kübra Ökmen, Furkan Türkyılmaz, Elif Tarakçı, Melike Zeynep Yıldırım, Ayşeğül Odabaşı, Barış Görmezoğlu, Mustafa Başarır, and Hümeyra Yorgancı.
This bilateral exhibition will also feature the artworks of several Bangladeshi artists including Azizee Fawmi Khan, Rakibul Anwar, Hridita Anisha, Masuda Khan, Anannya Mehpar Azad, Suborna Morsheada, Auntora Mehrukh Azad, Taiara Farhana Tareque, Shehzad Shahriar Chowdhury, Sarah Jabin, Soma Surovi Jannat, Najib Tareque, Farhana Afroz Bappy, Kazi Tahsin Agaz Apurbo, Shaharin Sultana, Jannatul Ferdous Mukty, Sadia Khalid Reeti, and Nazia Ahsan Chaity.